Notebook: Minus Blackmon Jr., Indiana handles Delta Devils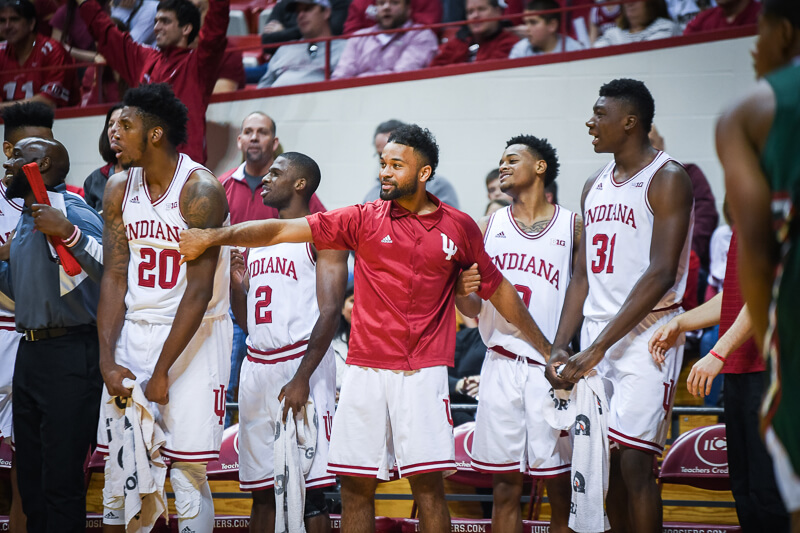 Behind a double-double from sophomore Thomas Bryant and a career-high 21 points from OG Anunoby, the 4-1 Hoosiers waltzed their way to an 85-52 victory over the 0-8 Mississippi Valley State Delta Devils.
But the biggest news from the game came shortly before tip-off when head coach Tom Crean announced that junior James Blackmon Jr. would sit out the contest after suffering an injury to his left knee during Tuesday's defeat at Fort Wayne.
Blackmon did dress and fully participate in pregame shootaround and warm-ups, but his status heading into Wednesday's showdown with North Carolina is unclear.
"It's too early to put an expectation or prediction on (Blackmon's return). He's better every day," Tom Crean said.
With Blackmon's history of knee injuries, the Indiana coaching staff seems to be taking a cautious approach, making sure he's as healthy as possible before allowing him to return to the court.
"He's been through a lot before he even got here," Crean said. "So, we've just got to make sure we're patient with him and help him get through that part of it, and he'll know his body. He's certainly got great support here and he'll get that. We'll see how the next few days go."
Even minus Blackmon, Indiana had no issue beating up on the lowly Delta Devils. Mississippi Valley State is one of just a handful of winless teams left in Division I and is currently ranked 348th out of 351 teams by KenPom.
Just over 24 hours after a 25-point defeat to the Mastodons in Fort Wayne, the Devils came into Simon Skjodt Assembly Hall without much rest and with their best scorer, Marcus Romain, sidelined with an injury.
The Hoosiers thoroughly dominated the undersized Delta Devils in the paint. Indiana finished the night with a 48-26 advantage on the glass and a 34-22 edge in points in the paint.
Thomas Bryant saw plenty of double teams but had no trouble producing in the post, scoring 13 points on 5-of-6 shooting. He added 11 rebounds and three blocks.
OG Anunoby returned to form after being held scoreless in 13 minutes Tuesday while suffering through a stomach illness.
"I don't think any of us understand how sick he was (on Tuesday) because he didn't even practice again until part of the time on Friday," Crean said.
Anunoby posted a career-high 21 points on just 12 shot attempts while managing to grab eight rebounds. Although Anunoby's conditioning and explosiveness weren't quite at the level they normally are at, he still managed to put his imprint on the game.
"It was good to see him back out there," said junior Robert Johnson. "He's one of those guys that when he's locked in, he makes the game easier for everybody with the way he defends, rebounds, how versatile he is on offense."
Problems Persist
Many of the issues that plagued Indiana in the loss on Tuesday were evident once again.
The offense was certainly more fluid, but Indiana still could not keep possession of the basketball, turning the ball over 15 times for the fifth consecutive game.
Indiana now boasts a turnover percentage of 23.4 according to KenPom, the 26th worst rate in Division I.
Communication also proved to be an issue for the Hoosiers, who switched to a 2-3 zone late in the first half after the Delta Devils went on a 12-0 run late in the first half.
The Hoosiers are still learning how to be responsible and accountable for one another, and that process takes time.
"Every team goes through it to a point," Crean said. "Because it's very hard to take responsibility for others and be demanding of them without it seeming critical. Because it will get critical, then it gets frustrating and people get frustrated. "
Looking ahead to Wednesday
When Thomas Bryant was asked after the game about the looming rematch with the Tar Heels, he paused, before artfully dodging the question.
"We're just staying poised right now," Bryant said. "We're not looking ahead too far. We know what we have up ahead and what's against us."
The bitter taste of the Sweet 16 defeat in March has lingered for months, and in a few short days, Indiana will have a chance to strike back at North Carolina.
"It's a different team, we're a different team, but our biggest thing is to make sure our players not only understand how good Carolina is, because of what they do, but how good they are because of who is doing it," Crean said.
Wednesday's game won't be without its fair share of Indiana legends. World Series champion Kyle Schwarber will be the honorary captain and the 1981 team that won the NCAA Tournament after defeating North Carolina in the championship game are also scheduled to attend.
Filed to: Mississippi Valley State Delta Devils