Five takeaways from Indiana's win over UMass Lowell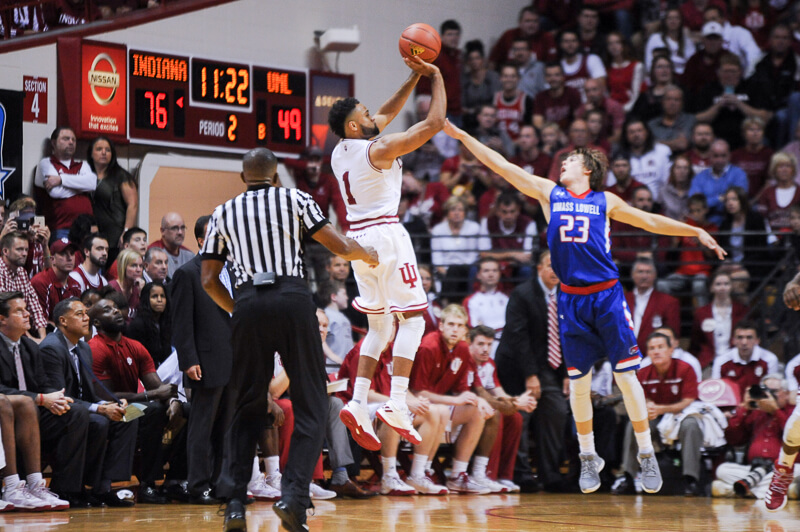 Indiana moved to 2-0 on Wednesday night with a comfortable 100-78 win over UMass Lowell at Simon Skjodt Assembly Hall.
Here's a look at five takeaways from the win over the River Hawks:
· Blackmon Jr. continues hot start offensively, but defense still a work in progress: After dropping 26 points on Kansas in the season opener, junior James Blackmon Jr. had another great offensive game on Wednesday against UMass Lowell.
Blackmon Jr. scored 18 of his 23 points in the the first half and hit five of his nine 3-point attempts. Through two games, the Marion product is 9 of 17 on 3s and has an effective field goal percentage of 70.7.
However, there's plenty of work to be done for Blackmon Jr. defensively. He still gets lost or caught out of position, which can't happen regularly against better competition. Blackmon Jr. is an elite shooter and can score in a variety of ways, but Indiana needs him to be more of a two-way player.
· This game was perfect for De'Ron Davis: It's totally fair to criticize the volume and quality of Indiana's guarantee games this season, but Wednesday served as a learning experience for freshman De'Ron Davis.
Davis has plenty of ground to make up after missing the summer in Bloomington. His conditioning isn't where it needs to be to play major minutes. Indiana may not need him to play more than 15 or 20 minutes in a game this season, but they do need him to build confidence and get acclimated to the speed of the college game.
Against Lowell, Davis played 12 minutes and was productive. He finished with eight points, three rebounds and a blocked shot. When you look at individuals on the roster who have a chance to make major progress as the season goes on, Davis is right near the top of the list.
· Bryant showing patience: Just as he did last season, Thomas Bryant showed on Wednesday why he's such an efficient offensive player. He's patient and doesn't force the issue.
Against Kansas, Bryant hoisted a few early 3-pointers that were a bit surprising, but he connected on two of them to help Indiana generate some offense. On Wednesday, Bryant made the most of the limited offensive opportunities that were available to him.
The 6-foot-10 sophomore took just five shots and finished with nine points in 22 minutes. Moving forward, Indiana needs to do a better job of playing inside-out and establishing Bryant to open things up even more on the perimeter.
"I think at one point in the first half, once we figured it out, we had 15 straight scores going through the paint," Tom Crean said. "And with the uniqueness of guys that can drive it, handle it, pass it, post it, you know we can get there different ways. And that's what we have to be, especially when we're playing the sagging defenses that we see."
· Green shows off his athleticism: Through two scrimmages, two exhibition games and two regular season games, we've seen a little bit of everything from freshman Devonte Green.
Green is a capable 3-point shooter, a fearless driver and can dig in defensively. On Wednesday, he showed what kind of athlete he is. On a breakaway play in transition, Green did this:
· McSwain appears to be pressing offensively: Through two games, junior Freddie McSwain has the highest usage rate on Indiana's roster.
The 6-foot-6 forward is using 31.8 percent of possessions while on the floor and is just 1-of-10 from the field. Several of his shot attempts have been long 2s, which are not a part of Indiana's typical offense. It's also important to note that many of McSwain's shots last night were after the game was already decided.
Like Davis, McSwain missed the summer and is getting his legs underneath him following minor surgery. His long term value to this Indiana team will be as a rebounder, defender and finisher at the rim. The fact that McSwain kept shooting on Wednesday shows that confidence isn't an issue, but look for his role to become more defined in the coming weeks.
Filed to: Deron Davis, Devonte Green, Freddie McSwain, James Blackmon Jr., Thomas Bryant