Around the Hall: National reaction to IU's win over Kansas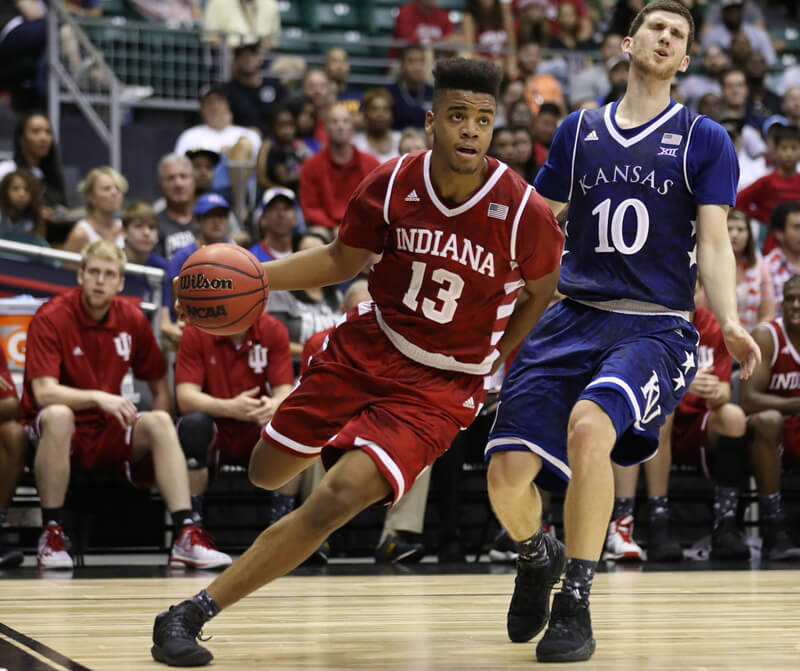 Around the Hall is recommended reading from the Inside the Hall staff.
Eamonn Brennan of ESPN.com writes that Indiana and Kansas helped open the college hoops season in style:
It was particularly fun for the Hoosiers. For Tom Crean's team, Friday night wasn't just proof of its own abilities, or its potential for the next five months; it was a marquee success in its own right. There's a reason the Hoosiers threw the ball into the rafters and ran into each others' arms when the final buzzer sounded: There are few better ways to guarantee your participation in the NCAA tournament than to notch a win over a team that has won the past 12 Big 12 titles.

Forget that it's November. For years now the NCAA tournament selection committee has made a concerted effort to reward teams for their major victories no matter how early or late they come in the season. Seeing as it has been seven years since KU was anything but a No. 1 or No. 2 seed (and have never been seeded worse than No. 4 under Bill Self), you can pretty much guarantee that Kansas will be good — and that Friday night's win will be a major argument in whatever high-single-digit-seed case the Hoosiers are themselves planning on making come March.
Rob Dauster of NBCSports.com writes that he underestimated Indiana going into the season:
To be frank, I can already tell that I totally underestimated this Indiana team heading into the season. I did not expect their guards to be as good as they were tonight. They are still lethal in transition, they still have plenty of shooters up and down their lineup and, even without Yogi Ferrell, there are enough playmakers on the roster that they'll be OK.
Jeff Eisenberg of Yahoo! Sports writes that James Blackmon Jr.'s return makes Indiana a better team:
Seeing Blackmon make such a big impact was a mild surprise considering he's still barely 10 months removed from ACL surgery — his third major knee injury in recent years. He appeared to have fully regained his previous quickness off the dribble, which complements his feathery shooting stroke.

While Blackmon will still never be mistaken for a defensive stopper, his strengths are more valuable to this year's Indiana team and his weaknesses are easier to hide.

The presence of versatile defenders O.G. Anunoby, Juwan Morgan and Freddie McSwain gives Indiana coach Tom Crean plenty of options to deploy against opponents' top scorers. By contrast, with Yogi Ferrell having graduated and Troy Williams having entered the NBA draft, Crean needs a prolific perimeter scorer like Blackmon who is capable of spacing the floor and creating his own shot.
Matt Norlander of CBSSports.com on IU's offense: "It's just a clinic"
Offense? It's already there and poised to be among the most fluid and beautiful in college hoops this year. IU's ball movement, it's just a clinic. Tom Crean has all of his players moving constantly, almost anyone on the floor can take shots from mid-range and beyond — and a lot of them want to take big-boy shots.

The positionless scheme works with this personnel. Crean has something with a lot of potential here. Thomas Bryant — a big man! — was stepping out and cashing buckets from deep. The Hoosiers won this game thanks to 15-of-31 shooting from 3-point range. An incredible clip against a top-three team and it being the opening game of the season in a faraway spot.
?: Highlights from our win over No. 2 Kansas last night. #iubb https://t.co/2gs9T6BpnE

— Indiana Basketball (@IndianaMBB) November 13, 2016
(Photo credit: Darryl Oumi/Getty Images North America)
Filed to: Kansas Jayhawks