The Minute After: Kansas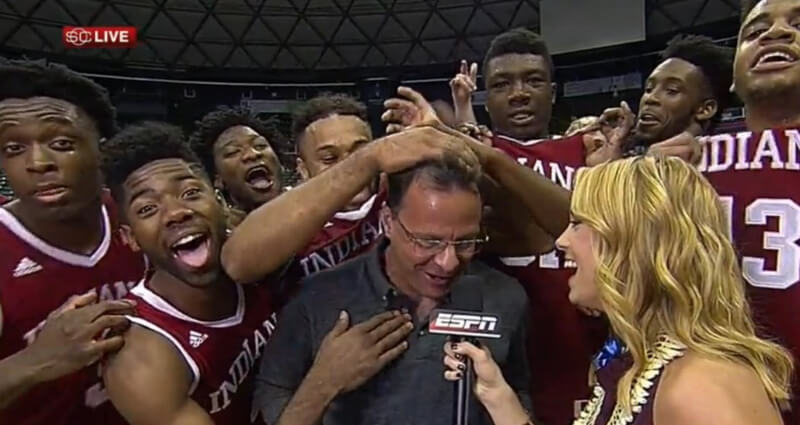 Thoughts on a 103-99 win over the Jayhawks:
In an exhausting, back and forth, high-level basketball game between two of the nation's better teams, you had to ask yourself once it finally wrapped: Is it really just November 11th?
Tom Crean didn't think so.
"It really feels like March," Crean said in the aftermath of his team's overtime victory over No. 3 Kansas in Honolulu before his players swarmed him in celebration.
The Hoosiers came to Hawaii a year ago and barely looked like a tournament team. They couldn't defend and had so far to go. They returned a year later and looked very much the part of a Big Ten championship contender and a team built to compete with college's basketball best. Indiana has depth and talent and confidence. They are tough. They keep coming at you.
The praise thrown OG Anunoby's way this week was non-stop. He's been hailed as the next Kawhi Leonard, a national player of the year candidate, the list goes on. Anunoby had a nice first half, but was nearly non-existent the rest of the contest. He even air-balled a 3-pointer and struggled to contain Frank Mason down the stretch. So when Indiana needed the big shot, needed someone to play the part of Yogi Ferrell when nothing else was happening and the shot clock was winding down, it wasn't Anunoby who got the call. It was James Blackmon Jr.
Blackmon Jr. hit a couple of absolutely monster shots to help propel Indiana to victory in this one. With 2:08 to go, he banged home a 3-pointer to put the Hoosiers up 84-82. He was then fouled on Indiana's next possession attempting a 3-pointer and hit all three at the line. This gave Indiana a five-point lead with 1:24 to go. It looked like the Hoosiers had the game sealed in regulation as Robert Johnson stepped to the line for two with 1:08 left, but he missed both and Mason cruised quickly down the court, hit a lay-up and converted the and-1 as Johnson fouled him.
A possible seven-point lead was suddenly cut to two points and it allowed the Jayhawks the opportunity to push it into overtime. Did the Hoosiers have it in them to dig deep and pull this one out? They did.
Blackmon Jr. hit another dagger 3 in OT to give the Hoosiers the lead at 94-91 with 2:30 to go. It was a lead they never relinquished as Blackmon Jr. capped off his team-high 26-point performance. But it wasn't just the junior who sealed this one for the Hoosiers. After a shaky start at the line in a game the refs blew the whistles a ton, De'Ron Davis — filling in for a fouled-out Thomas Bryant — hit two big free throws with 42 seconds remaining. Curtis Jones (15 points) — who played with extreme confidence and hit a big 3-pointer of his own in overtime — hit two as well with 16 ticks left to keep Kansas at distance.
Juwan Morgan did a bit of everything tonight (six points, 10 boards, four assists, one steal) and it won't be the last time he fills up the box score in a variety of categories. It was a tough blow for the Hoosiers to lose Collin Hartman, but Morgan defends at a higher level and has a similar "do a little bit of everything" skill set.
The Hoosiers still have plenty to get better at. They're far from a finished product. But they also just beat the No. 3 team in the country. Tonight proved this team has some serious potential.
The season ahead looks bright … and it's only just beginning.
Filed to: Kansas Jayhawks