What to Expect: Kansas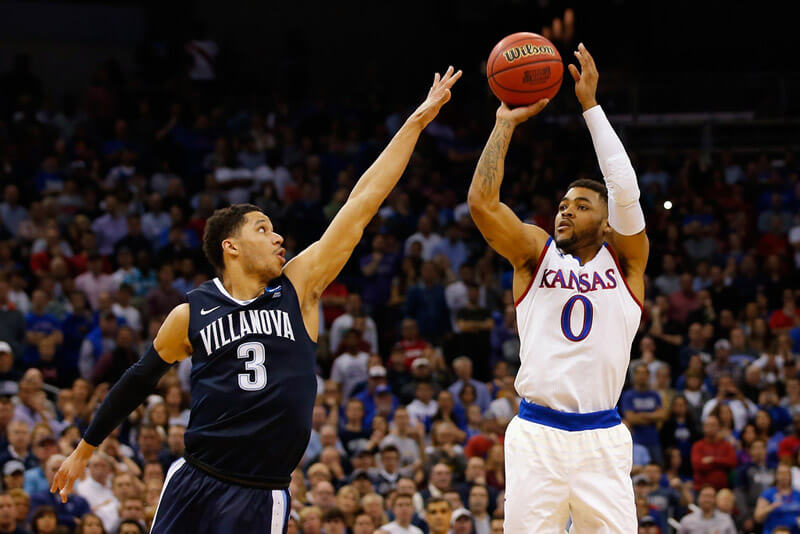 Indiana opens the 2016-17 regular season tonight in Honolulu, Hawaii against Kansas in the Armed Forces Classic. The Jayhawks are ranked No. 3 in the preseason Associated Press top 25 poll.
The game will be broadcast at approximately 9:30 p.m. ET on ESPN with Dan Shulman, Jay Bilas and Andy Katz on the call:
Indiana doesn't have to wait to make a statement nationally this season. The Hoosiers will have that opportunity on Friday in a showcase, primetime showdown with Kansas to open the regular season at the Stan Sheriff Center in Honolulu.
The Jayhawks, a popular preseason pick to reach the Final Four in Phoenix, will be the highest ranked season opening opponent for Indiana since the 1975-1976 season when the Hoosiers faced No. 2 UCLA.
The outcome for Indiana will be one of two things: a springboard for early season confidence and a resume building win that will matter come March. Or it will serve as a reminder of just how far the Hoosiers have to go to compete with the nation's best. Either way, it's a rare opportunity to be in the spotlight in early November in a sport that struggles to gain national relevance this early in the season.
MEET THE JAYHAWKS
The strength of Bill Self's team begins in the backcourt with senior guard Frank Mason Jr. and junior Devonte Graham. The duo is considered one of the nation's best despite arriving in Lawrence with modest recruiting rankings. Graham was the No. 99 player in the 2014 class while Mason was ranked just No. 117 in 2013, according to the 247Composite. Both are now among the top point guards in the country and have played in plenty of big games in their time at Kansas.
The 5-foot-11 Mason is the team's leading returning scorer (12.9 ppg), assist man (4.6 apg) and also its leader. He did a terrific job of getting to the foul line as a junior as his free throw rate (FTA/FGA) of 52 percent really stands out on his offensive profile. Mason was average a season ago in terms of finishing 2s (45.4 percent) and above average at shooting the 3 (38.2 percent), but keeping him out of the lane where he can draw fouls and distribute is the key.
Graham is three inches taller than Mason, can stroke the 3 (43.6 percent) and can really defend on the perimeter. Like Mason, Graham is a tough-minded guard who plays with a chip on his shoulder and makes his teammates better with the energy he can create on the floor. There's no disputing this is one of the nation's best backcourt tandems.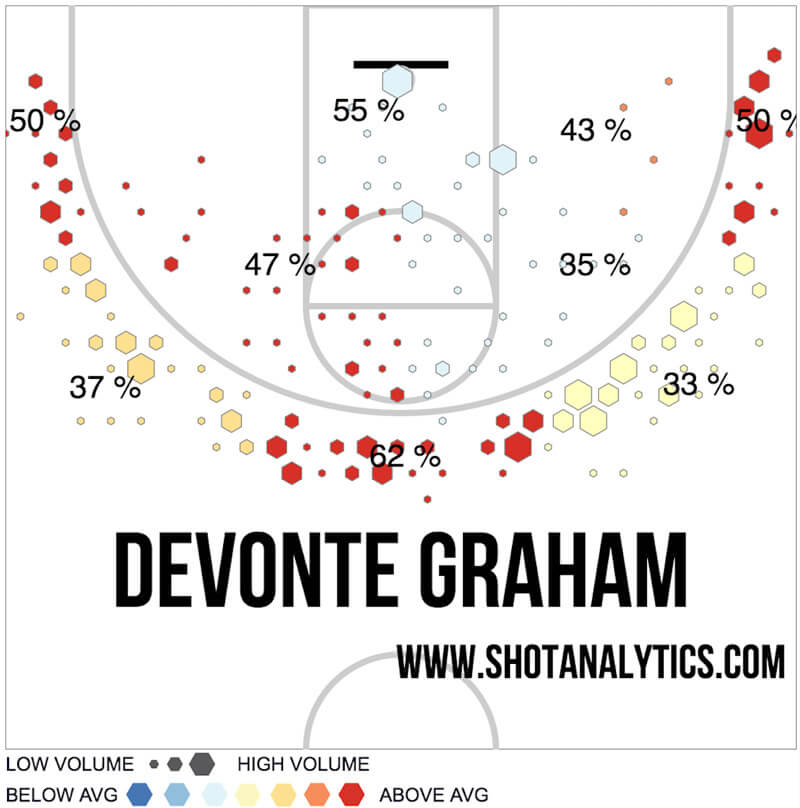 If Mason and Graham weren't enough for opposing teams to prepare for, the Jayhawks also boast one of the nation's best newcomers in Josh Jackson. The 6-foot-8 wing was the No. 1 recruit in the final 247Composite for the 2016 class and is the projected No. 4 pick in next June's NBA draft according to DraftExpress.com. He's best right now offensively as a slasher and finisher in transition because of his elite athleticism. Jackson is a very good rebounder on both ends and plays the passing lanes extremely well. There will be plenty of NBA eyes on a potential Jackson matchup with OG Anunoby on Friday.
Beyond this trio, Kansas has a fair amount of backcourt and wing depth. Sophomore Lagerald Vick, a 6-foot-5 guard, started in the second exhibition game and showed flashes of being a very capable shooter last season in hitting eight of his 15 3-point attempts.
There's also 6-foot-8 sophomore Sviatoslav Mykhailiuk, who will get a chance to play a bigger role with the departures of Wayne Selden Jr. and Brannen Greene. The Ukraine native shot 38 percent on 3s last season and made close to 54 percent of his 2s.
Up front, Kansas will rely on senior Landen Lucas and sophomore Carlton Bragg to take major steps forward. Lucas, a 6-foot-10 senior, will likely spend most of his evening matched up with Thomas Bryant. Lucas was a very good finisher last season (63.6 percent) and an elite rebounder on both ends. He ranked in the top 20 nationally in offensive rebounding percentage as a junior and in the top 50 in defensive rebounding percentage.
Bragg, a former five-star recruit, played just nine minutes per game last season primarily because he was behind Perry Ellis and the fact that he had a ways to go with his strength and understanding of the system. The 6-foot-9 Ohio native has been described as being in a bit of a "funk" recently and it'll be interesting to see what kind of impact he has on Friday.
Two freshmen to watch up front are 7-footer Udoka Azubuike and 6-foot-8 Mitch Lightfoot. Azubuike is a 280-pound banger while Lightfoot will probably be a fringe rotation guy, particularly against elite competition.
TEMPO-FREE PREVIEW
Without season-to-date numbers to dig into, it's important to understand both teams from a stylistic perspective to gain insight on what we can expect later tonight.
One major strength for Bill Self-coached teams at Kansas is their defense. The Jayhawks have ranked in the top 22 in each of the last five seasons in adjusted defensive efficiency (per KenPom) and in four of those seasons, Kansas has ranked in the top five. Kansas typically doesn't force a lot of turnovers, but its ball pressure and ability to challenge shots are constants.
Kansas also had a top 10 offense nationally in the last two seasons. With Mason, Graham and Jackson with the ball in their hands and a capable finisher in the paint with Lucas, the Jayhawks should be in line to produce another top 10 offense.
For Indiana, the Hoosiers are likely to take a small step back offensively, but appear to have much more potential to be an above average defensive unit this season. The question: Is Indiana far enough along at this point to match up defensively with one of the nation's most formidable backcourt units?
WHAT IT COMES DOWN TO
Kansas opened as a 5.5-point favorite in Vegas and is a 5-point favorite according to Ken Pomeroy's model. Given that it's the first regular season contest for both teams and both are integrating plenty of new pieces into new or increased roles, it would be surprising to see a totally lopsided result.
From the Kansas perspective, guard and wing play is key. Mason and Graham should have an advantage over Indiana's guards. But on the IU side of things, the Hoosiers could have the advantage in the paint with Thomas Bryant, Juwan Morgan, Anunoby and others.
This will be an instructive experience for both teams, but won't produce an outcome either way that will change people's minds nationally on either team. Kansas is a legitimate national championship contender and Indiana could emerge into one. In early November, getting a matchup of this caliber is great for the sport.
(Photo credit: Kevin C. Cox/Getty Images North America)
Filed to: Kansas Jayhawks