The Minute After: Bellarmine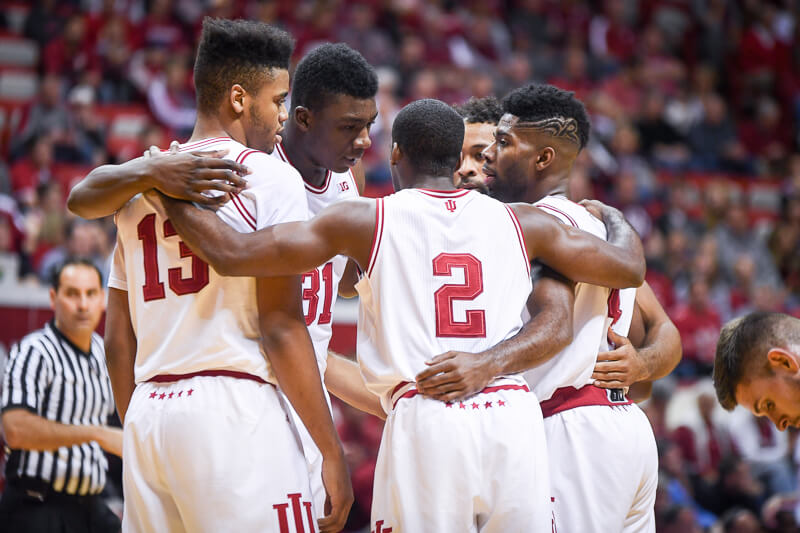 Thoughts on a 73-49 win over the Knights:
After struggling to take care of the ball against Hope College earlier this week, Indiana did a much better job in its rout of Bellarmine on Saturday night — turning the ball over on 18.8 percent of its possessions, better than their average a season ago (19.6). The Hoosiers also come out in this one with some serious defensive intensity. Indiana got into the Knights' faces on the perimeter. They switched and communicated well and forced a couple early shot clock violations. Bellarmine scored just .71 points per possession for the contest.
Between the fewer turnovers and strong defense, all Indiana had to do was be itself on offense and this had all the makings of a serious blowout. But that wasn't quite the case. Despite a host of open looks from 3-point range, the Hoosiers just couldn't knock them down tonight. They entered the locker room at half hitting just 3-of-16 and finished the contest just 6-of-29 from downtown. James Blackmon Jr. missed all seven of his 3-point attempts. Indiana did have a bunch of strong scores inside the arc (14-of-19) in the first half, so it entered the break scoring a pretty strong 1.23 points per possession.
But that mark fell to an average 1.01 points per possession by the game's end, and so what could have been a 40-plus point blowout settled at a comfortable 24-point win for the Hoosiers.
Before the season began, some suggested OG Anunoby was going to need time to adjust to a bigger offense role. Others wondered whether he had a game that was ever going to truly translate to a focal point on offense. But Anunoby's two exhibition performances have loudly proclaimed his offensive game has gone to another level. The sophomore scored 16 points, the most he's ever scored for the Hoosiers, in Indiana's exhibition opener against Hope College on Tuesday night.
He had 17 at halftime this evening on a perfect 7-of-7 mark from the floor. At one point in the second half he'd scored more total points (22 points) than Bellarmine had collectively as a team (21 points). On a night his teammates struggled with efficiency, Anunoby finished the night with a team-high 25 points on 10-of-11 shooting. He continued to connect from deep (3-of-4). He drove from the top of the key through the paint for a dunk. He threw down a effortless reverse jam. He hit 3-of-4 from the line. He also assisted on a Thomas Bryant alley-oop after blocking a Bellaramine shot on the other end of the floor.
And he would have had 27 points had a ridiculous transition highlight reel jam not been called off due to a Devonte Green foul call.
After airballing his first and only 3-point attempt on Tuesday against Hope College, it was nice to see freshman Grant Gelon show no fear from distance tonight. Late in the second half, Gelon dialed up a deep 3-pointer for the right wing and connected. He also hit Indiana's final shot of the game, another 3-pointer, this time out of the left corner.
Josh Newkirk flashed some serious athleticism on a transition dunk and a nice block.
Indiana still has plenty to figure out, but there were plenty of encouraging signs in its two exhibitions. If the Hoosiers can combine the best from tonight's game — locked-in defense, lower turnovers — with better 3-point shooting, they'll give Kansas plenty to handle in Hawaii next week.
Filed to: Bellarmine Knights