Notebook: Anunoby continues to shine in final exhibition tune-up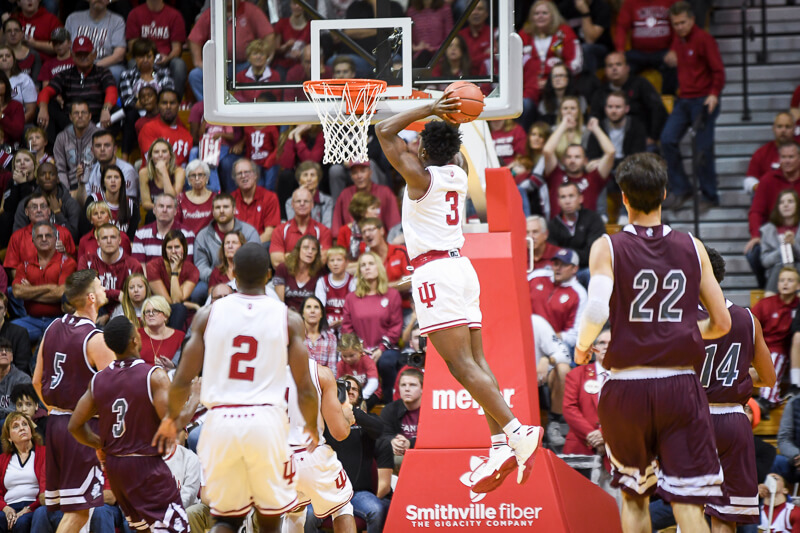 In their second and final exhibition game of the season, the Hoosiers started off looking sharp defensively and went on to beat Bellarmine 73-49. The Hoosiers took advantage of 20 Bellarmine turnovers, turning them into 19 points.
On offense, the Hoosiers were getting open looks, but the shots weren't falling. The exception was OG Anunoby.
At one point in the second half, Anunoby had more points than the entire No. 3-ranked DII Bellarmine team. Anunoby led the way for IU offensively with 25 points. He added six rebounds. What started out last season as a defensive role for Anunoby has shifted to a much larger role with the ability to affect the game on both sides of the ball.
"He comes out to defend, and everything good happens because he comes out to defend," Tom Crean said. "He played pretty much every position tonight offensively and he definitely guarded every position defensively."
Anunoby shot 10 of 11 from the field and has been applauded by teammates constantly for putting in the work to continue to improve.
"With the amount of work that OG puts in day in and day out, it pays off out there on the court each and every day," Thomas Bryant said. "We expect that from him, and it's really great to see that."
Crean not worried about poor shooting
For a team known for its long-range efficiency, IU shot 20.7 percent from behind the arc, making just 6-of-29 three-point shots, but still won comfortably. In the first half, James Blackmon Jr. was scoreless. Crean wasn't worried though.
"The biggest takeaway I'll take out is that I never could tell for a second that James Blackmon wasn't having a good offensive night," Crean said. "And that's a sign of maturity. He is understanding how important impacting the game on both ends is. He played the game without a turnover, and he got better defensively inside the game and those are the things we can build towards."
Bryant finished with 11 points and seven rebounds, followed by Blackmon's 10 second half points. Josh Newkirk and Robert Johnson put up six and seven points, respectively.
McSwain makes his debut
Freddie McSwain had his debut as a Hoosier Saturday night. McSwain played eight minutes and pulled in eight rebounds. After missing time with a knee injury, this is the first week he has been able to go full court.
"He's not real confident yet and you're probably not going to see it for a while," Crean said. "Until he gets some of the other things with the pace of the game, the movements or the offenses. Then all of a sudden I think you'll start to see his shot go in, much like OG."
IU went on a 20-8 run to close out the first half that gave the Hoosiers a 17-point lead. Indiana had nine straight stops to start the second half. IU had offensive contributions from ten Hoosiers, but Crean didn't get into testing out combinations as much as he wanted to before the team takes on No. 2 Kansas in the Armed Forces Classic.
"That's not going to look as fluid," Crean said. "We're having guys do different things in this game that they don't normally do and they have done very little in practice and we're still learning how simple the game can be."
Filed to: Bellarmine Knights, OG Anunoby