An early look at the 2016-2017 frontcourt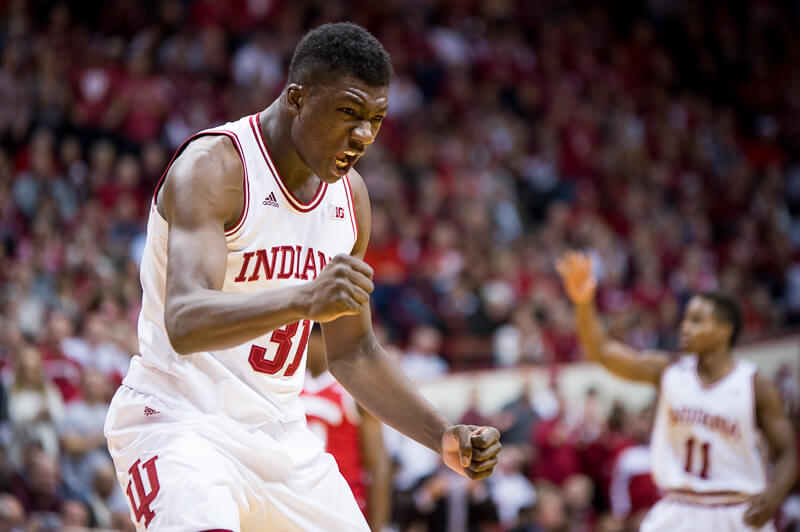 With the official start of practice a little less than a month away, the 2016-2017 season is growing closer. We'll have comprehensive player-by-player previews next month, but here's an early look at some of the storylines to keep an eye on with this season's frontcourt:
· Indiana's deepest frontcourt under Tom Crean: It's not a stretch to declare this group of players the deepest that Tom Crean has assembled in his tenure as Indiana coach.
There's an elite post player in Thomas Bryant. There are two very good defenders in Juwan Morgan and OG Anunoby. There's a 6-foot-10 freshman who can block shots in De'Ron Davis. There's a veteran who can play multiple positions in Collin Hartman. And there's also an elite athlete in Freddie McSwain, who arrives from Neosho County Community College.
Bryant is the clear centerpiece, but Anunoby and Morgan both had a major impact on Indiana's defensive turnaround last season. There could be a learning curve with both McSwain and Davis given their late arrivals on campus, but both possess the talent to contribute right away.
This stable of talent should give the Indiana coaching staff some flexibility with its lineups. Indiana will be able to go big at times with Bryant and Davis on the floor together. And if the Hoosiers go small, Hartman, Morgan and Anunoby could be on the floor at the same time.
· Is Bryant ready to be the man? Indiana's sophomore forward is going to be talked about frequently this preseason. The hype has already started with Bryant landing numerous magazine covers and preseason All-America honors.
As a freshman, Bryant was Indiana's third offensive option behind Yogi Ferrell and Troy Williams. Going back to before James Blackmon Jr. was injured, he was behind him in scoring as well. Ferrell and Williams are both gone and Blackmon Jr. is returning from injury.
Crean has always wanted his teams to play through the post first and last season Indiana had one of the nation's most balanced offensive attacks. Given how efficient Bryant was last season in the post, getting him even more touches and opportunities will be a strong consideration. Even if his field goal percentage takes a slight dip as his usage increases, making Bryant an even bigger part of the offense should pay off for Indiana.
· Larger roles for Anunoby and Morgan: The graduation of Max Bielfeldt and departure of Troy Williams for the NBA should provide an opportunity for both Anunoby and Morgan to carve out bigger roles.
While he's battled a groin issue this offseason, Anunoby has worked on polishing his offensive game. He was an above average shooter and finisher as a freshman, but will need to be ready to make adjustments as defenses place him more prominently on the scouting report.
Morgan battled injuries for a good part of last season and having him completely healthy could be like adding an elite recruit for the Hoosiers. Although he never made excuses or missed significant time last season with his shoulder injury, it definitely held him back to an extent. After being recognized by the program for his work ethic over the summer, look for Morgan to take a major step forward as a sophomore.
· A shot blocking presence in the paint? The last Hoosier to rank in the top 100 nationally in block percentage was D.J. White in his junior season, which was 10 years ago.
Can Davis provide a shot blocking presence in the paint that has been missing? The numbers suggest he may be able to. In his final season on the adidas Gauntlet circuit, Davis averaged 2.5 blocks per game, which ranked eighth on the circuit. He also finished his career at Overland high school as the all-time blocked shots leader in Colorado.
His high school coach, Danny Fisher, believes Davis will elevate his game to another level playing against other members of the frontcourt in practice each day.
"I can't wait to see what that does for him every single day," Fisher said. "I think at the end of his freshman year, midway through his freshman year, we're going to see a completely different player. He's truly going to see what he's capable of. It's going to make everybody go back and look at those rankings and say 'how did we miss on this kid?' Because De'Ron is a kid who gets better through adversity and when he's challenged."
Filed to: 2016-2017 season preview, Collin Hartman, Deron Davis, Freddie McSwain, Juwan Morgan, O.G. Anunoby, Thomas Bryant