Tuesday roundup: Crean addresses Ravens, top newcomers, more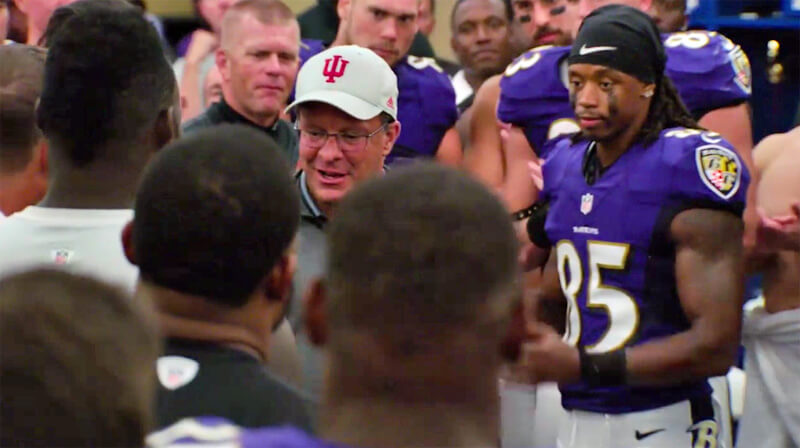 Indiana coach Tom Crean was in Indianapolis over the weekend for the Baltimore Ravens-Indianapolis Colts preseason game at Lucas Oil Stadium.
The Ravens are coached by Crean's brother-in-law, John Harbaugh, who has attended several Indiana games over Crean's tenure in Bloomington. Harbaugh has also addressed the Indiana locker room on multiple occasions.
On Saturday, Harbaugh asked Crean to address the Ravens following a 19-18 win over the Colts:
Bryant on regional covers for Sporting News, Athlon Sports yearbooks
Indiana sophomore forward Thomas Bryant was recently named a preseason first team All-American by Blue Ribbon, which included a spot on the Blue Ribbon yearbook.
The preseason accolades continue to roll in for Bryant as The Sporting News and Athlon Sports have both selected Bryant to appear on regional covers that will go on sale early next month.
Athlon Sports basketball yearbook regional cover featuring #iubb's Thomas Bryant pic.twitter.com/HzOnWHKPkB

— Alex Bozich (@insidethehall) August 22, 2016
Sporting News basketball yearbook regional cover featuring #iubb's Thomas Bryant pic.twitter.com/nShTLm3FKA

— Alex Bozich (@insidethehall) August 22, 2016
ESPN names Davis one of Big Ten's top newcomers
ESPN.com continues its various preseason preview content and recently, senior writer Dana O'Neil revealed her list of the league's top five newcomers for the 2016-2017 season.
De'Ron Davis, who arrived on campus on Sunday morning, was among the five:
Coach Tom Crean promised Davis a scholarship before the power forward even got into high school, offering a spot on the Hoosiers roster back when Davis was an eighth-grader. Of course at the time, Davis was the top-rated eighth grader in the country, so it wasn't a terrible idea. Like most early rankings and early offers, theirs was tested. Davis' ranking didn't remain static as he matured. Plus the Hoosiers didn't necessarily remain a safe choice, as Crean's job security came under heavy scrutiny. Davis scored more than 1,500 points, pulled down more than 1,000 rebounds and set a Colorado state record in blocked shots in high school. The two sides remained loyal, and the result is an upgrade from a formidable Hoosiers frontcourt into a downright terrifying one. With Thomas Bryant and OG Anunoby electing to stay in school, defending Big Ten champion Indiana is loaded.
The other newcomers on the list: Josh Langford and Miles Bridges of Michigan State, Minnesota's Amir Coffey and Penn State's Tony Carr.
Four-star point guard will take official visit to Indiana
One of Indiana's top recruiting targets in the class of 2017, point guard Tremont Waters, has scheduled three official visits.
Waters, who transferred from South Kent Prep (Conn.) to Notre Dame-West Haven for his senior season, will take official visits to Georgetown, Indiana and Kansas this fall.
The 5-foot-10 guard is ranked the No. 40 player in the 247Composite.
Crean to speak at Boys and Girls Club on Thursday
Tom Crean will speak at the Boys and Girls Club of Bloomington on Thursday, Aug. 25 as a part of the "Man Up To Make A Difference" event.
More details are available here.
Filed to: Deron Davis, Thomas Bryant, Tom Crean, Tremont Waters