Friday roundup: Top 50 players in college basketball, recruiting visits, more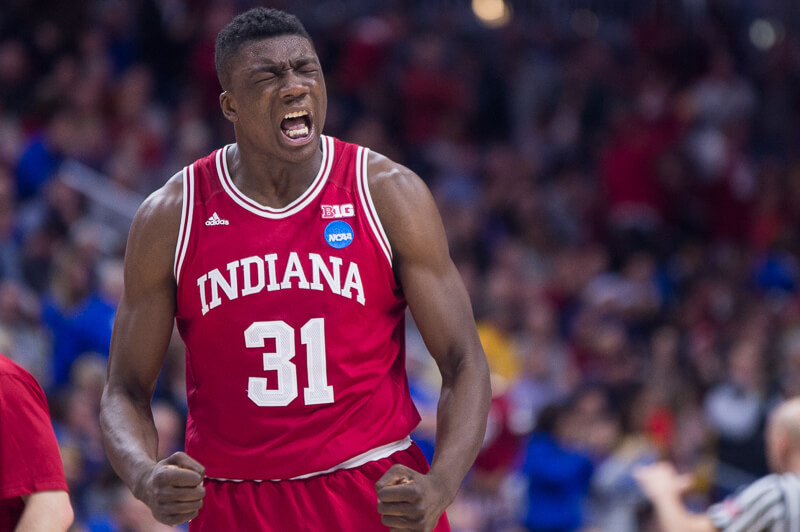 The Big Lead released its annual preseason list of the top 50 players in college basketball and two Hoosiers made the list.
Sophomore Thomas Bryant is the highest ranked Big Ten player on the list at No. 6. Sophomore OG Anunoby isn't far behind in terms of Big Ten players on the list at No. 27 overall and the fourth highest from the league.
Other Big Ten players in the top 50: Ethan Happ (10), Melo Trimble (14), Caleb Swanigan (29), Miles Bridges (32), Nigel Hayes (41) and Peter Jok (45).
James Blackmon Jr., who suffered an ACL injury in December of 2015, was on the "just missed" portion of the rankings.
It's worth noting that Bryant came to Indiana as the No. 20 player in the final 247Composite rankings for the 2015 class and Anunoby was No. 280 nationally in those same rankings. Indiana sells player development on the recruiting trail and Bryant and Anunoby are the two latest examples of guys outperforming their national ranking in Bloomington.
Wilkes sets pair of official visits
Class of 2017 North Central forward Kris Wilkes has set dates for two of his official visits, according to Kyle Neddenriep of The Indianapolis Star.
Wilkes will visit North Carolina on Aug. 26-28 and UCLA on Sept. 22-24.
In addition, Wilkes is expect to announce a firm list of schools this weekend. He's currently ranked the No. 14 prospect nationally in the 247Composite.
Scruggs sets visits
Paul Scruggs, an AAU teammate of Wilkes with the Indy Hoosiers and a guard for Southport, also has a plan for upcoming visits.
According to Indy Hoosiers AAU coach Mike Peterson, Scruggs will take an unofficial visit to Indiana next week followed by official visits to Xavier, Michigan State, UConn and Illinois.
'17 PG Paul Scruggs to Visit IU and XAVIER next week. Followed by MSU, Illinois and UCONN. This is the only Source for Decision/Info!!

— UA Indy Hoosiers (@Indyhoosiersbba) July 29, 2016
Scruggs is ranked the No. 31 player nationally in the 247Composite.
McSwain completes summer school
Neosho County Community College forward and Indiana signee Freddie McSwain is finished with summer school and is expected to be in Bloomington next month.
McSwain tweeted on Thursday afternoon that his academic work is now complete:
DONE! ??? #IUBB

— Freddie McSwain Jr. (@Mcswain_swain) July 28, 2016
McSwain, along with De'Ron Davis, have not been in Bloomington this summer for offseason workouts and summer school.
Filed to: Freddie McSwain, Kris Wilkes, O.G. Anunoby, Paul Scruggs, Thomas Bryant