The 2016-2017 Indiana basketball schedule: What we know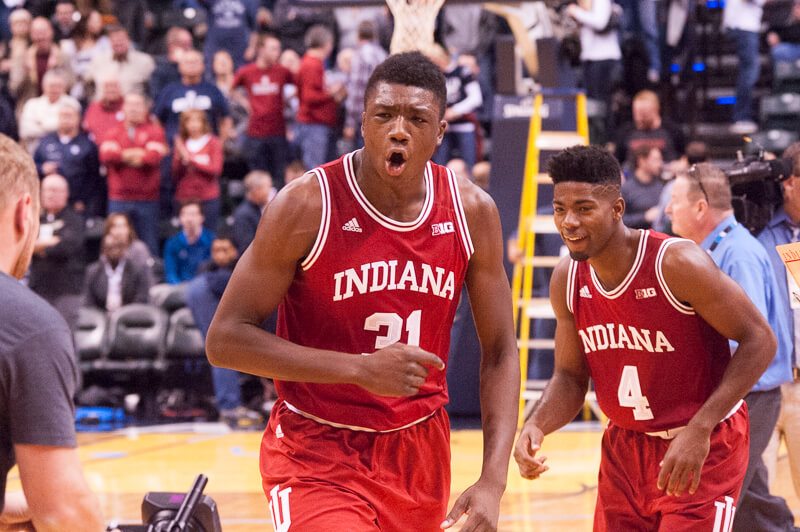 The full 2016-2017 Indiana basketball schedule won't be released until later this summer when the Big Ten finalizes the conference slate, but a good chunk of dates and non-conference opponents for the upcoming season have already been revealed.
Here's an early look at what we know so far about the 2016-2017 schedule:
· Year six of the Crossroads Classic: Indiana needed a second half comeback to beat Notre Dame in last year's Crossroads Classic, but the Hoosiers got the job done and have now won two straight in the event. Overall, Indiana is 3-2 in the Crossroads Classic. The Hoosiers will face Butler this season on Dec. 17 at Bankers Life Fieldhouse and should be favored. The Bulldogs graduated both Kellen Dunham and Roosevelt Jones and are unranked in early preseason top 25s for next season. The Crossroads Classic was extended through 2019 back in August of 2014.
· The Indiana Classic: Indiana will play in a four-team exempt event called the "Indiana Classic" that will feature games against UMass Lowell (Nov. 16), Liberty (Nov. 19), a game against IPFW in Fort Wayne (Nov. 22) and one opponent that is still to be announced (likely to be Mississippi Valley State). That contest is expected to take place after the IPFW game.
· Sweet Sixteen rematch in Assembly Hall: The Hoosiers will play in one of the marquee games of the Big Ten/ACC Challenge when North Carolina comes to Assembly Hall on Wednesday, Nov. 30. It will be the second time in four years that the two programs meet in Bloomington. Indiana beat North Carolina 83-59 on Nov. 27, 2012 at Assembly Hall. The Tar Heels are ranked No. 6 in ESPN's way-too-early preseason top 25.
· Armed Forces Classic: Indiana will open the regular season away from home with Kansas in the Armed Forces Classic at Joint Base Pearl Harbor-Hickam in Honolulu, Hawaii on Friday, Nov. 11. It will be the first meeting between Indiana and Kansas since 1995. The Jayhawks lead the all-time series 7-6. Kansas is ranked No. 4 in ESPN's way-too-early preseason top 25.
· IU sitting out of the Gavitt Tipoff Games: After facing Creighton last season in the inaugural Gavitt Tipoff Games, Indiana is not in the event this season. The Gavitt Tipoff Games features eight Big Ten and Big East programs facing off in the opening week of the season. Indiana will appear in the event at least three more times through 2022.
· Louisville series tips off: Indiana and Louisville will begin a three-year series on New Year's Eve at Bankers Life Fieldhouse. In year two of the series, the Hoosiers will travel to the KFC Yum! Center and the final game of the series will take place in 2018 at Assembly Hall. The Cardinals are ranked No. 13 in ESPN's way-too-early preseason top 25.
· More guarantee games to come: So far, just eight of Indiana's 13 non-conference games have been revealed. Given that IU already has Kansas, North Carolina, Louisville and Butler on the schedule, most, if not all, of the remaining games are likely to be guarantee games. So far, just three guarantee game opponents have been announced in UMass Lowell, Liberty and Southeast Missouri State (Dec. 4).
Final KenPom/RPI rankings from 2015-16 season for confirmed #iubb non-conference opponents next season: pic.twitter.com/iTzjYFRQuq

— Alex Bozich (@insidethehall) July 25, 2016
· The unbalanced Big Ten schedule: The unbalanced league schedule is going to be a topic of conversation each year with 14 teams playing an 18-game slate. This year will be no different. Here's IU's draw:
– Big Ten double plays: Michigan, Northwestern, Penn State, Purdue and Wisconsin
– Big Ten single plays (home): Illinois, Nebraska, Michigan State, Rutgers
– Big Ten single plays (away): Iowa, Maryland, Minnesota, Ohio State
This schedule projects to be a little bit tougher than last season when Indiana played Maryland, Purdue, Michigan and Michigan State just one time. This year, Indiana will play both Wisconsin and Purdue twice, but does get the benefit of facing Michigan State just once with the game in Bloomington.
Earlier this summer, we took a look at how the unbalanced league schedule could shape the 2016-2017 Big Ten race.
Filed to: 2016-2017 schedule