Roundup: A look at how Indiana recruiting targets fared at Peach Jam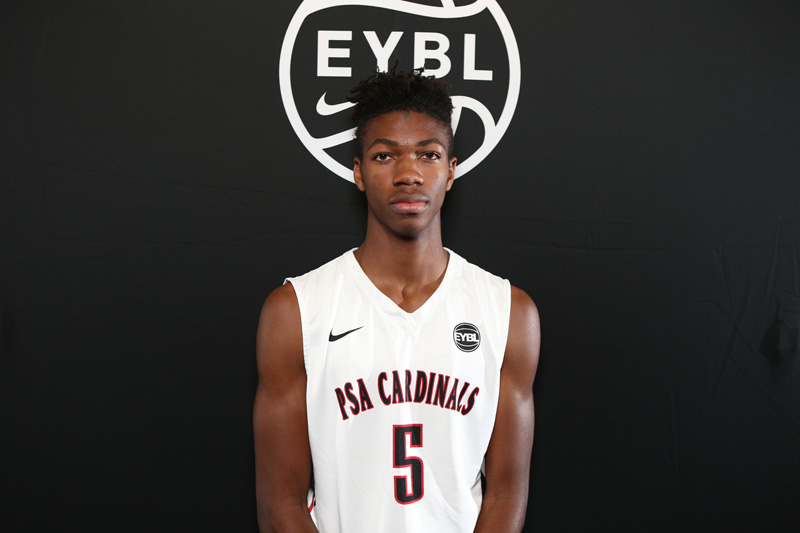 Several Indiana recruiting targets were in action last weekend at the Nike Elite Youth Basketball League (EYBL) Finals at the Peach Jam in North Augusta, SC.
The Peach Jam is the crowned jewel of the EYBL season and the premier event of the summer grassroots basketball circuit. The top EYBL teams are invited to Peach Jam based on standings accumulated during four preliminary rounds of pool play conducted in Brooklyn, NY, Indianapolis, IN, Hampton, VA, and Atlanta, GA.
Here's a look at how several IU targets performed in the event:
Brandon Randolph, PSA Cardinals: Randolph (pictured) is a part of perennial Nike EYBL contender PSA Cardinals, alongside other Indiana targets Mohamed Bamba and Deng Gak. The Cardinals entered Peach Jam with a 14-2 record and were one of the clear favorites to compete for the championship, but fell 93-65 in a lopsided title game to Mokan Elite, led by Trae Young and Michael Porter Jr.
Randolph, a 6-foot-6, 185-pound four-star guard currently ranked No. 48 in the 247Composite, had a solid showing at the Peach Jam that will certainly intensify his recruitment. He had impressive bookend performances in the tournament, including a team-high 24 points in the Cardinals' 89-79 opening day win over Nike South Beach.
Then, four days later, Randolph took advantage of the live ESPN televised Peach Jam championship game against Mokan Elite and finished with 19 points and seven rebounds in what was really the only notable PSA performance in the championship game.
As with many players on Indiana's radar, Randolph's recruitment is likely still a long way from over and he holds offers from a lengthy list of high-major programs.
Mohamed Bamba, PSA Cardinals: A teammate of Randolph on PSA Cardinals, Bamba was one of the most highly publicized players on the circuit entering Peach Jam. The No. 3 overall player in the 247Composite, Bamba boasts a 6-foot-11 frame and a reported 7-foot-9 wingspan and has an impressive skillset to go along with it.
As for his performance throughout the tournament, it was a mixed bag for Bamba. At times, he looked the part of one of the nation's premier players, most notably during an impressive 17-point, 14-rebound performance in PSA's 62-58 pool play victory over Chicago-based program Meanstreets.
Other times, Bamba was nearly nonexistent, including the championship game in which he totaled only eight points and six rebounds.
Bamba definitely has room to improve in the coming months before stepping on a college campus, but his unique combination of size and skill make him a top prospect for nearly every premier program in the country.
Deng Gak, PSA Cardinals:  Gak's sample size was relatively small during Peach Jam play. The 6-foot-11 center is currently ranked No. 62 overall in the 247Composite.
He averaged just 11.7 minutes per game, which is skewed somewhat by a 25-minute performance in a game against NJ Playaz Basketball Club when four of PSA's major contributors didn't play at all. Not surprisingly, Gak's high output of the tournament came during that game when he finished with seven points and 10 rebounds.
As for the minutes, it's important to note Gak is currently playing behind the No. 3 player in the country in Bamba, so the lack of playing time may be less of a reflection on his play and more a product of the depth chart.
Gak holds several offers including Duke, Kansas, UConn, Miami, Alabama, Minnesota, Rutgers and Seton Hall. He's also been tracked this spring and summer by the Indiana coaching staff.
Tremont Waters, Expressions Elite: Waters, a 5-foot-11, 160-pound point guard prospect, continued his ascent in the spring/summer AAU circuit ranks during at the Peach Jam. The South Kent School (Conn.) product led Expressions Elite to a 4-1 record during pool play in Division D, its only loss to eventual tournament champion MoKan Elite.
Individually, Waters stuffed the stat sheet throughout, finishing with averages of 15 points, 4.2 rebounds, 5.3 assists and 1.8 steals per game, a tribute to his solid all-around game from the point guard position. He is quickly becoming known for his intensity and pressure on the defensive end and his ability to be a complete floor general for his team.
With the 2017 class relatively short on top-tier point guards, Waters, currently the No. 38 overall player in the 247Composite, will be highly sought after and has a long list of teams vying for his services. That list includes Indiana, who first wrote Waters a letter as a seventh grader.
Nick Richards, Expressions Elite: Richards, an Expressions Elite teammate of Waters, wasted no time in making his presence felt at the Peach Jam. On opening night, the 7-foot, 230-pound center notched his first of several double-double performances during the tournament with 16 points and 17 rebounds in a 74-71 win over Team Takeover.
Through six tournament games, Richards averaged in double figures in both points (12.1) and rebounds (12.8) per game and shot an efficient 57 percent from the field. His game isn't flashy and many points come from putbacks, but Richards is an imposing big man who will be physically ready from day one at the next level.
As for his recruitment, Richards has been tight-lipped, but recently mentioned Kentucky, Indiana, Syracuse, UConn and Arizona as the schools recruiting him hardest.
"Whichever school at that moment is the best fit for me, I'll take it," Richards said of his recruitment during Peach Jam. "I don't really know when I'm gonna make a decision. It could be early, it could be late."
Hamidou Diallo, NY Rens:  One of the biggest risers in the player rankings over the past year, Diallo didn't disappoint during his time in North Augusta, SC. He has consistently garnered attention throughout the EYBL circuit thanks to his highlight reel ability and knack for making spectacular plays in transition.
The NY Rens advanced past pool play with a 4-1 record, but they fell 74-63 in the quarterfinals to Team Penny. As was the case throughout the summer, the 6-foot-5 wing paced his team in scoring during Peach Jam with 19.6 points per game and also chipped in a respectable 6.2 rebounds per game.
Diallo has risen all the way to his current spot as the No. 7 player according to the 247Composite and just earned a spot on USA Basketball's U18 team set to compete in the FIBA Americas U18 Championships this month in Valdivia, Chile.
During Peach Jam, Diallo said he is still "definitely" in contact with Indiana, but has yet to start trimming his list of schools in preparation for a decision.
Jordan Tucker, NY Rens: One of the best perimeter shooters in the country, NY Rens forward Jordan Tucker put that skill on display during his team's 67-66 pool play loss to Team Final. In that contest, the 6-foot-7 Archbishop Stepinac (N.Y.) standout went 5-for-9 from beyond the arc and finished with 21 points.
For the tournament, Tucker, a teammate of Diallo, shot 41 percent from deep and averaged 16.5 points, 4.7 rebounds, 2.8 assists and 1.8 steals per game.
The No. 31 player according to the 247Composite, Tucker took an unofficial visit to Indiana this spring and mentioned Indiana as one of the schools pursuing him the hardest during the Nike EYBL stop this past spring in Westfield. The Hoosiers offered a scholarship in May 2015, but have major competition with schools like Syracuse, Maryland, Villanova, Oklahoma, USC and St. John's also in the mix.
Andrew Platek, Albany City Rocks: Platek had a few extra sets of eyes on him during the Peach Jam following offers from both North Carolina and Indiana in the weeks leading up to the EYBL Championship.
He made the most of that exposure and averaged in double figures with 11.6 points per game. The 6-foot-4 shooting guard from Northfield Mount Harmon (Mass.) is regarded as one of the best pure shooters in the 2017 class, but struggled from distance through Albany City Rocks' five pool play games and finished the event just 7-of-29 from downtown.
However, the three-star prospect per the 247Composite made up for the tough shooting with other contributions, including 4.4 rebounds per game from the guard position and also added two steals per contest.
Indiana appears to definitely be a player for Platek, who made an unofficial visit to Bloomington in early May.
Jaren Jackson, Spiece Indy Heat: Spiece Indy Heat finished with a disappointing 2-3 record during pool play at the Peach Jam and did not advance to the quarterfinal round.
Individually, Jackson had an up and down tournament. The 6-foot-9 forward from Park Tudor High School put together a nice 17-point, seven-rebound performance in a narrow 54-53 loss to eventual runner-up PSA Cardinals. He followed that up the next day, however, with a five-point, eight-rebound game in 19 minutes against Nike South Beach in which he went just 1-of-8 from the field and missed all three of his 3-point attempts.
Overall, he finished with a respectable 11.2 points and 7.6 rebounds per game. Jackson is currently ranked No. 21 in the 247Composite and has a long list of offers that includes Indiana, Purdue, Maryland, Alabama, Georgetown and a host of others.
Luka Garza, Team Takeover: Garza, a 6-foot-10, 235-pound center out of Maret School (Washington, D.C.) averaged 11.6 points and nine rebounds per game through five games at the Peach Jam and was 22-of-48 from the field.
His tournament included an impressive 16-rebound performance against Las Vegas Prospects on the second day of pool play. Garza is a four-star prospect per the 247Composite and ranked No. 128 overall. He holds offers from several schools, including Big Ten programs Indiana, Iowa, Penn State and Nebraska.
Darius Garland, St. Louis Eagles: Garland, who grew up in Gary before moving to Nashville, is one of Indiana's top targets in the class of 2018.
Ranked the No. 12 player nationally in the 247Composite, Garland averaged 14.8 points, four assists and 2.8 rebounds at Peach Jam. The St. Louis Eagles, however, finished the event just 1-4.
Garland visited Indiana in March for the Maryland game.
Lonnie Walker, Team Final: In Team Final's second and third games of pool play, Walker showed why he has continued to move up the overall rankings since his appearance at the 2015 Peach Jam.
During those two games, Walker led the team to a pair of victories over E1T1 United and Houston Hoops with back-to-back 26-point outbursts. Against E1T1 United, he was just four assists shy of a triple-double and finished with an impressive line of 26 points, 10 rebounds and six assists, including a 4-of-8 performance from distance.
For the tournament, the 6-foot-5 shooting guard out of Reading (Pa.) displayed a well-rounded game and finished with averages of 16.4 points, 6.4 rebounds, 3.6 assists and 1.8 steals per contest. Now a five-star recruit and the No. 22 player overall according to the 247Composite, Walker will be a hot commodity as the 2017 class recruiting cycle continues.
Filed to: Andrew Platek, Brandon Randolph, Hamidou Diallo, Jaren Jackson, Jordan Tucker, Luka Garza, Mohamed Bamba, Nick Richards, Tremont Waters