Five-star point guard Darius Garland has IU offer, ties to the state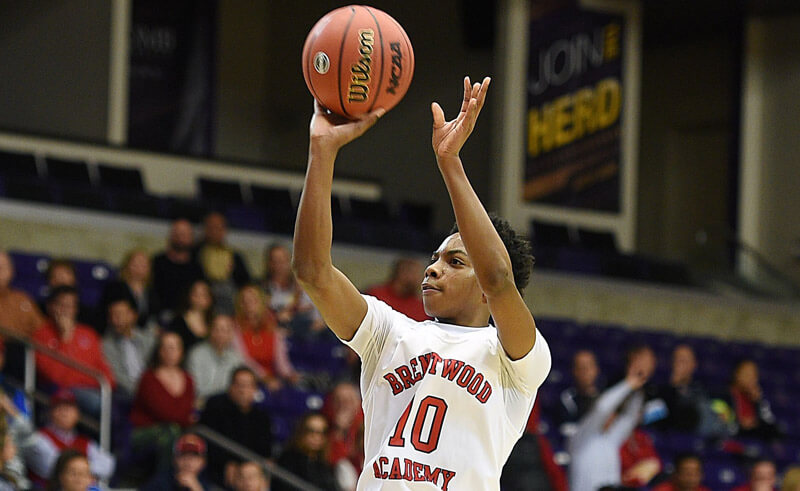 One of the top prospects in the class of 2018 has taken an interest in Indiana and he has major ties to the state.
Darius Garland, a 6-foot, 160 pound point guard who attends Brentwood Academy in Nashville, Tennessee, lived in Indiana until his seventh grade year.
Garland is the son of Winston Garland, who played at Gary Roosevelt and later in the NBA for seven seasons where he spent time with Golden State, the Los Angeles Clippers, Denver, Houston and Minnesota. The older Garland was named to the Indiana high school basketball hall of fame's Silver Anniversary team in 2007 and also coached at Westside High in Gary until 2012.
Darius is building his own name as he's currently ranked a five-star prospect by the 247Composite and is building major recruiting interest as he stars this spring for the St. Louis Eagles on the Nike Elite Youth Basketball League (EYBL) circuit.
As a sophomore at Brentwood Academy, Garland led the program to its second consecutive Division II-AA championship and also won Division II-AA Mr. Basketball honors. He averaged 18.6 points, 4.3 assists, 2.5 steals and two rebounds per game in his third season playing varsity.
His stellar play has continued this spring in his first season with the Eagles as he scored 51 points over three games at the EYBL stop last weekend in Westfield. The Eagles are 5-2 and in good position to qualify for July's EYBL Peach Jam finals.
"I like it a lot (playing with the Eagles). Have some good teammates, coaches and I think I can fit really well with them," Garland told Inside the Hall on Saturday. "We have a lot of good wings with Jordan Goodwin and Tim Finke and some solid bigs. It's been a good fit for me, so I like it a lot."
Not surprisingly, recruiting interest continues to pick up steam for Garland, who visited Indiana on March 6 for the Maryland game and received a scholarship offer on the trip.
In addition to Indiana, he mentioned Texas, Ohio State, UConn, Kansas, Vanderbilt, Louisville and UCLA as some of the schools involved early on.
"Everyone is in the mix right now because I'm so young," Garland said when asked about where things stand with the recruiting process. "I haven't been thinking about it a lot. Meeting new coaches and everything, it's a lot of fun."
The early March trip to Bloomington was a positive experience for the five-star floor general.
"It was really good. The atmosphere was crazy because it was senior night," he explained. "It was really fun. They say they're going to be on me really hard and they are here watching this weekend."
Combine his ties to the state and the fact that he's already been on campus and Garland's recruitment appears to be one the Hoosiers could be in for the long haul.
"My family is up here and I've been liking Indiana for a while," he said. "They just started recruiting me this year and I'm really excited about that."
(Photo credit: The Tennessean)
Filed to: Darius Garland