2017 guard Andrew Platek talks Indiana interest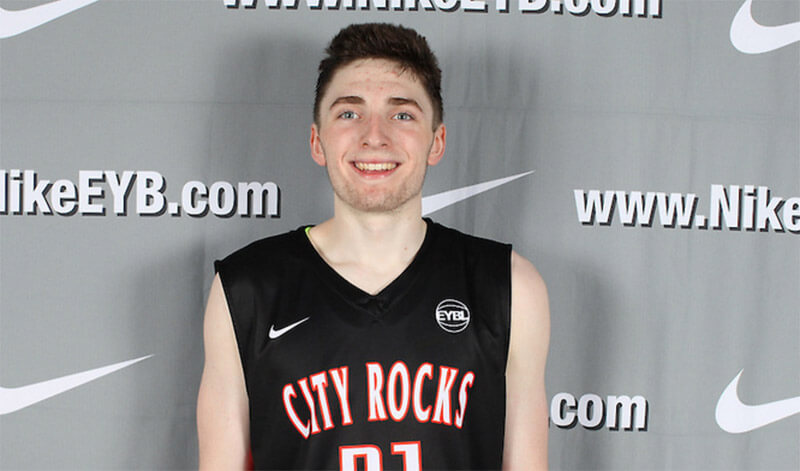 One of the nation's best 3-point shooters is planning an unofficial visit to Bloomington.
Andrew Platek, a 6-foot-4 guard from Northfield Mount Harmon (Mass.) and the Albany City Rock on the Nike Elite Youth Basketball League (EYBL) circuit, told Inside the Hall over the weekend that he'll see the IU campus early next month.
"Coach (Chuck) Martin and I've talked to coach (Tom) Crean on the phone as well," Platek said. "He's called my parents. We're trying to set up a visit for May 7 and 8 to get out there for an unofficial."
Through the first two EYBL sessions, Platek is shooting 54.1 percent on 3s and is averaging 14.6 points for the City Rocks, who are 5-2. In a win over Southern Stampede and 2017 Indiana commit Al Durham on April 17, Platek scored 20 points and hit four of his six 3-point attempts.
Major programs have taken notice as North Carolina extended an offer to Platek on Wednesday.
"Stanford, Indiana, UNC are schools I'm hearing from," Platek said on Saturday. "My offers that I've been hearing from the most are Davidson, GW (George Washington), Butler, Miami, Rutgers and St. Joe's."
A 3-star prospect in the 247Composite, Platek has scored in double figures in six of his seven EYBL games this spring.
He's known as one of the nation's best shooters, but is working to expand his game. He said his primary strengths right now are his shooting, defense and creating open looks for his teammates, but also has a list of the areas where he's looking to improve.
"Getting to the hole, first and foremost," he said. "I've been labeled as a shooter. So I'm trying to expand my game more. Get to the rack and get to the foul line and just all aspects of my game."
Given Indiana's success in recent seasons from the perimeter, the mutual interest between the Hoosiers and Platek makes plenty of sense.
"I love their pace of play," he explained. They average 83 points per game, over 50 percent field goal shooting and over 40 percent from 3. That's really impressive to me. I love playing like that. The fast pace of play, getting up and down the court, a lot of possessions, it's fun to me."
Assuming his team continues its winning ways on the EYBL circuit, Platek already has a schedule in mind for how his recruiting process will play out over the next few months.
"Hopefully, if we get a Peach Jam berth, I'm going to set up some official visits for late summer, early fall," Platek said. "And then hopefully have a decision by sometime in November."
(Photo credit: Nike)
Filed to: Andrew Platek