Around the Hall: 2017 point guards, Morgan and Anunoby and more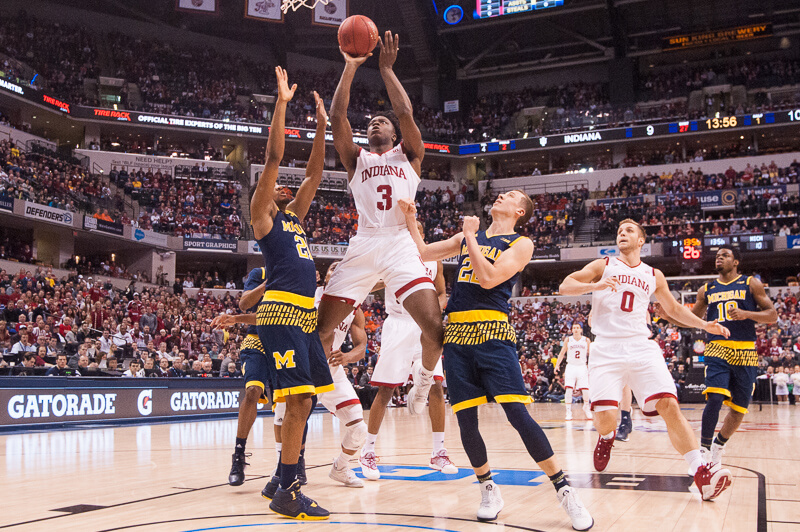 Around the Hall is recommended reading from the Inside the Hall staff.
NetsDaily.com talked to former Indiana guard Yogi Ferrell about how he can fit in with the Nets:
Ferrell believes that the Nets, in a rebuild situation, present him an opportunity to play hard and earn a roster spot during Summer League. "A lot of guys [on the Nets] are basically playing for a roster spot at this point so I think this was the best option to work hard and get one of those spots," Ferrell said.
Jeff Borzello of ESPN runs through some of the biggest storylines for the July evaluation periods, including the point guard dominoes in the 2017 class:
5. Point guard dominoes: Heading into the spring, the point guard position was looking fairly weak for the 2017 class. Trevon Duval (No. 5) was the lone top-20 prospect, and while that is still the case, spring performances really solidified the top of the position. Trae Young (No. 21), Quade Green (No. 22) and Matt Coleman (No. 27) are now in the five-star ranks, and New England products Tremont Waters (No. 31) and Makai Ashton-Langford (No. 32) are not far behind. There's a drop-off following those top six until the next uncommitted point guard, but here's the biggest thing to watch among that group: there are several big schools prioritizing point guard in 2017, not the least of which are Duke and Kentucky.
Former Indiana guard Eric Gordon agreed to a four-year deal with the Houston Rockets:
The Rockets completed their second deal with a New Orleans free agent of the day on Saturday, agreeing to terms with guard Eric Gordon hours after they locked up his Pelicans teammate Ryan Anderson.

Gordon agreed to a four-year, $53 million contract with the Rockets, a person with knowledge of the deal said.
Mike Miller of The Herald-Times sat down for a Q & A with Tom Crean ($):
Q: How much is junior college transfer Freddie McSwain hurt by not being able to be here until August?

A: It's a hindrance to his development here, it's a hindrance for us getting his skills right, but at the same time, he's showing a great determination because he could have signed with other schools and not have had to take this math class. But we require it and it was important for him to come to Indiana in his mind, and he's taking this on as a great challenge. So we go to see him. Rob Judson has been to see him twice. We can't see him play or workout and things like that, but to go to check on him and make sure he feels a part of it. That's the same thing with De'Ron (Davis). De'Ron has got to get some academic work done and he's doing it, and he's doing well with it. I think if there's anything that's changing in college basketball and college sports in general it's that everything is changing, so you better be fluid. It's only going to change more. If you are rigid, regimented and can't deal with change, you're gonna struggle at coaching and you're gonna struggle running a program. This is just part of it. I think the whole key becomes clear communication, staying in touch and making sure that we're all trying to follow a plan that we have.
Rick Bozich of WDRB.com watched Juwan Morgan and OG Anunoby last week and came away impressed with both:
Anunoby showed a solid three-point stroke from the corners and the wings while developing the most explosive lower body on the team. IU graduate assistant Derek Elston said Anunoby has upgraded his outside stroke as he works on his ball-handling. He was making shots from the NBA three-point line — on catch-and-shoot as well as off-the-dribble situations. The Shot Doctor, assistant coach Tim Buckley, appeared pleased.

Morgan participated in all the drills, no longer wearing a protective brace on his surgically repaired left shoulder. Crean has discussed using Morgan as a ball-handler on the perimeter, similar to the role Troy Williams played the last three seasons. Morgan showed a solid left hand and improved shooting touch. He has a good first step as well as the ability to use either hand. Buckley also worked with Morgan.
The Oklahoman looks at what's next for the Thunder without Kevin Durant:
There's no Durant, which means there's no realistic title hopes, which is a pretty devastating blow to Westbrook — one of the country's most competitive humans. But there are young pieces of which Westbrook is very familiar.

Steven Adams is a 22-year-old emerging star. Enes Kanter is one of the most skilled offensive bigs around. Westbrook has developed great pick-and-roll chemistry with both over the past couple seasons. That would be his starting frontcourt.

In the backcourt, he'd pair with the recently acquired Victor Oladipo, forming one of the more athletic, explosive guard duos around. Probably the most electric in the open court.

"Definitely going to be fun to watch," Oladipo said. "We have a similar mentality."
Filed to: Eric Gordon, Juwan Morgan, Matt Coleman, O.G. Anunoby, Tom Crean, Tremont Waters, Victor Oladipo, Yogi Ferrell