The Inside the Hall Mailbag: June 30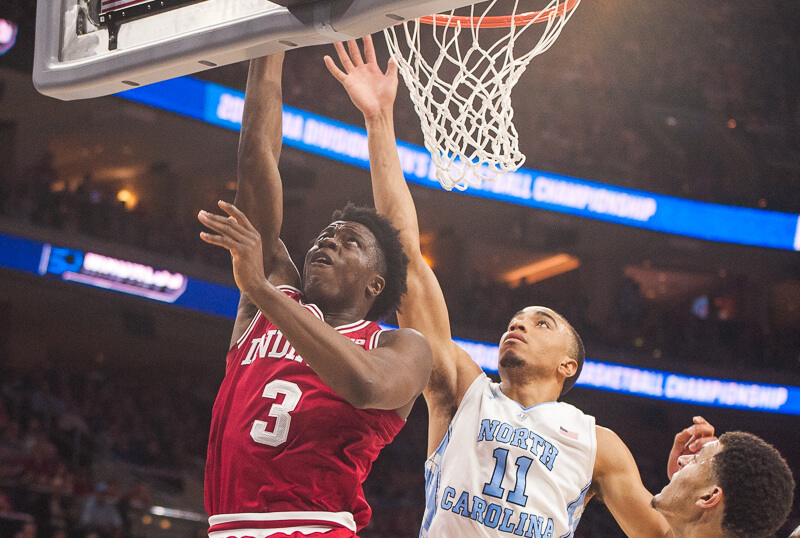 The Inside the Hall Mailbag is a collection of questions tweeted to us via Twitter (@insidethehall), via email, submitted on our premium forum and sent to us via our Facebook page. Submit your questions and we'll answer as many as we can.
@kyl470 on Twitter writes: Your website is 9 years old. Who are the 9 best IU players during that time?
Without going too in-depth because this answer could be 500 words easily if I explained each choice, here are my top nine, in no particular order: Eric Gordon, D.J. White, Cody Zeller, Victor Oladipo, Noah Vonleh, Christian Watford, Yogi Ferrell, Jordan Hulls and Thomas Bryant.
Just on the outside of the top nine: Troy Williams, Will Sheehey, Verdell Jones and James Blackmon Jr. – Alex Bozich
CincyHoosier on the premium forum writes: Expectations are high for OG Anunoby – but are they too high, considering he did not play starter minutes (only five times played more than 17 minutes – though his three highest minute totals were at Iowa, vs. UM in the B1G tournament, and vs. UK in the NCAA)?
You make an interesting point in terms of Anunoby's minutes and whether he can sustain his level of play in a larger role when more focus is being given to him by opposing defenses.
His defensive ability should be able to translate fine with more minutes, but can he maintain the level of offensive efficiency and expand his game further on that end? From everything I've heard about the offseason he's having, I would lean towards buying a breakout season for Anunoby.
His shooting should continue to improve. The key areas where he needs to improve are in his ball handling and ability to create his own shot off the dribble. He has already proven himself to be a lockdown defender. With the depth on the roster, he's probably looking at minutes somewhere in the range of 22-27 per game. Expectations are high, but I tend to believe Anunoby will meet them or least come close. – Alex Bozich
@BierUndTuba on Twitter writes: The philosophy of the offense will be way different without yogi. Are we looking at a Spurs offense with space and passing?
I'm not sure I would say that the philosophy will be a lot different, but the personnel will be. Tom Crean is still going to have plenty of shooting on the roster with Robert Johnson, Blackmon Jr., Curtis Jones, Collin Hartman, Juwan Morgan, Anunoby and others.
Indiana will once again build its offense around getting one of two things: 1. 3-point shots. 2. shots at the rim. When the Hoosiers are at their best, they're pretty much avoiding the mid-range game and it's a formula that works. There may be more of a focus on getting shots at the rim and in the paint and less 3s, but the overall scheme probably isn't going to change too much.
I do agree that ball movement and spacing will be more important without Ferrell because he could get just about anywhere on the floor with the dribble and next year's team won't have a player who can operate like he did. – Alex Bozich
CampHoosier on the premium forum writes: What does your starting lineup look like currently? Which Freshman will see the most minutes?
Right now, here are my two guesses. The first is a three-guard set with Josh Newkirk, Robert Johnson and Blackmon Jr. along with Anunoby and Bryant.
The second is Johnson, Blackmon Jr., Hartman, Anunoby and Bryant.
I'd say Jones will probably see the most minutes of the freshman with De'Ron Davis right behind him. I'd also expect Devonte Green to carve out some minutes next season if he's as good as advertised on the defensive end. – Alex Bozich
DKIU83 on the premium forum writes: Can you give us an update on recruiting for 2017?
Interesting you asked. We just launched a completely revamped recruiting board for 2017, which you can access here. There's a breakdown of all of the top prospects that IU is recruiting for 2017 along with links to profiles for all of the top targets that include rankings and video. – Alex Bozich
ancphill on the premium forum writes: Were you surprised that both Troy and Yogi went undrafted? Now that both have gotten summer league opportunities, which do you think is more likely to find himself on an NBA roster at some point?
Not surprised at all. When you get into the second round, it's a complete crapshoot in terms of what teams will do. Perhaps both players could have been drafted had they agreed to go to the D-League for a year, but didn't want to go that route until other options were explored.
In a lot of cases, as Jay Bilas explained before the draft, it's better to not get picked so you can pick your destination. Ferrell should have an excellent shot to make Brooklyn's roster given its lack of guards and the fact that the Nets are in the midst of a major rebuild. Williams, even if he doesn't make the team in Phoenix, may still be able to land a partially guaranteed deal somewhere if he agrees to play in the D-League for a season. Of the two, I definitely view Ferrell as a better bet right now because of the situation in Brooklyn. – Alex Bozich
@Kev_B1988 on Twitter writes: Is focusing on east coast players/relationships (i.e., Virginia) inhibiting our ability to recruit top in-state players?
Indiana targets the best in-state players early in every class, but with fewer kids deciding early, it's tough to just focus on recruiting the state. A wider net has to be cast, period.
If Indiana offers a kid a scholarship as a freshman or sophomore, watches them diligently during the high school and AAU season and hosts them on multiple unofficial visits and the kid still opts to let the process play out, the coaching staff has to cover their bases by looking at other prospects. That's how the recruiting game works and most recruits understand this.
When you get later in the process of recruiting a class and it gets down to crunch time in terms of filling a need, it's a tricky proposition to put all of your eggs in one basket. If you take a risk and get burned by going all-in on a kid, you can be left with nothing. Certainly the staff has a feeling in terms of which direction a particular situation is heading or where things stand, but you can never be sure as we saw with Trey Lyles. – Alex Bozich
GregorySpera on the premium forum writes: De'Ron Davis… more minutes at power forward NEXT TO Thomas Bryant or at center as Bryant's back-up?
More minutes as Bryant's back-up is my guess. Look at the other frontcourt players on the roster: Anunoby, Juwan Morgan, Hartman. All of those guys can and will be able to guard fours on other teams, but not necessarily be able to guard a five in every situation (see Haas, Isaac).
Davis should be able to guard fours or fives and while I do foresee times when he will play with Bryant, I would guess that he'll be on the floor without Bryant more often than he will with him. – Alex Bozich
@clearcreekdavid on Twitter writes: How worrisome is it that Davis and McSwain are missing the bulk of the summer? Behind on conditioning, acclimating to culture.
It's obviously not ideal, but the circumstances are what they are, so I'm sure the players and the coaching staff will make the best of it.
Davis should be on campus soon and McSwain is expected in August and it's my understanding that both have been in regular communication with Lyonel Anderson to get workouts to do on their own. It's obviously not the same as being there and building camaraderie with teammates and getting a chance to workout with the coaching staff.
However, if you look back at the summer of 2014, Indiana added Emmitt Holt after the Montreal trip and he was contributing by early December. – Alex Bozich
Coop_ThereItIs on the premium forum writes: Status of the renovations of AH? Any behind the scenes pictures?
On schedule for an October 14 dedication ceremony is the latest information Fred Glass provided earlier in the month. (If you missed those comments, they are available here.)
If you venture over to the photo galleries on the IUHoosiers.com, you can view photos from as recently as June 10. – Alex Bozich
cdub76 on the premium forum writes: Which freshman needs to have the biggest impact?
My pick would be Jones because Indiana has questions to answer in the backcourt. Both Blackmon Jr. and Johnson are returning from injury and Ferrell, Nick Zeisloft and Harrison Niego are gone.
Newkirk also arrives, but he is coming back from an injury and sitting out a season. He's been talked about favorably by multiple people close to program dating back to earlier in the year, but he didn't exactly light things up as a sophomore at Pittsburgh.
Jones arrives with the ability to play both guard spots and is an above-average shooter and scorer. He appears as if he's going to be able to carve out a pretty nice role and potentially more depending on how others around him perform. The biggest part is the shooting because IU lost so much there. Davis will be important, too, because of his shot blocking and rebounding, but the Hoosiers need 3-point shooting to be effective and Jones should bring that. For that reason, I'd rank him as the bigger "need" to have an impact of the two prized freshmen. – Alex Bozich
Filed to: Twitter Mailbag