Around the Hall: Anunoby's stock, Yogi's challenge, recruiting updates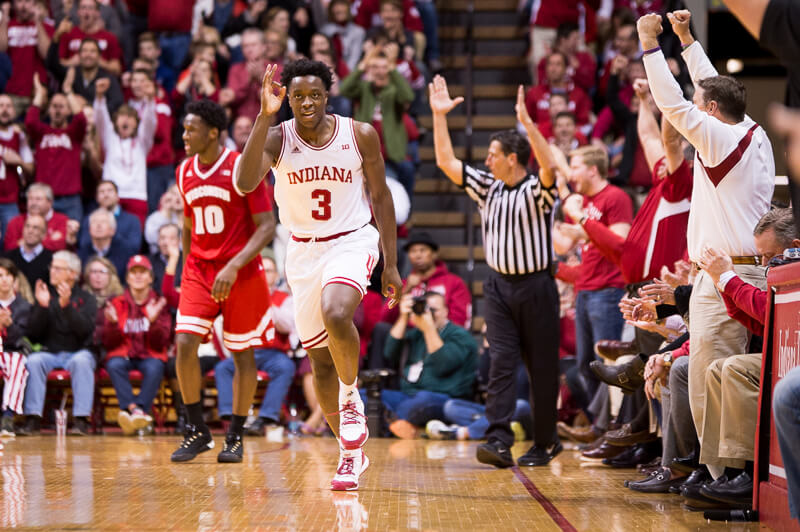 Around the Hall is recommended reading from the Inside the Hall staff.
Indiana's OG Anunoby is a player who could develop into a lottery pick with a strong sophomore season, Gary Parrish of CBSSports.com writes:
Anunoby was ranked 280th in the Class of 2015, according to 247Sports. But he proved last season that he was vastly underrated. And with a bigger role next season, there's reason to think the 6-foot-7 wing could develop into an elite NBA prospect.
Bob Kravitz of WTHR.com writes about the challenges former Indiana point guard Yogi Ferrell faces leading into next week's NBA draft:
Somebody is going to make a mistake. Somebody is going to look at Yogi Ferrell's listed height of six feet and dismiss him from their team's NBA Draft list because he's just too darned short. Somebody is going to overlook all the intangibles, the ball handling, the three-point shooting acumen and his recently-acquired ability/willingness to play defense and let him fall all the way to the back of the second round, or possibly out of the draft entirely.

And they're going to regret it.
North Central wing Kris Wilkes remains high on Indiana and is being told by the staff that he's the one wing guy the program wants:
Home-state Indiana is in regular contact, and Wilkes spoke to Coach Tom Crean from Team USA camp Wednesday.

"They always say I'm the one wing guy that they want for sure," Wilkes said. "It's good to hear that. I talk to them a lot. I talked to (Crean) earlier. He was asking how it's going down here and stuff like that. He's a pretty good guy."
Southport's Paul Scruggs breaks down his top schools at the NBPA Top 100 camp in an interview with Scout.com:
When it comes to Indiana, Scruggs has been there many times throughout his career, and continues to have a strong bond with the school.

"The program is a wonderful program," said Scruggs of Indiana. "They do a good job with their players and they let their guards go. Also they get players to the draft."

Look for Scruggs to play out the month of July and then make a few visits in August before coming to a college decision.
USA Today profiles Luke Garza, who recently added a scholarship offer from Indiana:
Since entering Maret, he's grown to 6-11 and 250 pounds and was an American Family Insurance ALL-USA D.C. first team player this past season, averaging 25.1 points and 12.5 rebounds a game. In January of 2015, he had only three offers. Now, he has 15, including a recent one from Louisville.

"Iowa is recruiting me hard, Louisville is recruiting me hard, Georgia, Pittsburgh, Alabama, Indiana, GW (George Washington), St. Joe's and Northwestern are all recruiting me hard," Garza said. "I went on an official to Iowa and an unofficial to Iowa, and an unofficial to Columbia with their old staff. I had to reschedule a couple of visits because of the camp."
ESPN's Dick Vitale inked a contract extension through the 2018-19 season, the Associated Press reports:
ESPN announced on Vitale's 77th birthday Thursday that the popular college basketball announcer's deal now goes through the 2018-19 season.

Vitale says that "my goal is to be the first announcer ever to call a game and say, `You're awesome, baby!' at 100.'
Filed to: Kris Wilkes, O.G. Anunoby, Paul Scruggs, Yogi Ferrell