Around the Hall: Reaction to Indiana's win over Kentucky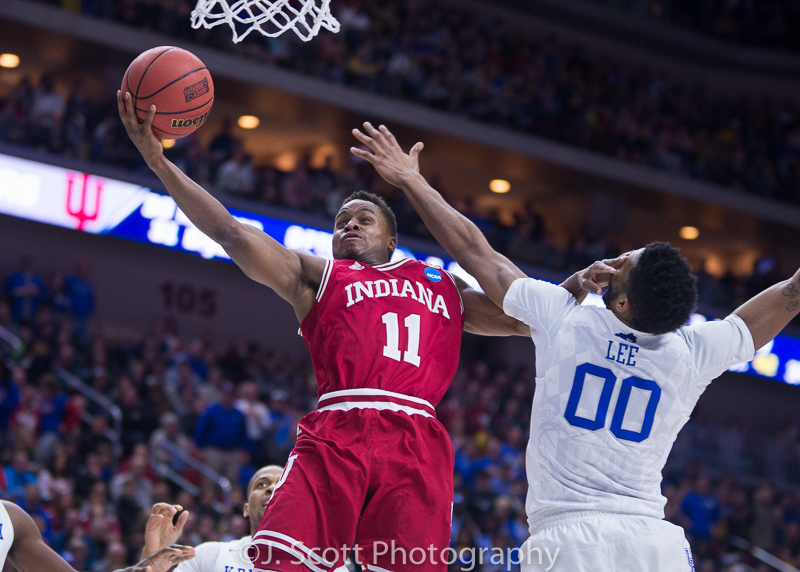 Around the Hall is recommended reading from the Inside the Hall staff.
· Tom Crean, one of the famously intense grinders in college basketball, wanted to enjoy the victory postgame, Pat Forde of Yahoo! Sports writes:
Tom Crean had just come down from the interview podium after describing how Indiana eliminated Kentucky from the NCAA tournament Saturday when he was accosted by his frazzled sports information director, J.D. Campbell.

Campbell debriefed Crean on several obligations, all of it sounding terribly urgent. And that's when Crean, one of the most famously intense grinders in college basketball, looked at Campbell and laughed.

"J.D., lighten up," Crean said. "You've got to enjoy it, man!"
· A battered, shorthanded Indiana team battled its way past Kentucky, Rick Bozich of WDRB.com writes:
Robert Johnson out with a re-injured left ankle after he made a pair of three-point shots. Juwan Morgan out after separating his left shoulder for the third time in a month. OG Anunoby to the bench, limping after scrambling for a rebound. They were all tucked on the bench next to James Blackmon, the team's second-leading scorer who has been missing since December.

John Calipari sent a Jordan Brand all-American into the game. Tom Crean summoned Ryan Burton, a walk-on transfer who did not average 10 points at Bellarmine.

The Hoosiers had coughed up every inch a six-point lead in the second half. In fact, Kentucky went from six points behind to one-point ahead in less than four minutes.
· Brian Hamilton of Sports Illustrated has the "Book of Yogi" following IU's big win over UK:
The transformative moment against Kentucky, and one that augured well for Indiana from here out, arrived with 8:40 to play. Crean subbed for Ferrell after he committed his second foul, looking to steal some rest for his indispensable leader during the imminent under-eight-minute media timeout. When that break arrived, the score was tied 50–50. The first team to stop crawling across broken glass to find anything resembling one or two decent offensive looks was probably going to take firm control.

And when the huddle broke, and Indiana's five players took the floor, Ferrell was still on the bench.

On the first Indiana possession following the break, the Hoosiers fed 6'10" freshman Thomas Bryant, who converted a three-point play. On the next trip, freshman OG Anunoby drained a three-pointer from the wing. Kentucky coach John Calipari sensed the seismic momentum shift and called a timeout with Indiana suddenly surging and the Hoosiers fans in full throat. While his teammates celebrated the spurt, Ferrell trotted stone-faced to the scorer's table to check back in.
· Indiana was tougher than Kentucky, Gregg Doyel of The Indianapolis Star writes:
What Tom Crean has built this season and unleashed Saturday on a bigger, quicker, more athletic Kentucky team is a team straight out of Bob Knight. Indiana is a feral team, with senior guard Yogi Ferrell licking the blood from his lower lip and attacking SEC Defensive Player of the Year Tyler Ulis. It is a physical team, with 6-4 Nick Zeisloft ripping a rebound from 6-9 Marcus Lee's hands and passing it to Troy Williams before falling out of bounds and onto a photographer.
· Crean should be coach of the year and even John Calipari knows it, Reid Forgrave of Fox Sports writes:
For anyone who didn't think Indiana's Tom Crean deserves to win every coach of the year award there is this season, Saturday's statement win over dangerous 4-seed Kentucky was just one more piece of evidence for what should at this point be a pretty obvious argument.

Indiana 73, Kentucky 67. A ticket to the Sweet 16. The biggest win for this blueblood program since the 2002 Final Four.
· Kentucky couldn't give Tyler Ulis enough help for the Wildcats to get past Indiana writes Eric Crawford of WDRB.com:
It's tough to tell whether this was just an off day, or if the late-season surge by the University of Kentucky basketball program was just the product of friendly environs and weak opponents, or if Indiana was just better than many of the teams the Wildcats had faced this season.

Maybe it was all of the above.

Regardless, this isn't the kind of one-and-done Kentucky is known for. When the Wildcats faced Indiana in the NCAA's Round of 32 on Saturday afternoon, the front line — as has been known to happen on occasion — didn't show up.
Filed to: 2016 NCAA tournament