Tourney Watch: Iowa, Maryland wins help IU move up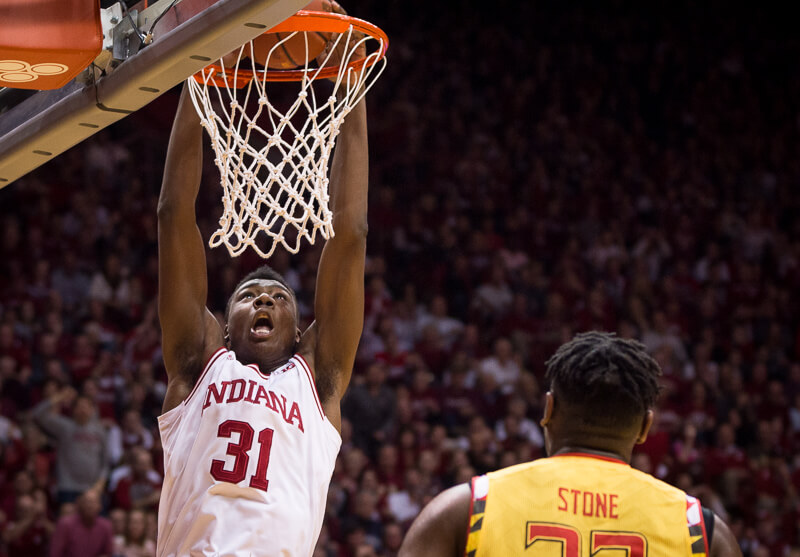 We're back for our seventh (and perhaps final) installment of "Tourney Watch" as Indiana gets set for the Big Ten tournament on Friday in Indianapolis.
In this edition, we once again take a look at IU's current nitty gritty profile, updated bracket projections and much more.
Overview
At 25-6, Indiana won a pair of games last week that significantly boosted their resume. A road win at Iowa, a top 25 team in the RPI, coupled with a home win over Maryland, No. 12 in the RPI, helped the Hoosiers continue to climb the seed list for the 2016 NCAA tournament.
Nitty Gritty Profile
· Record: 25-6 (15-3 Big Ten)
· RPI: 19
· SOS: 85 (via CBS)
· Home Record: 17-0
· Away Record: 6-4
· Neutral Court Record: 2-2
· vs. RPI Top 50: 6-3 (via Crashing the Dance)
· vs. RPI Top 51-100: 4-0 (via Crashing the Dance)
Indiana moved up eight spots in the RPI since last week's update and added a pair of top 50 RPI wins over Iowa and Maryland. A resume that once looked shaky in January is all of the sudden very strong.
Current Projections
· Assembly Call (Andy Bottoms): 3 seed in Midwest Region vs. UAB in Des Moines (Updated 3/8)
· ESPN Bracketology (Joe Lunardi): 3 seed in Midwest Region vs. South Dakota State in Des Moines (Updated 3/8)
· CBS Sports (Jerry Palm): 4 seed in South Region vs. South Dakota State in Oklahoma City (Updated 3/7)
· Crashing the Dance: No. 12 overall seed
· Bracket Matrix: Last No. 3 seed
How big was last week for Indiana? The Hoosiers moved up seven spots on the Crashing the Dance seeding list and two seed lines in both the Assembly Call and ESPN projections. In the Bracket Matrix, IU was the last No. 5 seed a week ago and is now the last No. 3 seed.
Around the Big Ten
Locks
· Maryland (23-7, RPI 12): At what point do we start asking if the Terps are ever going to figure it out? We might be there after Maryland lost another road game last week at Indiana. The talent is here for a deep run in the tournament, but Maryland's 4-5 record in Big Ten road games doesn't impress.
· Michigan State (26-5, RPI 14): The Spartans are hitting the gas pedal as other teams around the country limp to the finish line. Michigan State will be a popular pick to cut down the nets in Houston next month when the bracket is announced next Sunday.
· Purdue (24-7, RPI 16): If you sold high on Purdue when the Boilermakers lost three of five from Feb. 6-20, think again. This team is hot going into the Big Ten tournament and has a chance to climb up a seed line with a big weekend in Indianapolis. What team is going to want to face A.J. Hammons and Isaac Haas in the NCAA tournament?
· Iowa (21-9, RPI 23): After a disappointing loss to Indiana on senior night, the Hawkeyes rebounded and beat Michigan on the road to close out the regular season. Iowa is the No. 5 seed in the Big Ten tournament and will be looking to return to early conference season form in Indy.
· Wisconsin (20-11, RPI 31): Despite a poor record in non-conference play, the Badgers have found new life under Greg Gard. With two battle tested veterans in Bronson Koenig and Nigel Hayes, this is a team capable of a run to the second weekend of the tournament.
Bubble Out
· Michigan (20-11, RPI 67): The Wolverines blew a major chance to get a quality win on Saturday, falling at home to Iowa. That leaves them on the outside looking in as of today. Michigan probably needs to beat Northwestern and Indiana at the minimum in the Big Ten tournament to get back into the discussion.
· Ohio State (19-12, RPI 77): Barring a run to Sunday in the Big Ten tournament, the Buckeyes are headed to the NIT. Their inclusion on this list the past couple of weeks was mainly due to the fact that they had two chances against Michigan State to close the season, but losses in both sealed their fate.
2016 Tournament Sites
· First Four: Dayton
· First, second rounds: Brooklyn, Denver, Des Moines, Oklahoma City, Providence, Raleigh, Spokane, St. Louis
· Regional: Anaheim, Chicago, Louisville, Philadelphia
· Final Four: Houston
Filed to: 2016 NCAA tournament