The Minute After: Maryland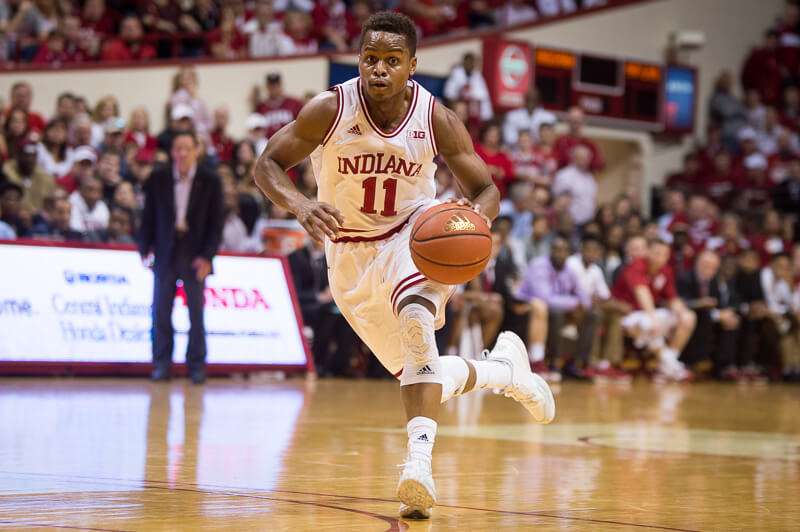 Thoughts on an 80-62 win over the Terrapins:
An electric senior day atmosphere shocked the Hoosiers to start. They were frantic and giddy and Maryland capitalized by jumping out to a 12-4 lead.
But once the Hoosiers came into their being, the Terrapins, for all their talent, were run out of the gym. The Hoosiers closed the first half on a 26-6 run, as Maryland scored just six points over the final 10:45 and shot only 6-of-21 after starting 5-of-7 from the field. Indiana swallowed the Terrapins on a number of possessions, as they could only muster up shots late in the shot clock or not at all.
In his final performance under the lights of Assembly Hall, Yogi Ferrell played with some extra razzle dazzle, finding Nick Zeisloft on a next level wrap around pass for a 3 at the top of the key as he drove to the hole. It was the punctuation mark of a half he spent a lot of time shaking and baking all over Indiana's end of the floor.
Ferrell reminisced about being nervous during his first ever game as a Hoosier yesterday, but he was all confidence in his last go round at home — his growth and transformation into one of IU's all-time greats complete.
By the time Troy Williams' contested 3-pointer dropped just before the buzzer to give Indiana a 13-point lead (41-28) heading into halftime, the Hoosiers were on their way to an undefeated season inside Assembly Hall and yet another win over a ranked opponent.
Maryland's full-court press made Indiana uncomfortable at times in the second half. But each time the Terrapins threatened to make a game of it, the Hoosiers stood tall and punched back. When Maryland got the lead to 10 (60-50) with 9:18 to go, Indiana broke the press and found Nick Zeisloft for a left wing 3 to keep them at distance. Zeisloft (nine points, two assists, one incredible steal) continues to fill in great for the injured Robert Johnson. Did anyone see his impact coming two summers ago?
When Maryland came on the charge again and cut it to nine with 6:55 to go, Williams kept his dribble going and going and going and eventually was able to drive along the baseline and score on a wrap around lay-up to punch the lead out to 11. Juwan Morgan — who played with tremendous fight — scored after a Melo Trimble turnover to give Indiana a 13-point cushion. Williams (23 points, four assists, two turnovers) was also huge to start the second half, as he kept attacking the basket and scored 10 of Indiana's first 12 points out of halftime. The junior hasn't been perfect, but his ability to lean more on the side of Good Troy Indiana's last several games has been big.
Indiana held Maryland to .98 points per possession, marking its 12th opponent out of 18 it kept under 1.0 PPP in conference play. As Alex wrote in ATB, for as good as the Hoosiers have been on offense, their defense won them the conference.
Maryland entered this season ranked No. 3 in the AP Top 25 with an intimidating rotation of players sporting a wide array of skills. But the Terrapins never quite gelled the way it looked like they were set up to and slept walked through parts of their season. Indiana, on the other hand, is wide awake and dreaming.
Just when the schedule got tough, the Hoosiers closed the conference season with five straight wins. They are a scary group that can embarrass you with brilliant play on both sides of the ball. The synergy grows by the game.
It's March. The Hoosiers are hot and playing their best basketball of their season. Watch out.
Filed to: Maryland Terrapins