What to Expect: Michigan State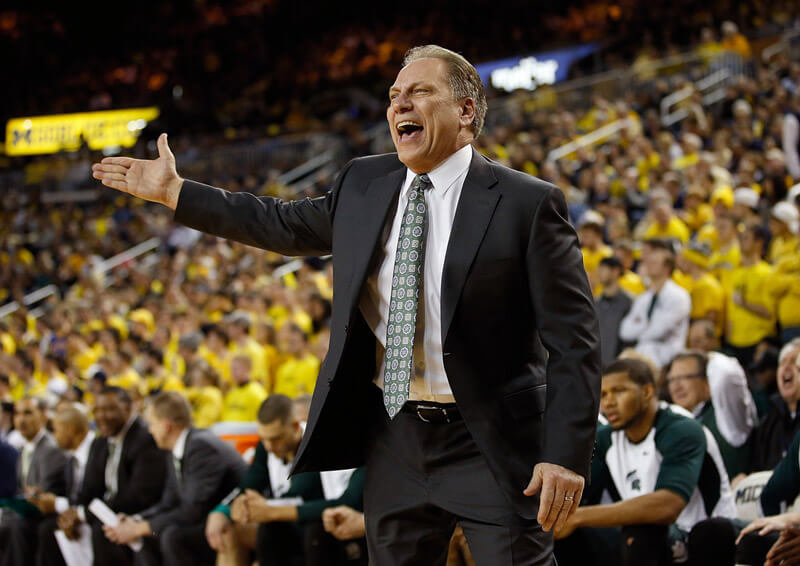 Indiana will seek its fifth Big Ten road win on Sunday afternoon as the Hoosiers travel to East Lansing to take on Michigan State at the Breslin Center. The Spartans, ranked No. 8 in the latest Associated Press top 25 poll, are 20-5 overall and 7-5 in Big Ten play.
The game will be broadcast at 1 p.m. ET on CBS with Ian Eagle and Bill Raftery on the call:
Michigan State probably lost its chance to win the Big Ten regular season crown when it fell in overtime to Purdue earlier in the week at Mackey Arena, but the Spartans are clearly one of the league's best teams.
The best coach in the league and future Hall of Famer Tom Izzo still roams the sidelines for the Spartans and here's what is certain for Izzo coached teams: They typically peak just in time for March.
This Michigan State team has had its share of ups (a win over Kansas and a No. 1 national ranking) and downs (Denzel Valentine's injury, a loss at home to Nebraska). But the respect remains for this team nationally because of its long term potential. This is a group with a legitimate chance to cut down the nets in Houston.
With too much ground to make up in the conference race, the Spartans are now focused on rounding into form for the Big Ten and NCAA tournaments. Meanwhile, Indiana, at 10-2 in the league, is still right in the thick of the conference race but has a brutal schedule to finish the regular season. The Hoosiers helped themselves tremendously in mock brackets by beating Iowa, but a win in East Lansing would really turn some heads and solidify this team as a legitimate contender for the Big Ten regular season title.
MEET THE SPARTANS (all stats are conference only unless otherwise noted)
Indiana owns the Big Ten's second best defense entering Sunday's game, but that will be put to a major test by the Spartans, who own the league's best offense.
Senior playmaker Denzel Valentine is probably Jarrod Uthoff's primary competition for the league's player of the year award and if not for missing four games due to injury, would probably be right there in the discussion for national player of the year.
The 6-foot-5 Valentine is averaging 19.7 points in conference play and also owns the league's best assist rate at 38.9 percent. That's a deadly combination. With Lourawls Nairn still sidelined, you can expect the ball to be in the hands of Valentine most of the time. Valentine is actually shooting a better percentage on 3s (48.6 percent) than 2s (46.9 percent) and isn't really much of a threat to get to the line as he's taken just 15 free throws in 12 conference games.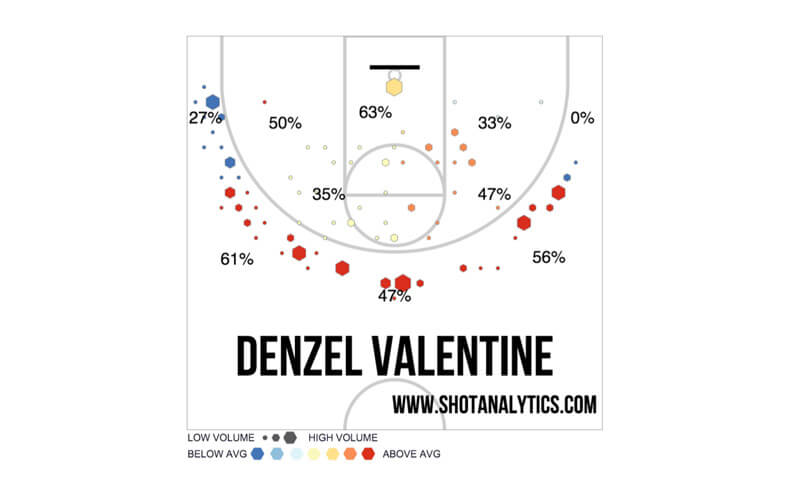 Senior guard Bryn Forbes is one of the best shooters in the conference and as the graphics below from ShotAnalytics illustrate, shoots it well when the Spartans win:
Bryn Forbes is the key for Michigan State. Check out his shot charts in Big Ten wins (63% 3P) and losses (16% 3P). pic.twitter.com/8rBn4qBo3j

— Shot Analytics (@ShotAnalytics) February 10, 2016
So how do you keep Forbes from going off? Not letting him shoot in rhythm with his feet set is a major key, but Izzo does an excellent job of running screens to free him up. Any time Indiana can force Forbes to put the ball on the floor and drive to the basket should be considered a successful outcome for the Hoosiers as he's shooting just 42.2 percent on 2s compared to 48.1 percent on 3s.
West Virginia transfer Eron Harris is the third guard in a three-guard set for Michigan State and is one of four players averaging in double figures at 10.4 points per game. Harris is streaky, but can knock down the 3 (41.5 percent) and is an excellent free throw shooter at 88.9 percent. He's a good enough athlete to really make you pay off the drive if you're too focused on Valentine and Forbes, which exemplifies why this Michigan State offense is so good. You cannot just key on one player.
In Nairn's absence, freshman Matt McQuaid has played some point guard minutes and is another guy that can fill it up from distance (44.4 percent). McQuaid has played 20+ minutes in three of Michigan State's last four games.
The Michigan State frontcourt has arguably the league's best rebounder in senior Matt Costello alongside a future pro in freshman Deyonta Davis.
Costello is leading the Big Ten in offensive rebounding percentage and is second in defensive rebounding percentage. He's also a threat to score off of post-ups and you can be sure that Izzo will try to isolate him early against Thomas Bryant to try to coerce IU's freshman into fouls. Costello is averaging a double-double in Big Ten games with 12.3 points and 10.2 rebounds per game.
The 6-foot-9 Davis doesn't get the notoriety of Bryant and Diamond Stone, but leads the conference in block percentage (10) and is finishing 60.3 percent of his 2s. Davis can be foul prone (5.5 per 40 minutes), but is also very good on the glass as he ranks in the top 15 in the league in both offensive and defensive rebounding percentage.
Freshman Kenny Goins, who is 6-foot-6, gives the Spartans another rebounding option off the bench, but has taken just 15 field goal attempts in league play.
TEMPO FREE PREVIEW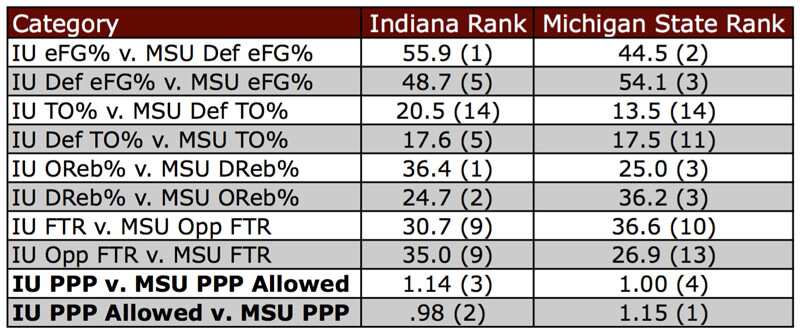 There are plenty of similarities when you examine the profiles of Michigan State and Indiana. These are the two of the top three offensive rebounding teams in the Big Ten and two of the three best shooting teams.
Neither team is great at getting to the foul line, both are turnover prone and both are top four in the conference in both offensive and defensive efficiency.
We've written about turnovers being an issue all season for Indiana, but given that Michigan State in the bottom ten teams in the country in terms of forcing them, there's really no excuse for the Hoosiers to have that issue on Sunday.
WHAT IT COMES DOWN TO
Pomeroy projects Michigan State to win by eight with just a 22 percent chance for an upset by the Hoosiers. Sagarin predicts a similar outcome with the Spartans as a seven-point favorite.
Indiana got a huge win on Thursday against Iowa and Michigan State, which already has five Big Ten losses, is coming off a tough overtime loss to Purdue and is returning home with IU and then Wisconsin coming to town.
The key for Indiana to have success is to shoot it well and limit open 3s and second chance opportunities for the Spartans, which is a tough ask against a physical, aggressive opponent. The Hoosiers also need Bryant to stay out of foul trouble as Michigan State has more frontcourt depth.
The Breslin Center is one of college basketball's most electric environments and Indiana has won just once there in recent history (2013, when it won the Big Ten title). If the Hoosiers are to remain in the conference race, this is a game they probably need to have. Realistically speaking, Michigan State is the solid favorite in this one and will be looking to get back on track following Tuesday's heartbreaker in West Lafayette.
(Photo credit: Gregory Shamus/Getty Images North America)
Filed to: Michigan State Spartans