The Minute After: Wisconsin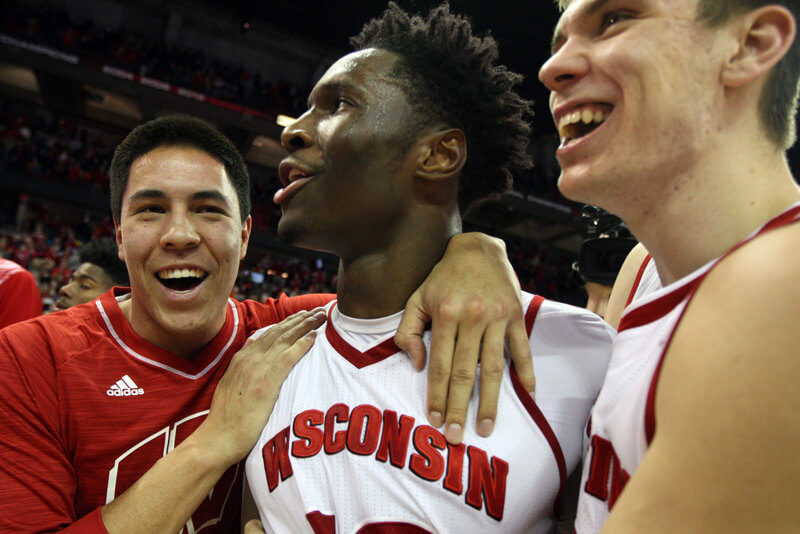 Thoughts on an 82-79 overtime loss to the Badgers:
Yogi Ferrell did all he could.
With the Hoosiers struggling on offense, their senior leader was an absolute stud — especially down the stretch. He nailed a 3-pointer to give Indiana a two-point lead with 1:13 to go. After Nigel Hayes made two at the line to tie the contest, Ferrell back cut on Ethan Happ off the right wing. Max Bielfeldt made the pass out of the right corner and Ferrell hit a lay-up to put Indiana back up two with 23 seconds left.
It was a miraculous play and maybe, just maybe had won Indiana the ball game.
But Hayes — who went to the line an insane 22 times — was fouled by Indiana yet again with nine seconds to go. He hit both. Tie game.
With nine seconds remaining and a chance for the game winner, Ferrell entered Indiana's final possession of regulation a perfect 6-of-6 from the floor in the second half. So how could you not go to him? But he didn't get a great look. It was a weird angle from the left side as he tried to duck around Hayes instead. It didn't drop.
The Hoosiers just didn't have enough in OT. And so it was their 14th straight loss at the Kohl Center in a competitive, back and forth, wild, exciting Big Ten content.
A lot of weird stats in this one. As Alex wrote, it's pretty tough to win on the road when the opponent sports a free throw rate of 77.1. Hayes got 17 of his 31 points (one off his career-high of 32) at the charity stripe. Wisconsin made more (28-of-37) than IU attempted (18).
"The 19 free throw differential certainly was a head-scratcher," Tom Crean said after the game.
And you put yourself in a deeper hole when you turn the ball over on 25.3 percent of your possessions — especially on the road — as the Hoosiers did tonight. Bad Troy had three. Thomas Bryant had five. Indiana started the second half with four straight miscues.
But the crazy thing was, Indiana actually won the points off turnovers battle by scoring 21 to Wisconsin's 19. Because Wisconsin, with a turnover percentage of 21.3, didn't do great with the ball, either. And with the Hoosiers rebounding 41.9 percent of their misses, they scored six more second-chance points than Wisconsin (14 to 8). And any time Wisconsin got up by more than a few, Indiana came right back at them.
The Badgers went up eight points with 1:10 left in the first half. Indiana answered with seven straight — including five of Ferrell's 30 points — to go into halftime down one. And down six with just 3:59 to play, the Hoosiers ripped off five straight to get back within one in just 50 seconds of game clock. They never died. They didn't wilt. They didn't run from the moment. Indiana just continued to stick right with it.
But in the end, the free throws from Hayes and the domination from Ethan Happ coupled with Indiana's offensive problems were just enough. While Green Room Guy Thomas Bryant got the broadcast spotlight, had a few rim-rattling dunks and posted a 16 and 7, Happ got the better of him. Bryant has been automatic in the post when he gets the ball in the paint, but Happ was that and more tonight against Bryant. He scored time and again on him and ended the contest with 25 points.
And this may have been the game Indiana finally felt the effect of James Blackmon Jr. out of the lineup. Outside of Ferrell and Bryant, Indiana didn't have much in the way of offense. Williams provided a spark for a bit in the second half, but finished just 4-of-14. Nick Zeisloft missed all three of his 3-point attempts and a putback late in OT that would have had Indiana down just one with 10 seconds to play. Indiana was just 2-of-10 from distance outside of Ferrell. For as brilliant as he was, the Hoosiers had to rely too much on him and lacked the balance and array of contributors they've gotten at other times this year.
This game also ended Indiana's streak of holding seven straight conference opponents under a point per possession, as Wisconsin scored 1.09 to Indiana's 1.05 tonight.
This was not a bad loss or a season killer. Let's face it: Indiana wasn't going to win every road game this Big Ten season. There were points the Hoosiers could have bowed out. There are numbers that say they had no business being in this game. But they took Wisconsin (57 on KenPom after the win) all the way to the bitter end in a tough environment.
It felt like a marathon, but it's just one game. The Hoosiers will be back at it Saturday against Minnesota. And if their Big Ten season so far is to be believed, they should be locked in and ready to go.
(Photo credit: Mary Langenfeld-USA TODAY Sports)
Filed to: Wisconsin Badgers