News and notes from Tom Crean's radio show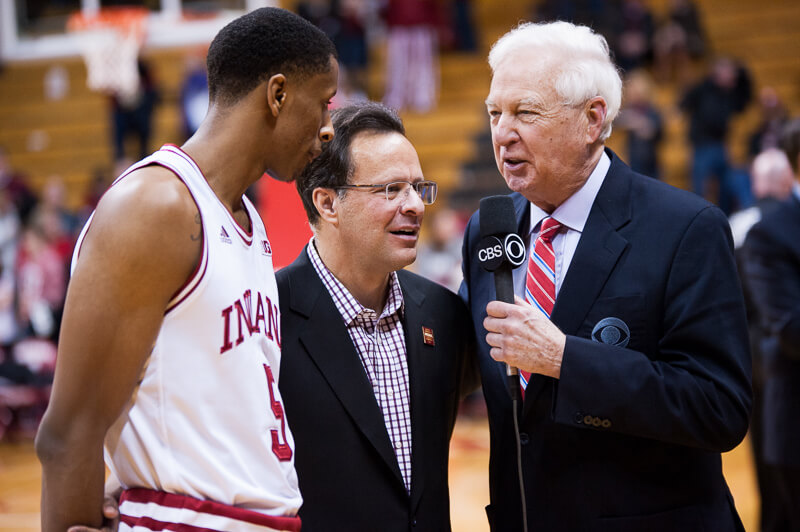 On Monday evening, Indiana coach Tom Crean spoke on a previously recorded version of his weekly radio show hosted by Don Fischer. Crean recapped wins over Illinois and Northwestern and discussed a variety of other topics. Marni Mooney, assistant athletic director for retention and learning services, also joined the show for the final segment.
Below are news and notes from Crean's comments:
· On the biggest adjustments since losing James Blackmon Jr.: "The spacing has changed because of the way the defenses have played us. So we have to adjust to that. And we have to do a much better job of getting body movement. The ball movement is important and the thing that is so strong there or what has to be strong there is the accuracy of your passes. But we have to move without the ball better. James created a lot of open looks for his teammates because of how they guarded him."
· Crean noted that Max Bielfeldt has already made more 3s this season at Indiana than he did in his career at Michigan.
· On the team having lower turnovers in recent games: "The first three games of the year we had 56 turnovers and 41 of them were from Yogi (Ferrell), Troy (Williams) and Rob (Johnson). We couldn't come in and say 'Okay, don't turn the ball over.' Nobody is trying to turn it over, right? We had to get better at taking care of the ball. We had to get better so we tried to do different drills and bring different concentrations to it but at the same time you keep imploring them to understand how simple the game is when you just make the next pass."
· Crean said that Indiana was shooting 60 percent on 3s against zone defenses going into the Northwestern game.
· On Indiana controlling the pace in the Northwestern game: "We do not want to let teams set the pace and that's easier said than done. But that's where you've got to get stops so you can get your break going. That was key for us."
· On whether IU's chemistry right now is at an all-time high: "It's growing because they're maturing and we're getting very good leadership and guys aren't afraid to say something to somebody. And I think that's really important. You have to coach that. We're not very good when we get quiet. And that's where we're going to get really tested on the road as we go into these games because you can't let the environment control your talk. You can't let the environment control your ball movement. You can't let the environment let the other team and the runs or anything dictate your mindset. That doesn't mean you're going to win. But you have no chance if your mindset has been affected."
· Crean noted that IU has carried a 3.1 team GPA during his tenure in Bloomington and credited Mooney for being able to "wear a number of hats" in her role with the program.
· Crean said that two of the players who left this past offseason fell under a 2.6 GPA, but that the others who left were in good academic standing.
· Crean said that he flew out recently to see De'Ron Davis play in Denver. "There's a lot of upside. He's got a good touch, he rebounds the ball. I enjoyed his defense because he had to guard out on the perimeter some."
· Crean was asked by Fischer if Davis is 6-foot-9 or 6-foot-10. Crean said that Davis is 6-foot-11 and he "wouldn't be shocked if he got to 7-foot."
· Crean said that Curtis Jones is going to have to get stronger, but said that he's playing outstanding. Crean noted that Jones is not only scoring, but is also putting up a lot of assists and rebounds.
· Crean noted that Indiana remains "very active" in recruiting.
· In terms of the keys to the game at Wisconsin, Crean mentioned that Indiana has to take care of the ball as the Hoosiers gave Wisconsin "32 or 34 points off of turnovers" in their first meeting.
Filed to: Tom Crean