Tourney Watch: Surging Hoosiers entering tough stretch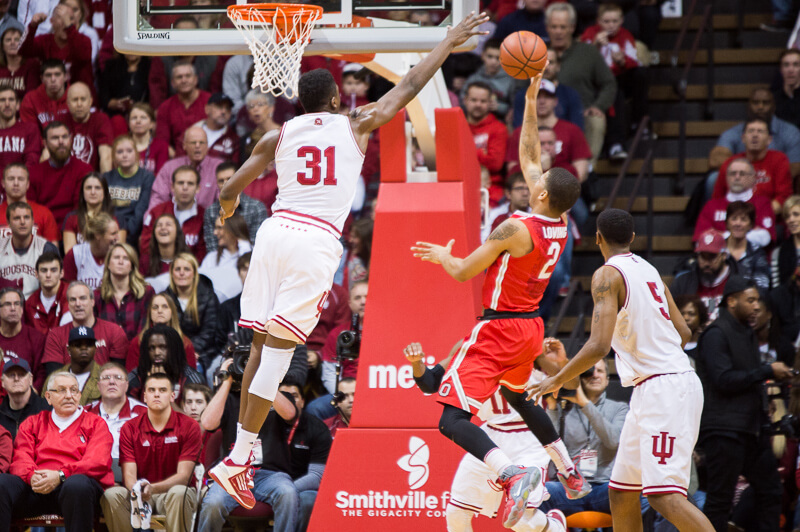 After finishing last season 20-14 with a loss to Wichita State in the NCAA tournament, Indiana entered the 2015-2016 with major expectations. The Hoosiers had several missteps early, but have now won 12 in a row on their way to a 7-0 Big Ten start, the best for the program since the 1992-1993 season.
This year's debut of "Tourney Watch," which will be a weekly feature up until Selection Sunday on March 13, takes a look at IU's current nitty gritty profile, bracket projections and more.
Overview
At 17-3, Indiana's record looks great on paper, but the Hoosiers are just now entering the meat of the Big Ten schedule. That could actually help to solidify their overall resume as plenty of opportunities to pick up top 50 RPI wins are coming over the regular season's final 11 games.
Nitty Gritty Profile
· Record: 17-3 (7-0 Big Ten)
· RPI: 40
· SOS: 135 (via CBS)
· Home Record: 12-0
· Away Record: 3-1
· Neutral Court Record: 2-2
· vs. RPI Top 50: 1-1 (via ESPN)
· vs. RPI Top 51-100: 5-1 (via ESPN)
Current Projections
· ESPN Bracketology (Joe Lunardi): 6 seed in East Region vs. First Four winner in St. Louis
· CBS Sports (Jerry Palm): 7 seed in South Region vs. George Washington in Brooklyn
· Assembly Call (Andy Bottoms): 7 seed in West Region vs. Butler in St. Louis
· Crashing the Dance: No. 26 overall seed
· Bracket Matrix: Top 7 seed
The consensus right now is that Indiana would be solidly in the field if it were selected today. The model on Crashing the Dance currently has the Hoosiers with the sixth best profile among Big Ten teams behind Iowa, Michigan State, Maryland, Purdue and Michigan.
Final record projections
KenPom.com, which had the Hoosiers favored in each of its first seven league games, projects the Hoosiers to finish 24-7 overall and 14-4 in the conference. RPIForecast.com has the three most likely final regular season records for IU as: 24-7 (27.1%), 25-6 (23.6%) and 23-8 (20%).
A look at the conference as a whole
The Big Ten currently looks like a six-bid league with IU, Iowa, Maryland, Michigan State, Michigan and Purdue all appearing to have a solid path to dance.
The only two other teams from the conference even on the fringe of the discussion according to Crashing the Dance right now are Ohio State and Wisconsin.
As the season moves along, we'll dig more into each team's projections, but Bracket Matrix (updated Jan. 25) currently has Iowa as a No. 2, Michigan State and Maryland as No. 3 seeds, Purdue as a No. 5 and Michigan as a No. 7.
2016 Tournament Sites
· First Four: Dayton
· First, second rounds: Brooklyn, Denver, Des Moines, Oklahoma City, Providence, Raleigh, Spokane, St. Louis
· Regional: Anaheim, Chicago, Louisville, Philadelphia
· Final Four: Houston
Filed to: 2016 NCAA tournament