What to Expect: Wisconsin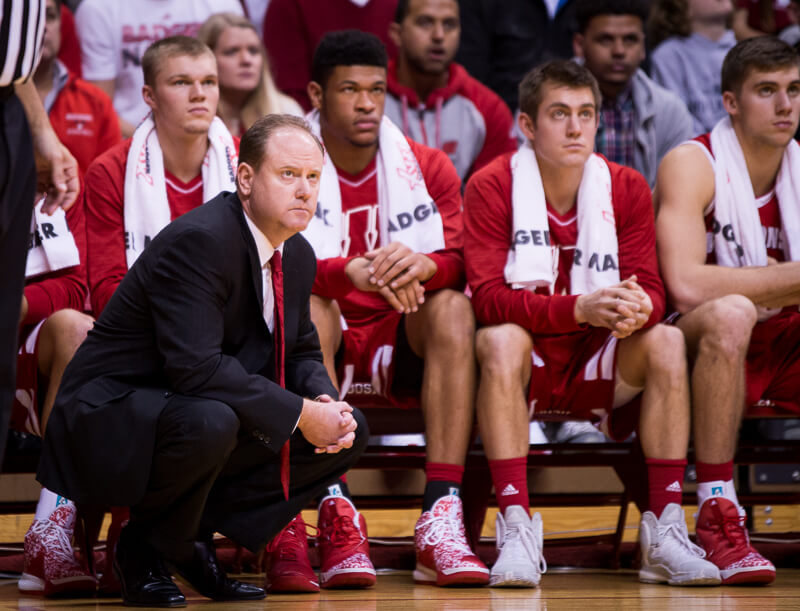 Indiana will look to push its Big Ten record to 8-0 and its winning streak to 13 on Tuesday night in Madison when it takes on Wisconsin at the Kohl Center. The Badgers are 11-9 overall and 3-4 in the Big Ten.
The game will be broadcast at 7 p.m. ET on ESPN with Bob Wischusen and Dan Dakich on the call:
How significant would a win at Wisconsin be for Indiana? Consider this amazing stat: The Hoosiers have won just once in the Kohl Center. That was in January of 1998, the same year and month the building opened. Since then, IU has lost 13 straight in the building.
But the Badgers, unlike in previous seasons, aren't invincible at home this year. Wisconsin lost three non-conference games at home and has already dropped league games to Purdue and Maryland in Madison.
Are the Hoosiers up for ending the streak? A win would go a long way in solidifying this team as a legitimate contender for the Big Ten crown.
MEET THE BADGERS (all stats are for conference games only)
After dropping three straight (at Indiana, Maryland, at Northwestern), Wisconsin has rebounded in its last two for wins over Michigan State (in Madison) and at Penn State.
The Badgers are essentially playing a seven-man rotation in league play with freshmen Charlie Thomas and Khalil Iverson getting spot minutes depending on the matchup.
The primary names on the scouting report remain juniors Nigel Hayes and Bronson Koenig, but redshirt freshman Ethan Happ is quietly playing well in Big Ten play. Hayes, a popular pick in the preseason for conference player of the year, is scoring a team-high 16.3 points through seven conference games. His efficiency, however, hasn't been great as he's shooting just 40.6 percent on 2s. Hayes has been one of the top six players so far in the conference in terms of getting to the line, so it'll be a major test for guys like Collin Hartman, OG Anunoby and Juwan Morgan to defend him without fouling.
Koenig is hitting close to 41 percent from 3 in Big Ten play and is playing a team-high 35.1 minutes per game. In 92 isolation possessions this season, Koenig has 104 points, which ranks him in the 92nd percentile nationally according to Synergy Sports. Without other capable scorers surrounding him in the backcourt, Koenig is shouldering a major scoring load. His effective field goal percentage (52) in league play is very solid considering his surroundings.
Happ, a 6-foot-8 forward, has emerged as a legitimate third scorer for interim coach Greg Gard. Happ is averaging 12.9 points and 8.1 rebounds in Big Ten play and is shooting 54.1 percent on 2s. From a percentage perspective, he's second in the conference in both defensive rebounding (30.8 DR%) and steals (4.7%). He comes into Tuesday fresh off of his second Big Ten freshman of the week award this season.
Zak Showalter starts at the off guard spot and is a low usage player who has scored in double figures in six of the team's seven conference games. Showalter is making 43.8 percent of his 3s and 78.9 percent of his 2s in Big Ten games.
Beyond those four, there's a steep drop off in offensive production. Junior forward Vitto Brown, who was thought of as a potential breakout guy this season, is averaging just 4.7 points and two rebounds over his last seven games. He's shooting just 31.6 percent and is losing minutes to freshman Alex Illikainen.
Illinkainen, who was offered a scholarship by Indiana, has been solid on the offensive boards (7.1 OR%) and is making over 56 percent of his 2s in Big Ten games.
Sophomore guard Jordan Hill is backing up both guard spots and averaging close to 20 minutes per game in conference play. However, he's averaging just 2.9 points on 30.8 percent shooting.
As Wisconsin's season shot chart via ShotAnalytics below shows, the Badgers aren't really above average this season from anywhere on the floor: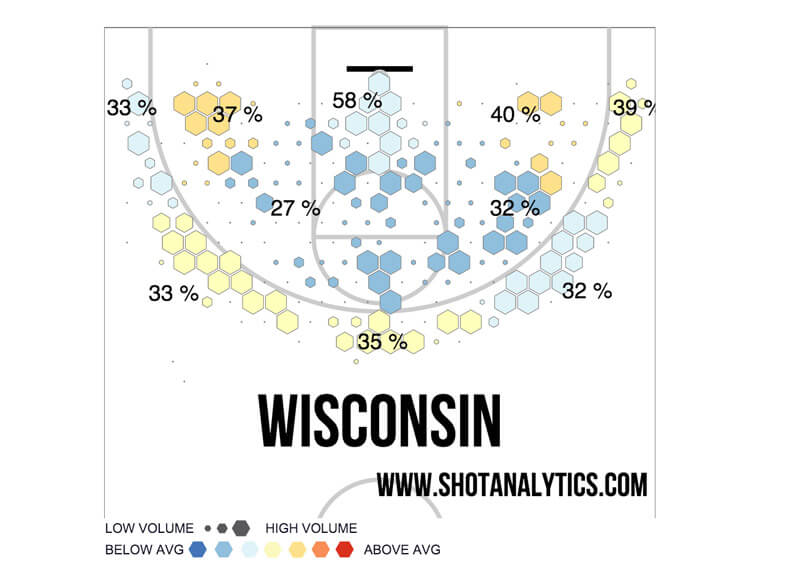 TEMPO FREE PREVIEW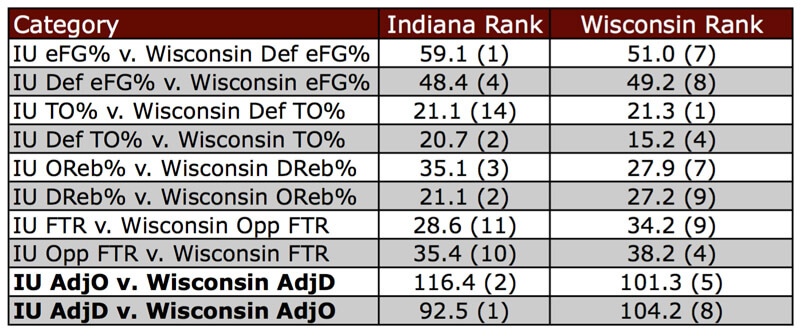 The first meeting between these two teams, played on Jan. 5 at Assembly Hall, came down to the final minutes with Indiana escaping with a 59-58 win. As the four factors below show, the Hoosiers really struggled with turnovers, didn't get many offensive rebounds and put Wisconsin at the line quite a bit.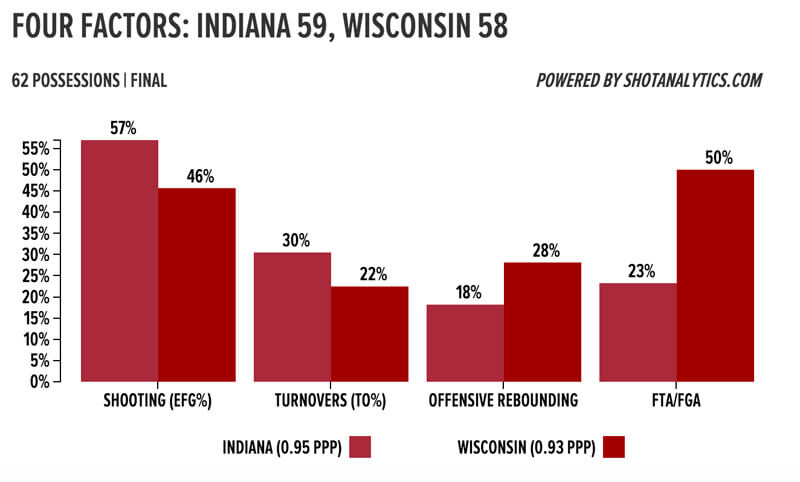 A repeat performance in those areas, particularly with the turnovers, is a recipe for disaster on the road. Wisconsin is turning Big Ten opponents more than anyone else in the conference, so keeping the turnover percentage number in the mid-to-high teens will be a challenge.
The free throw discrepancy has also been a problem for the Hoosiers in conference play, but has been negated by hot perimeter shooting. Will the hot shooting of the past two games at Assembly Hall (32-of-64 from deep) travel north? It'll be a major factor in whether IU can emerge from the Kohl Center with a win.
WHAT IT COMES DOWN TO
KenPom likes Indiana to win by two with a 57 percent chance of victory and the Sagarin predictor likes the Hoosiers by 3.5. The Hoosiers are also slight favorites in Vegas (-3) as of early Monday afternoon.
Indiana is obviously playing very well since the start of league play, but going on the road to Wisconsin is much different than winning at Rutgers, Nebraska or Minnesota. Yes, the Badgers have lost several games in Madison this season, but they also own a win over Michigan State in the Kohl Center. Despite the 11-9 record, this Badgers team is no pushover.
Pace is obviously pivotal in this game as Wisconsin is going to do its best to make this a halfcourt contest. If the Badgers can play with a lead, they're a team capable of making a six or eight point lead seem much larger.
Can Indiana break the 13-game losing streak in Madison? Are the Hoosiers surging towards an 8-0 start in Big Ten play? Or will the win streak come to a halt? We'll get those answers and more on Tuesday night at the Kohl Center.
Filed to: Wisconsin Badgers