News and notes from Tom Crean's radio show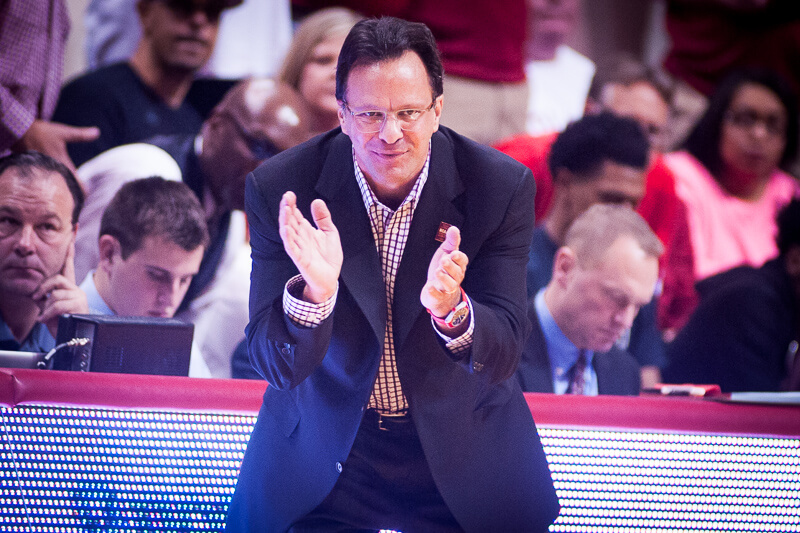 On Monday evening, Indiana coach Tom Crean spoke at his weekly radio show hosted by Don Fischer at the Bloomington Holiday Inn and looked back at IU's win over Minnesota and also previewed Tuesday's game with Illinois, among several other topics.
Below are news and notes from what the Hoosiers' coach had to say:
· On getting down nine against Minnesota and battling back: "We started the game taking too many jump shots. We've got to go through the paint, not just to establish the free throw game or start to establish the free throw game, but because good things happen when we do go through the paint and our numbers bear that out. That's exactly how we want to attack. We didn't do a very good job of that initially. We settled in to playing through the paint and at the same time, Nick (Zeisloft) stepped up and made excellent shots and Max (Bielfeldt) came in and gave us a real lift. We just continued to play."
· Crean noted that Robert Johnson isn't putting up his normal statistics right now, but said that he's affecting the game with movement and defense. "It's just a matter of time before he unleashes that fury of shots that we've gotta have."
· On not having 10 turnovers in the first half at Minnesota, then three early in second half and none the rest of the way: "I'm not sure how to explain it. We'd like to have it be that way like it was in the Ohio State game and have very few the whole way, but I think it comes from … We're an evolving team even in offense. The last two days have been very much like that in what we're trying to do. We're trying to implement different things, move guys around into different places and continue to make sure that we're constantly getting better."
· Crean said that with Thomas Bryant, they don't want to overdo it with his minutes. He said a similar approach was taken with Cody Zeller and Noah Vonleh. "It's a long, long haul. It really is."
· Crean noted that he's looking for Bryant's rebounds and free throw attempts to raise as the season moves along.
· Fischer told Crean that he believes it's pretty apparent that IU has gotten better on defense through the first five Big Ten games. "I think we're getting better there," Crean said. "I don't think there's any question. I think our coaching staff with Rob Judson, Chuck Martin and Tim Buckley and then the rest of the staff is doing a fantastic job each day on both ends. Offensively, defensively, the schemes, the preparation. All of that. They do a phenomenal job of making sure that we're harping on those things constantly. They deserve a lot of credit as do our players. Our players have a commitment level and that commitment level doesn't mean that there is an arrival point, it doesn't mean that it is perfect all of the time, it doesn't mean that it is executed correctly all of the time. But there's a level that they want to get to and they're committed to working at that. I think that's the key."
· On Indiana reentering the polls this week: "That's good. It is. We didn't talk about falling out of the rankings when we did and we really don't spend any time talking about being back in them. Maybe the players talk about it, but I don't really hear it. It's not really anybody's focus."
· Crean was asked by an emailer if there is an optimal number of minutes he wants Bryant to play: "No, not really. Just not excessive because it is such a long season and you want to make sure that he's got enough left in the tank."
· Crean was asked by an emailer about what he thought the first time he saw Yogi Ferrell play. He said initially he wasn't sure he was going to be a good enough shooter, but once he saw the work that he was putting in under Ed Schilling at Park Tudor, he was sold. He also said the first time Yogi was on campus as a ninth grader, A.J. Hammons and DeJuan Marrero were also visited and they all rode around together on a golf cart.
· Crean on Yogi's prospects at the next level: "He's an NBA guard. There's not a doubt in my mind."
· Crean was asked about OG's Anunoby's wingspan and said he believes it's either 7-foot-5 or 7-foot-6. Crean said Anunoby is fine following the elbow he took at Minnesota.
· Crean was asked who is leading the team in deflections currently and said that Troy Williams leads right now and then Yogi Ferrell is right behind him.
· Crean was asked if it is normal to have your strength coach on the bench: "We've always had our strength coach on the bench. I think most teams do. I shouldn't say most teams, but the ones I pay attention to, they do."
Filed to: Tom Crean