Assist record on horizon for Ferrell as Hoosiers host Illinois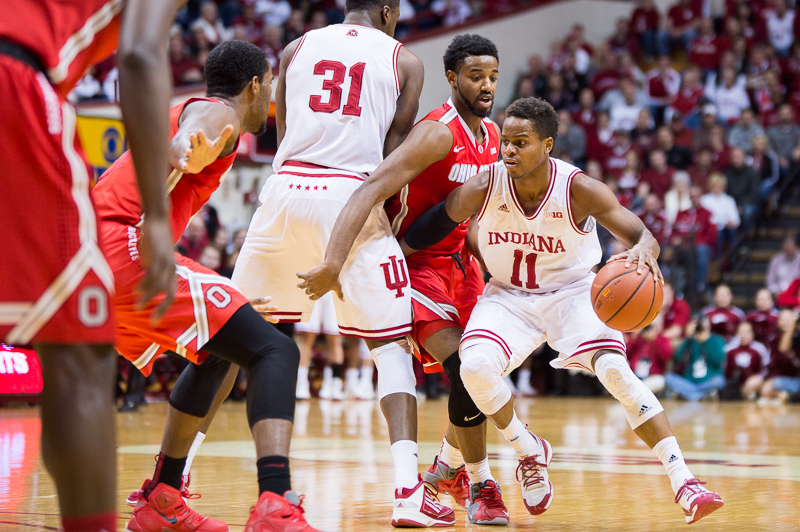 A day after finding its way back into both major polls, Indiana will put its No. 25/23 (AP/Coaches) rankings on the line with Illinois in town.
The Hoosiers, who are tied with Iowa for first place in the Big Ten standings at 5-0, have won 10 straight games. Illinois is coming off of a home loss to Nebraska and is just 1-4 in conference play.
In tonight's game, senior Yogi Ferrell will look to become Indiana's all-time leader in assists. He has 544, just one assist behind Michael Lewis for most in school history.
"He's always been a hard-worker so his approach has always been the same, but there is something different about him. He is hungry," junior Collin Hartman said. "His leadership has gone to a whole other level. Just his hunger and drive is different. There's a different aura about him. It's motivating being his teammate."
Ferrell leads the conference in scoring during Big Ten play, averaging 19.8 points per game.
"I love coaching Yogi Ferrell, he's done a tremendous amount of things here," Tom Crean said on Monday. "He's a winner, takes a challenge and is always committed to improving. He's a very headstrong, aggressive, winning first type of guy."
IU has been able to fight back to secure several road wins already this season. The Hoosiers trailed in the second half in each of their three Big Ten road wins.
"We're very close as a team, on and off the floor," Hartman said. "Being able to help get guys through adversity and if things don't go right, keeping our heads up and getting guys through their mistakes and through learning curves."
Illinois has been banged up due to multiple injuries this year, but will be looking to avenge a surprising loss on Saturday to Nebraska at home. The Fighting Illini have just one conference win and it came over Purdue.
"They're a very good team," Hartman said. "Very dangerous, very good shooters, they have five shooters on the court at the same time, they're very good at spreading the floor and they're fast and will get out and run. They're explosive and athletic. We just have to stay focused and stick to our game-plan. We can't fall asleep on certain guys."
Kendrick Nunn and Malcolm Hill are the stars for the Fighting Illini. They both average more than 18 points per game, and more than five assists.
Crean says both players are matchup problems and it will test IU's defense. He said Illinois utilizes the corners and does a good job of spacing out the floor.
"We have a lot of respect for how Illinois plays," Crean said. "I think they're going to come in here, much like we anticipated Minnesota the other day, in a very desperate, hungry and aggressive way, especially coming off of a tough game. I would expect that they would anyways because they're well coached."
Illinois is unique in that one of its big men, 6-foot-10 Michael Finkie, has a good outside game and can beat you on the perimeter. He is shooting 41 percent from behind the arc. It will be a test for Thomas Bryant.
Tonight's game is the first game back in the student ticket package following winter break.
"We're excited that the students are back," Crean said. "I don't think there's any question about that."
Filed to: Collin Hartman, Illinois Fighting Illini, Tom Crean, Yogi Ferrell