What to Expect: Rutgers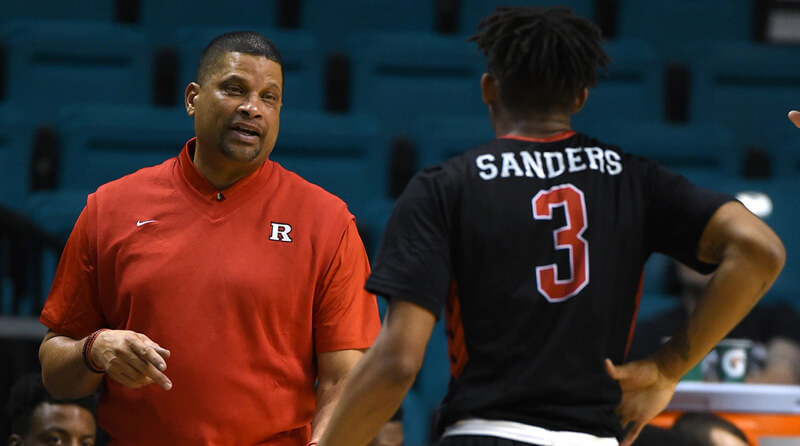 Indiana tips off Big Ten play on Wednesday afternoon against Rutgers at the Rutgers Athletic Center (RAC) in Piscataway, New Jersey. The Scarlet Knights are 6-7 and are coming off of an 89-66 win over UMass Lowell on Monday.
The game will be broadcast at 1 p.m. ET on ESPN2 with John Brickley and Craig Robinson on the call:
Indiana's performance in the non-conference portion of its schedule was a mixed bag of results. There was good – the offense and the win over Notre Dame stand out. There was also plenty of bad – the team defense, the loss at Duke and the play in Maui.
But Big Ten play is here and the Hoosiers received a solid draw with KenPom projecting them as a favorite in their first nine league games. The first of those contests tips Wednesday afternoon with Rutgers, an opponent Pomeroy has as an underdog in all 18 of its Big Ten games.
The Scarlet Knights are in season three of Eddie Jordan's tenure and the results have offered very little encouragement. After finishing 10-22 last season, Rutgers is just 6-7 through 13 games and the team is battling major injury issues and a talent deficit that will make winning in the league very difficult.
MEET THE SCARLET KNIGHTS 
Before we dig into the players that Indiana will see on Wednesday, here's a quick rundown of what Rutgers is missing entering Big Ten play. The team's second leading scorer – Deshawn Freeman – remains sidelined with a knee injury and isn't expected back before mid-January at the earliest.
Freshman big man Ibrahima Diallo, who is 6-foot-10, underwent surgery on Dec. 24 to repair a foot fracture. He was averaging 3.8 points and 3.7 rebounds through 10 games. And sophomore Shaquille Dorson has yet to play this season due to a foot injury that has him sidelined indefinitely.
So what's left for Jordan to utilize? Eight scholarship players.
The headliner on the scouting report is guard Corey Sanders, a top 100 recruit who was last week's Big Ten freshman of the week. Sanders is averaging a team-high 14 points, 3.6 assists and 1.6 steals per game. He's hitting 38 percent of his 3s and has been very effective in pick-and-roll possessions as the ball handler, according to Synergy Sports. In 38 P&R ball handler opportunities, Sanders has scored 37 points, which ranks in the 84th percentile nationally.
Joining Sanders in the backcourt are senior Omari Greer, a graduate transfer from Bradley and sophomore Mike Williams. Greer is hitting 57.9 percent of his 3s and is coming off a 22-point performance on Monday night. Williams is a poor shooter (27.3 percent on 3s), but has scored in double figures in five of his last six games.
Senior guard Bishop Daniels and freshman Justin Goode are both playing rotation minutes off the bench. Daniels is a high-usage player (25.9 Poss%) who is inefficient. He's fourth on the team in scoring at 9.2 points per game, but is shooting just 45.1 percent on 2s and 31.2 percent on 3s. Goode has taken just 26 shots in 13 games and statistically is the least productive rotation player.
Given the frontcourt injuries, Jordan has just three guys he's mixing in at the four and five positions.
Senior Greg Lewis is the team's best shot blocker (5.3 block percentage) and the team's second leading rebounder at 5.2 per game. He's finishing just 34.4 percent of his 2s, which is a big reason he's averaging just 3.8 points in 18.6 minutes per game.
D.J. Foreman, who is 6-foot-8, starts alongside Lewis and is the team's best offensive rebounder (8.0 OR%). Foreman averages 7.9 points and 6.5 rebounds per game, which leads the team.
The lone frontcourt option off the bench is 6-foot-6 freshman Jonathan Laurent, who is playing close to 20 minutes per game but is being asked to frequently guard players with much more size. Laurent is the team's best defensive rebounder from a percentage standpoint (21.4 DR%) and is finishing 51.1 percent of his 2s.
TEMPO-FREE PREVIEW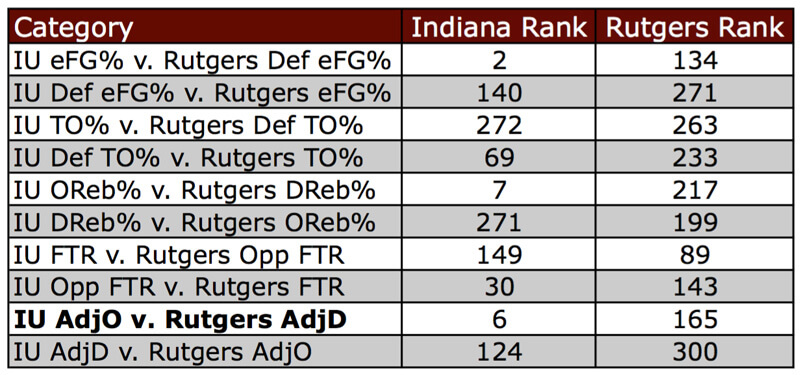 Rutgers is the worst major-conference team in the KenPom ratings and some of these numbers illustrate why. The Scarlet Knights are 300th in the country in adjusted offensive efficiency at .96 points per possession. Indiana is the nation's sixth best offense at 1.17 points per trip.
The shooting numbers for Rutgers are just abysmal, particularly inside the 3-point line. The Scarlet Knights are finishing just 45 percent of their 2s. And with the exception from the top of the key, they haven't been good from deep, as shown below by ShotAnalytics: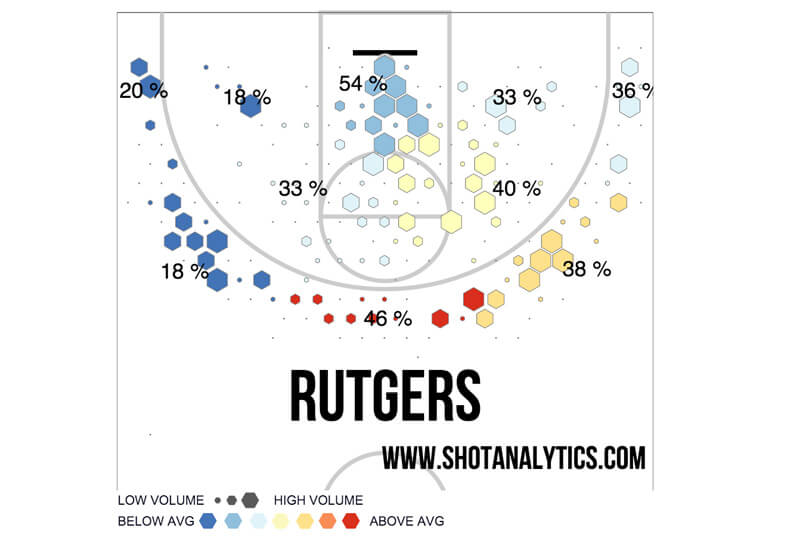 Indiana is also the superior rebounding team, does a better job of keeping opponents off the line and forces more turnovers.
On the plus side for Rutgers, they've done a solid job of defending the 3-point line (31.1 percent for opponents), but they're also allowing teams to finish 59 percent at the rim, which could a bad sign against an Indiana team that basically only shoots from distance or in the paint. If the outside shots aren't falling, look for Indiana to drive the ball and attempt to exploit the lack of size and rim protection for Rutgers. As pointed out earlier in the month by UMHoops, the Hoosiers have the best shot selection of any Big Ten team.
WHAT IT COMES DOWN TO
The KenPom prediction is Indiana 82, Rutgers 70 with an 87 percent win probability for the Hoosiers. Sagarin is even more bullish on IU in this one and predicts a 14-point win. Vegas opened with IU as a 12.5-point favorite.
For an Indiana program that has struggled to win on the road in the Big Ten, getting a chance to play the league's worst team to open is advantageous. Indiana blitzed Rutgers by 30 last season in Piscataway and the gap in offensive production between the two teams is likely to be too much for the Scarlet Knights to overcome.
A win would be the sixth straight for Indiana and another boost of confidence heading to Lincoln on Saturday. To finish in the top five (or higher) in the Big Ten, the Hoosiers simply must take advantage of opportunities to win away from Assembly Hall.
(Photo credit: Ethan Miller/Getty Images North America)
Filed to: Rutgers Scarlet Knights