A non-conference player-by-player breakdown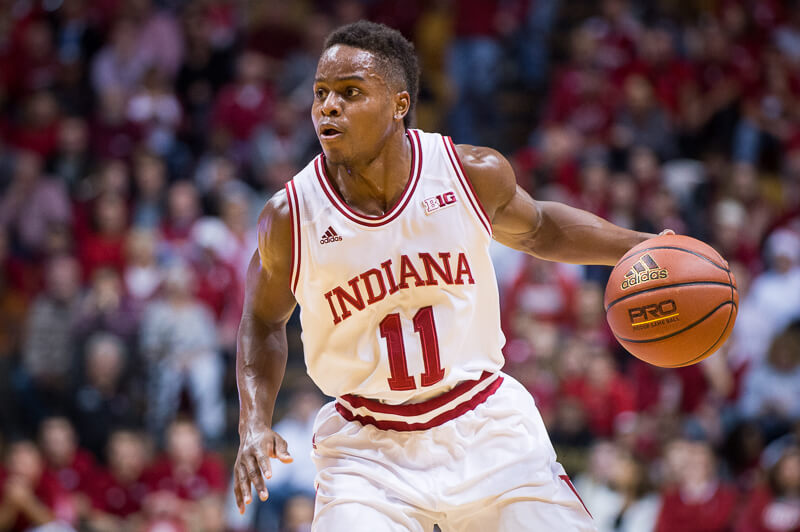 The non-conference portion of IU's schedule is complete and the Hoosiers are 10-3 heading into Wednesday's Big Ten opener in Piscataway.
Here's a player-by-player look at how each Hoosier performed in the non-conference portion of IU's schedule:
Yogi Ferrell – 16.1 ppg, 5.9 apg, 4.7 rpg, 55.9 effective field goal percentage in 32.5 minutes per game
Quietly, Ferrell has played very well offensively through IU's first 13 games. His turnover percentage is up, but his other pertinent numbers are up, including his assist rate and effective field goal percentage. The senior has figured out how to strike a balance between scorer and distributor as he currently ranks ninth among Big Ten players in scoring and fourth in assists.
Right now, he's probably in the second tier of candidates for the Big Ten's best player given the start of other players and teams and IU's disappointing start. But wins in league play and continued strong play could put him right back in the conversation.
Troy Williams – 13.9 ppg, 6.9 rpg, 2.5 apg, 1.8 spg, 1.2 bpg, 60.6 effective field goal percentage in 25.8 minutes per game
Williams has better scoring, rebounding and shooting numbers than he did a season ago heading into league play. His steal and block percentages are also up and if he can make those a permanent staple of his repertoire, he becomes even more valuable.
From a percentage standpoint, he's IU's best defensive rebounder and is the team's third best on the offensive boards behind Max Bielfeldt and Thomas Bryant. Turnovers, however, remain a major concern as his turnover percentage of 23.7 is higher than any other perimeter player on the roster.
Thomas Bryant – 12.2 ppg, 5.2 rpg, 1.2 bpg, 1.2 apg, 72.6 effective field goal percentage in 22.7 minutes per game
While Bryant may be falling a bit short right now expectation wise in terms of rebounding and rim protection, he's been an elite finisher through 13 games. He's third in the country in 2-point field goal percentage at 76.3. According to Synergy Sports, Bryant has scored 60 points in 53 post-up possessions, which ranks in the 90th percentile nationally. He's also been terrific in terms of drawing fouls (six per 40 minutes) and his offensive rebounding percentage of 10.9 is strong.
The challenge for Bryant is continuing to improve defensively and learning to position himself better for success. He's been caught in the wrong spot too often in pick-and-roll situations and has also been beaten at the rim on numerous occasions for easy buckets. Still, it's important to remember that Bryant has been banged up and that he's a freshman who is learning the ropes of college basketball.
James Blackmon Jr. – 15.8 ppg, 4.2 rpg, 1.7 apg, 1.2 spg, 60.2 effective field goal percentage in 24.5 minutes per game
Blackmon Jr.'s defensive struggles have been well documented and have even resulted in him being benched in some key spots like the second half against Notre Dame. It's something that the coaching staff will have to consider doing more often in conference play, particularly if the Hoosiers continue to defend so poorly.
Offensively, Blackmon Jr.'s scoring is down more than two points per game from where it was a season ago leading into Big Ten play, but his efficiency is up. The illustration below from Shot Analytics shows just how well rounded Blackmon Jr. has been from the perimeter while also leaving plenty of room for work inside the 3-point line.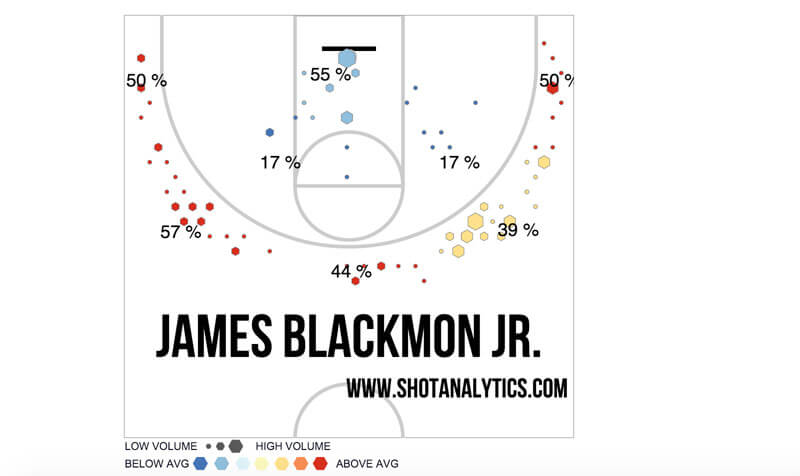 Robert Johnson – 8.8 ppg, 3.0 apg, 2.6 rpg, 69.6 effective field goal percentage in 22.1 minutes per game
In addition to being IU's best and most consistent perimeter defender through 13 games, Johnson is also the team's best 3-point shooter. He currently sits 10th nationally in 3-point shooting percentage at 56.1. According to Synergy Sports, his 57 points in 38 spot-up possessions ranks in the 98th percentile nationally.
Turnovers remain an issue for Johnson, but he is down about three percent from where he finished last season in turnover percentage. It's also worth noting that IU is unbeaten (7-0) with Johnson in the starting lineup.
Max Bielfeldt – 8.0 ppg, 4.4 rpg, 68.9 effective field goal percentage in 17 minutes per game
Bielfeldt is filling the role of a backup frontcourt piece very well through non-conference play. He's the team's best offensive rebounder (13.4 OR%) and has even shown an ability to step out and hit the 3-pointer (7-of-13).
The graduate transfer has also been sensational in the post as he's scored 30 points in 23 post-up possessions, per Synergy Sports. His 2-point shooting percentage (66) trails just Bryant. As conference play begins, it'll be interesting to see if having a veteran presence off the bench pays dividends for the Hoosiers, particularly away from Assembly Hall.
Collin Hartman – 4.2 ppg, 2.9 rpg, 1.6 apg, 53.5 effective field goal percentage in 19.3 minutes per game
Hartman has struggled through the first 13 games of his junior season after a very good sophomore campaign. His scoring and rebounding are both down slightly from where they were at this point last season and is effective field goal percentage is down nearly 13 percent.
Perhaps Hartman, who has battled injuries, will turn it around and once again prove himself to be a guy who can play and guard multiple positions. He was terrific down the stretch against Notre Dame. But it must start with better perimeter shooting (just 32 percent on 3s) and better offensive rebounding (6.7 OR% this season vs. 8.6 OR% last season).
Nick Zeisloft – 6.7 ppg, 1.5 rpg, 77.4 effective field goal percentage in 17.9 minutes per game
We heard talk about Zeisloft expanding his game in the offseason, but the reality is he's one of the best 3-point specialists in the country. That isn't a bad thing when you have a player who can fill it up this efficiently.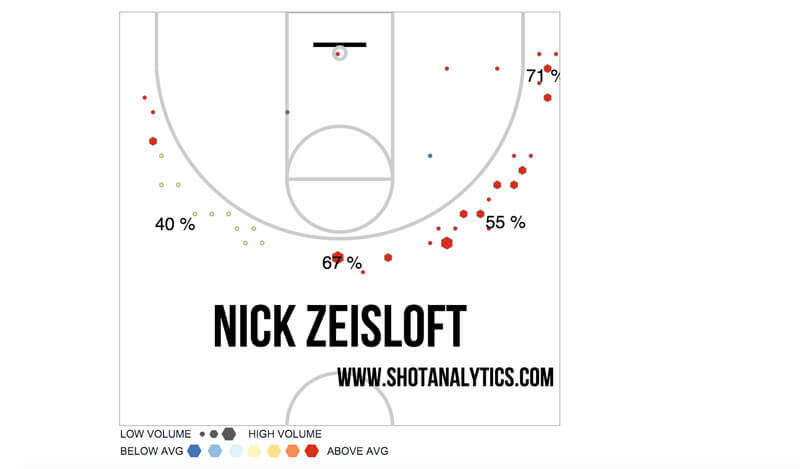 Zeisloft is still challenged as a defender, but with little separation from his peers who also struggle to guard, it's hard to argue against the 18 minutes per game he's earning. His offensive rating is currently third in the country, according to KenPom.com.
OG Anunoby – 2.0 ppg, 1.8 rpg, 52.5 effective field goal percentage in 8.3 minutes per game
Anunoby is on the fringe of what is considered a rotation player through 13 games, but he appears to be on the rise. He was very effective against Notre Dame and his offensive rebound and subsequent dunk was one of the key moment's in IU's signature win to date.
The freshman wing has turned it over quite a bit (31.9 TO%) and has missed six of his nine free throw attempts, but looks like a player who can help provide frontline depth in situations where Bryant or Bielfeldt run into foul trouble.
Juwan Morgan – 0.9 ppg, 1.3 rpg, 33.3 effective field goal percentage in 7.1 minutes per game
Injuries have slowed the development of Morgan, who has only appeared in eight of IU's 13 games. He's just 3-of-9 from the field overall and has just two offensive rebounds in 57 minutes of action.
For Morgan to carve out a role in IU's rotation, he'll have to prove himself as a guy who can defend reliably and provide more on the glass.
Filed to: James Blackmon Jr., Robert Johnson, Thomas Bryant, Troy Williams, Yogi Ferrell