Five takeaways from Indiana's non-conference season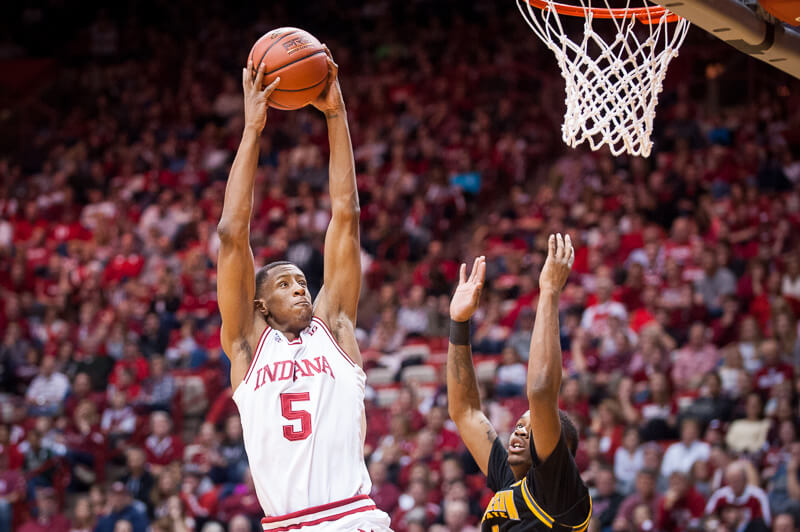 Indiana completed the non-conference portion of its schedule on Dec. 22 with a 10-3 record. Here's a look at five takeaways from the first month and a half of the season:
· The offense is still elite: Say what you want about Indiana's disappointing trip to Maui or the blowout loss at Duke, but the Hoosiers have one of the best offensive units in all of college basketball.
The numbers are impressive nearly across the board: IU ranks fifth in adjusted offensive efficiency, second in effective field goal percentage and seventh in offensive rebounding percentage. The offense alone should win IU its fair share of conference games.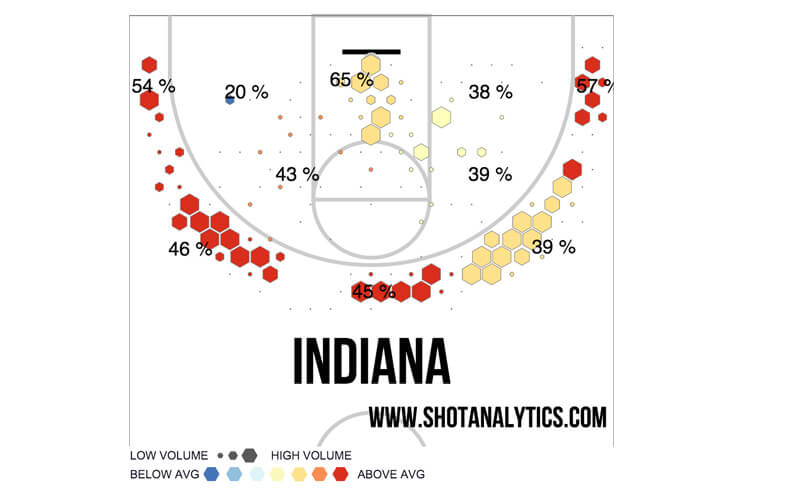 The major problem has been the turnovers where IU ranks 273rd nationally. That's a major dropoff from last season when IU entered Big Ten play 47th in the country in turnover percentage. But overall, the offense is still outpacing last season as IU had the nation's 10th best offense a season ago going into Big Ten play.
· The defense remains a major work in progress: The Hoosiers have the Big Ten's best offense, but what's holding them back from consideration as a legitimate conference contender is the defense.
According to KenPom's adjusted defensive efficiency ratings, IU has the 11th best defense among Big Ten teams entering league play. The Hoosiers are coming off a performance in which Kennesaw State scored a season-best 1.08 points per possession. As illustrated below by ShotAnalytics, Indiana's defense at the rim is still a major issue: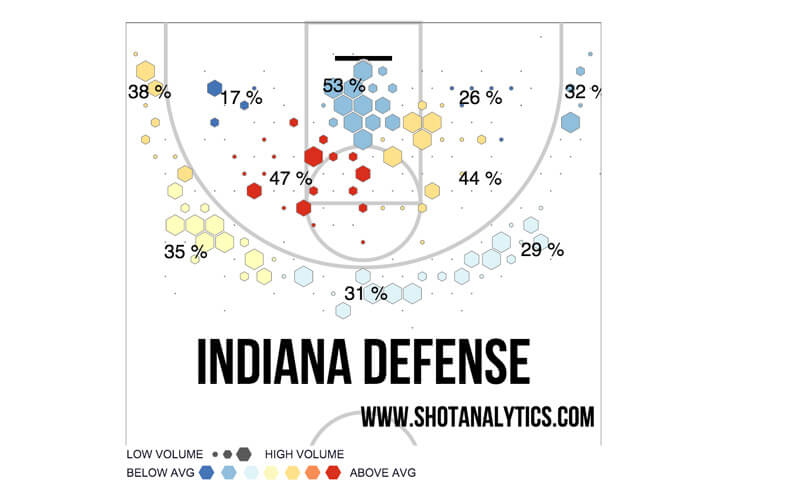 It's not that Indiana hasn't shown itself to be capable of defending at times this season, it's more the lack of consistency that's concerning. The Hoosiers turned in a subpar 30 minutes to start against Notre Dame in the Crossroads Classic before clamping down in the game's final minutes to grind out a much needed win.
· Indiana's 3-point shooting options are plentiful: While it seems to be taken for granted at times because it has become the norm over the last season and a half, what the Hoosiers are doing from 3-point range is impressive.
IU has seven players who have made seven or more 3s this season and of the seven, all but one (Collin Hartman) is shooting 38.9 percent or better: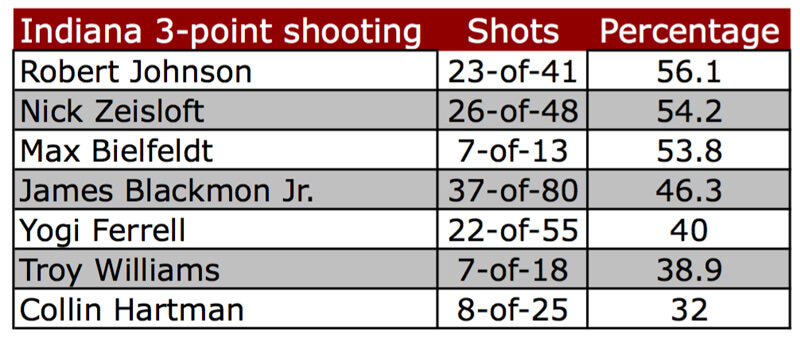 There are very few lineups that Tom Crean is playing that don't have four players who can make a shot from the outside, which makes the Hoosiers incredibly difficult to cover. If Hartman can return to the form that he exhibited last season, he'll become much more valuable as a stretch four or even for spot minutes at the five if Crean elects to go with a small ball lineup for stretches.
· The Maui trip could prove costly for NCAA tournament seeding: It's over and done with, but falling into the loser's bracket was damaging to Indiana's non-conference strength of schedule. Rather than a day two matchup with Vanderbilt, ranked No. 18 in the KenPom ratings, the Hoosiers played St. John's (No. 230) in their second Maui contest.
As IU enters the Big Ten portion of its schedule, the Hoosiers have a non-conference strength of schedule rating of 292nd by KenPom, 242nd by Sagarin and 202nd according to the RPI.
The Notre Dame win will certainly help with the resume, but in order to earn a favorable seed, Indiana is going to need to clean up on its league schedule against lesser opponents while also beating some of the league's elite when given the opportunity.
· Overshadowed by IU's struggles, Yogi Ferrell is playing well with room for growth: As pointed out in our non-conference player-by-player review, Yogi Ferrell has played very well this season.
In 32.5 minutes per game, Ferrell is averaging 16.1 points, 5.9 assists and 4.7 rebounds per game while shooting an effective field goal percentage of 55.9. In terms of offensive rating, he currently sits at 38th nationally according to KenPom.
With just 18 Big Ten games, a conference tournament and a potential NCAA tournament to play in his IU career, the next three months are likely to define the legacy that IU's point guard leaves in Bloomington. Statistically, he'll certainly be one of the top guards to suit up for the program. But will he prove himself capable of leading a team on a deep run in March? The answer to that question will be pivotal in determining where Ferrell ultimately lands on the list of great guards to don the cream and crimson.
Filed to: Collin Hartman, James Blackmon Jr., Max Bielfeldt, Nick Zeisloft, Robert Johnson, Troy Williams, Yogi Ferrell