Five takeaways from Indiana's win over Morehead State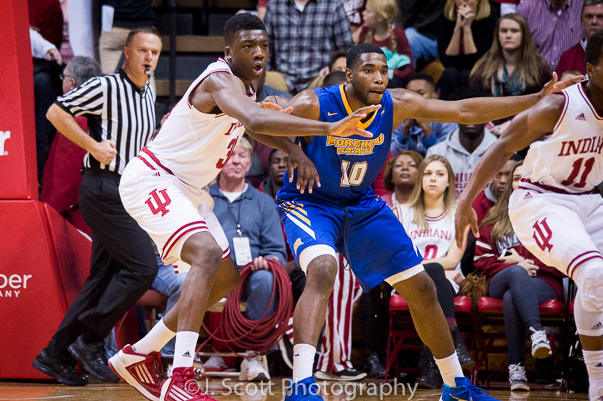 Indiana bounced back from Wednesday's disappointing loss at Duke by crushing Morehead State on Saturday night at Assembly Hall.
The win moved the Hoosiers to 6-3 with four non-conference games remaining. Here's a look at five takeaways from the win over the Eagles:
· Indiana was better defensively: No, Morehead State wasn't a very good offensive team. But the Eagles were better than Alcorn State, which scored 70 points in Assembly Hall last Monday.
As today's film session points out, the Hoosiers were simply more engaged and in better position on Saturday night. They drew shot clock violations and got out in the passing lanes. Rather than being back on its heels, Indiana was aggressive.
"I think we know our defense needed to get better and really worked on it the past two days," Max Bielfeldt said. "Just simple things. I think we really kind of worked together today and put out a pretty good product."
· There was a sense of urgency on the floor: The matchup with Morehead State was expected to be relatively close, as the Hoosiers tipped as a 13-point favorite. That number is much lower than what we've seen with many of the guarantee games in recent seasons in Assembly Hall.
But after things stayed close for the first seven or eight minutes, Indiana dominated this game. Morehead State isn't the quality of opponent that the Hoosiers will see in the Big Ten, but it isn't a slouch, either. From that standpoint, it was encouraging to see a competent team beaten thoroughly.
Can Indiana sustain that type of energy over multiple games?
"The challenge is, you know, daily reminders to our team that we want to go out there and get stops," Yogi Ferrell explained. "We pride on getting as many stops in a row as we can. We want to go out there and just stop them, because I mean, defensive rebounding, those are the two things that we struggled at in a few games, but I feel like I said, this game is another step in that direction for us to becoming a more complete team."
· Robert Johnson provides defensive spark: His statistics don't jump out in the box score, but sophomore guard Robert Johnson was a major key in the win.
The 6-foot-3 guard got the start and made the most of the opportunity. He was in the passing lanes early and often, his ball pressure was solid and he was a defensive catalyst on several possessions.
"He's going to get a lot better this year," Tom Crean said of Johnson. "He'll get a lot better on both ends. I think as his confidence grows in his defense, it will grow in every other part of his game."
· Indiana's turnover percentage is coming down slowly: It's still not anywhere close to where it needs to be, but the Hoosiers are gradually improving at taking care of the ball.
For the third straight game, Indiana had a turnover percentage of 18.3 or less. In its first six games, IU didn't have one game with a turnover percentage below 19. That's progress.
One of the keys to Indiana's season is getting the overall turnover percentage back in line with the number we saw last season: 17.2 percent. Right now, Indiana is still at 21.6 percent through nine games.
· The Hoosiers found offensive balance: When Indiana is at its best offensively, the ball is moving and the scoring is balanced. On Saturday, that was the case.
Five Hoosiers scored in double figures and two others had eight points.
"Really proud of the effort, energy, attitude, the way they responded," Crean said. "And it's been obviously a long week; it's been a long couple of weeks and I thought they did an outstanding job of learning and applying it and bringing their practice game and practice preparation to the course, and they did it for a long period of time."
Filed to: Morehead State Eagles