What to Expect: IPFW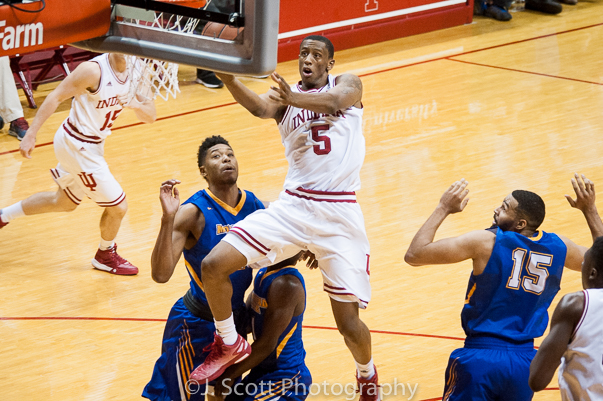 Indiana is back in Assembly Hall on Wednesday night to host IPFW of the Summit League. The Mastodons are 7-3, but are coming off of a 17-point loss at Utah.
The game will be broadcast on BTN Plus (online only) at 7 p.m. ET with Andy Wittry, Aaron Johnson and Allie Hausfeld on the call.
Indiana will look to build off of Saturday's beatdown of Morehead State when it hosts IPFW on Wednesday at Assembly Hall. It'll be the first ever meeting between the two programs.
The Hoosiers are unbeaten so far in Bloomington and with just four non-conference games remaining, need to stack wins heading into conference play in order to bolster their NCAA tournament resume.
IPFW isn't an opponent that will move the needle in that regard, but with a top 200 KenPom rating, the Mastodons are of a better caliber than many of the sub-300 rated teams that come to Assembly Hall.
MEET THE MASTODONS
The IPFW attack is led by a three-guard set – Junior Mo Evans, senior Max Landis and freshman John Konchar.
Evans is averaging team highs of 15.4 points and 4.1 assists per game. He's hitting over 40 percent of his 3s and the Cathedral product is a former high school teammate of Collin Hartman.
Landis, who is 6-foot-2, plays 34.4 minutes per game and is second on the team in assists at 3.5 per game. Landis can also shoot from distance (41.9 percent) and is second on the team in scoring at 13.8 points per game.
Konchar is IPFW's best 3-point shooter (45 percent) and is third on the team in scoring at 10.2 points per game. He also averages a team best 1.6 steals per game and also leads the team in rebounding at 7.9 per game.
Other backcourt players to watch include Michael Calder (6.9 ppg, 3.5 rpg, 1.4 apg) and DeAngelo Stewart (5.0 ppg, 2.7 rpg).
Joe Reed, a 6-foot-8 senior forward from Center Grove, is IPFW's top frontcourt player. He's shooting just 48.1 percent from the field and is pedestrian on the glass (7.5 OR%, 7.5 DR%).
Brent Calhoun, a 6-foot-9, 260-pound center, starts alongside Reed, but averages just 2.2 points and 2.8 rebounds in 13.1 minutes per game. Redshirt sophomore Racine Talla comes off the bench but plays more than Calhoun. Talla is a woeful offensive player (25.7 FG%).
TEMPO-FREE PREVIEW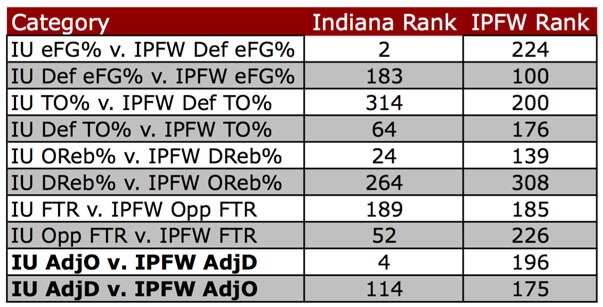 There's not much to be optimistic about from the IPFW perspective. The Mastodons aren't proficient on the offensive glass, which is something that has given IU problems at times this season.
IPFW is a solid shooting team (51.7 eFG%), but Indiana is elite in that area (63.3 eFG%). Free throws have to be a concern for Jon Coffman as IPFW struggles even more than the Hoosiers at getting to the line. If you can't generate easy baskets in Bloomington, it's tough to emerge victorious.
Additionally, IPFW doesn't turn teams over, which is another weakness IU opponents have been able to exploit this season in two of their three losses so far.
WHAT IT COMES DOWN TO
The Vegas line opened with IU as a 16.5-point favorite and the KenPom prediction is IU by 17 with a 93 percent chance of victory. Sagarin likes the Hoosiers by 18.
This is a game Indiana should win comfortably and as just one of two remaining games before the Crossroads Classic tilt against Notre Dame, it's important that the Hoosiers build off the win against Morehead State.
Two things to watch: How well will Indiana take care of the ball? The last three games have been their best three performances of the season in that regard and as we know, limiting turnovers is paramount to team success.
How will the Hoosiers play defensively? The Morehead State effort was impressive for much of the game, but can Indiana replicate it and again play with the urgency we saw on Saturday? Answering the call there would be a positive development as the Big Ten schedule grows closer by the day.
Filed to: IPFW Mastodons