At the Buzzer: Indiana 83, St. John's 73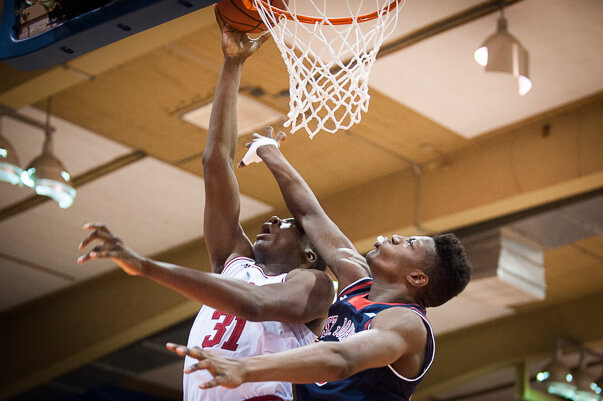 A few quick thoughts on Indiana's 83-73 win over St. John's in the Maui Jim Maui Invitational:
How it happened: It wasn't pretty, but Indiana bounced back from Monday's 82-78 loss to Wake Forest by grinding out a win over St. John's. The Red Storm shouldn't be confused with a competent high major team given the fact that they were coming off a 37-point beatdown at the hands of Vanderbilt, but it was a win nonetheless for the Hoosiers. After leading by as many as 17 in the first half, Indiana let St. John's get as close as six with 1:53 to play before closing out the win.
Standout performer: Yogi Ferrell scored a game-high 22 points and added seven assists and four rebounds in 36 minutes. Ferrell hit 9-of-10 free throws, 6-of-12 from the floor, but also had three turnovers.
Statistic that stands out: When Indiana wasn't turning it over, the Hoosiers shot it well in this one. Indiana finished the game with an effective field goal percentage of 65.4.
Number that needs work: It's been an issue all month for Indiana and the Hoosiers continued the trend on Tuesday by coughing it up 16 times for a turnover percentage of 23.5. St John's scored 25 points off of those turnovers.
Final stats: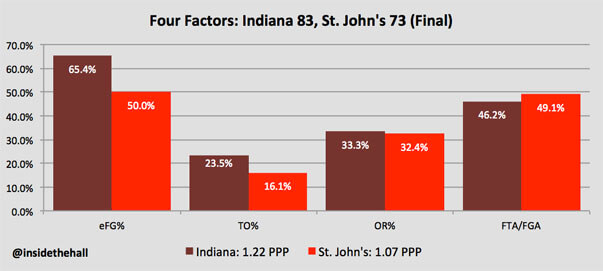 Filed to: 2015 Maui Invitational, St. John's Red Storm