Derek Elston hired as Indiana's director of player development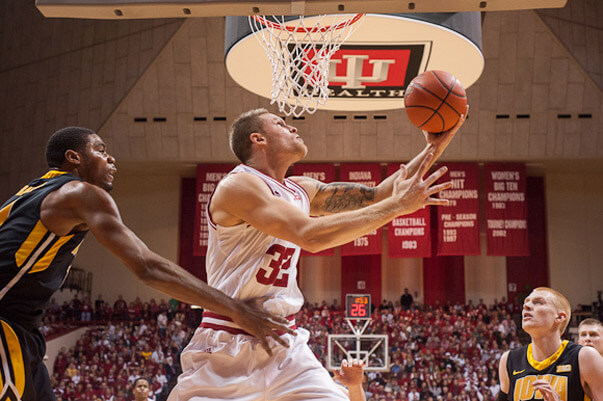 Derek Elston, who played at Indiana from 2009 through 2013 and professionally the last two seasons, has returned to the program as the director of player development, the program announced today.
Elston, a Tipton native, has been in the role for about a week now. The full release from Indiana on his hiring is available below:
Indiana University men's basketball coach Tom Crean has announced that former Hoosier Derek Elston has returned to the program and will serve as the Director of Player Development.
In that role, Elston's duties will include player mentoring and life skills programing, administrative operations, and involvement in the program's support services.
"Derek Elston has been a major part of everything here from walking in when it was at the bottom and helping the program become a champion again," said Crean. "From the day he left Indiana with two degrees, he's gone out of his way to sustain a level of connectivity to the program by investing his own energy in the program. He is close enough in age to really know what our players deal with and how much improvement is needed on a daily basis. "
A native of Tipton, Elston played four years for the Hoosiers and was a member of the 2013 Big Ten Championship squad and 2012 Sweet Sixteen team. He battled injuries throughout his career and scored 498 points and shot 37.5% from three-point range, including 55.2% from long distance as a junior. As a senior, he was named Academic All-Big Ten and received the Big Ten Sportsmanship Award. Elston, along with classmates Jordan Hulls and Christian Watford were recognized as the "Indelibles" by Jim Nantz in the 2013 NCAA Tournament for their lasting impact as the cornerstones for the return of IU basketball to national prominence.
"It is an honor to be back with the Indiana basketball program and to have the opportunity to work with Coach Crean," said Elston. "I'm excited to be able to help out the program that gave me so much. I cannot thank Coach enough for this opportunity."
Following his time at IU, Elston played two seasons professionally overseas. Last year, he played for Illiabum in Portugal and averaged 13.2 points and 4.8 rebounds in 24.7 minutes of action per game. He also shot 81.5% from the line. In addition, he played 10 games in the United Kingdom for the Plymouth University Raiders and averaged 10.6 points and 6.6 rebounds in 24.5 minutes per game. The previous season, he played for Floriana in Malta and averaged 26.1 points and 11.6 rebounds.
Elston earned his bachelor's degree in three years in Sports Communication Broadcast and a master's degree the following year in Sport Administration.
"Derek was the unheralded leader in his time at Indiana and his leadership skills are going to be very beneficial to the program," said Crean. "Derek gets it on many levels. Perhaps above all else, Derek understands and appreciates what Indiana Basketball is. He has tremendous respect and admiration for our former players, he's lived it, and he's invested in our program's future."
Filed to: Derek Elston