2015-2016 Player Profile: Thomas Bryant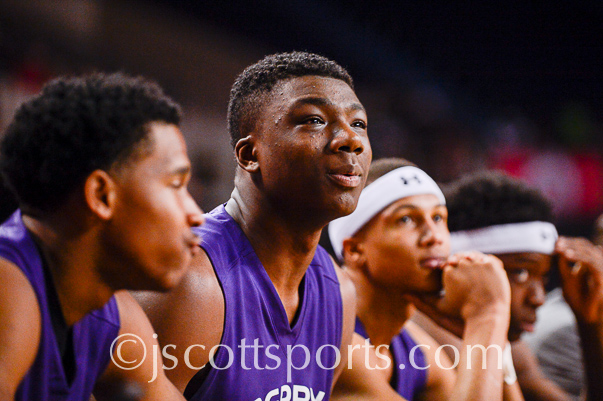 With the start of college basketball season on the horizon, we're taking a long look at the conference at large as well as Indiana's roster this month. Today, we begin our look at Indiana's roster with Thomas Bryant.
After back-to-back losses to Northwestern and Iowa, the Hoosiers concluded the 2014-2015 regular season against Michigan State in Bloomington on March 7. Indiana dropped a third straight that day, and some Indiana fans booed as the Hoosiers got down by double digits in the second half.
But a hard fought comeback almost forced the game into overtime. And that made an impression on a high school senior sitting behind Indiana's bench that Saturday afternoon — Huntington Prep's Thomas Bryant.
"That game with Michigan State, they had heart, they played their hearts out and the way they lost was just hard," Bryant said later that month at McDonald's All-American media day at the United Center in Chicago. "You just know they fight each and every day."
The next Saturday at Madison Square Garden, Bryant gave a commitment to the program on live TV. Once considered a Syracuse lean because of comments his mother made, Bryant became the fifth McDonald's All-American Tom Crean has recruited to Bloomington.
It's well-established he's one of the top talents in the 2015-2016 class. But after a season where Collin Hartman spent significant time at the center position, the 6-foot-10 big man's arrival in Bloomington fills the team's glaring need of legitimate size up front.
Bryant makes an offense that was one of the nation's best a season ago more versatile and balanced. Everyone knows Indiana will look to fill it up from beyond the arc again this season, but key too much on the perimeter and Bryant will make you pay in the post. He's a strong finisher around the rim. When he's close enough to the hoop, he dunks the ball with authority — leaving nothing to chance. It can work the other way, too. Double Bryant down low and some quick passing should lead to open 3-point opportunities for his teammates. Like Cody Zeller before him, Bryant runs the floor well for his size and should contribute in Indiana's up-tempo transition game.
Bryant is also an above average shooter for his size and has the ability to hit the 3-point shot. But whether Indiana will need him to flash any of his shooting skills this season in the offense remains to be seen.
The freshman brings balance on the other side of the ball as well. Indiana rarely applied on-ball pressure on the perimeter last season. We should see more of that this season, though, as Bryant will be on the back line as a safety valve. He's a strong shot blocker with length.
The Huntington Prep product is a sharp kid who's coachable. It makes him a good fit in a program that exceeds with player development. He already seems to be taking well to the team's conditioning and training regime. In his press conference Thursday, Crean said Bryant improved his vertical nine inches since arriving on campus in June.
Bottom Line: Bryant's skill set and size make him an ideal fit for a program that was lacking what he brings to the table. He should be a starter from day one and his high motor should make him an immediate force. Bryant will face his challenges in conference with the likes of Purdue's A.J. Hammons and Isaac Haas as well fellow highly-touted freshman Diamond Stone of Maryland. If he can stay out of foul trouble, Bryant figures to be a key player on both sides of the ball for the Hoosiers all season long — especially now that Emmitt Holt, Devin Davis and Hanner Mosquera-Perea are no longer with the program.
Quotable: "I thought Thomas had a really good two practices because he's willing to be coached. He did not walk through that door with a sense of entitlement. Great body language. He's the perfect anecdote for what they were missing. I think he'll have a chance to be a real factor come January in conference." — ESPN's Fran Fraschilla's take on Indiana's first day of practice.
Filed to: Thomas Bryant