ESPN's Fran Fraschilla sees "great effort" as IU opens practice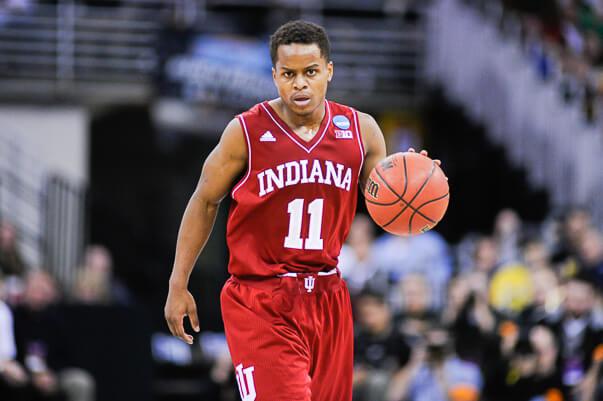 Indiana didn't waste any time getting straight to work Friday, the first day of official practice for college basketball programs across the country.
The Hoosiers, who open the regular season six weeks from today, took the floor in Cook Hall for a pair of practices. The first began at 6:30 a.m. this morning and the day wrapped up with a late afternoon session in which Tom and Dick Van Arsdale, who played for IU from 1962 to 1965, observed and spoke to the team afterward.
ESPN college basketball analyst Fran Fraschilla was in Bloomington for an up close look and left with high praise for an Indiana team that is likely to open the season ranked in the top 15 nationally.
The Hoosiers return nearly every key player from a team that ranked in the top 10 last season in adjusted offensive efficiency and add a McDonald's All-American big man in Thomas Bryant.
"I saw a really good intensity, great team body language, great effort with two practices in one day," Fraschilla told Inside the Hall. "Especially with one that starts at 6:30 in the morning. But I expected to see that because I know how Tom (Crean) is with his team."
Specifically, Fraschilla, who will work the Maui Invitational next month for ESPN, believes the addition of Bryant has a chance to change things in a major way for Indiana.
Not only did Bryant impress Fraschilla with what he's able to do on the floor with a 6-foot-10 frame and 7-foot-6 wingspan, his attitude is one of a guy who wants to learn.
"I thought Thomas had a really good two practices because he's willing to be coached," Fraschilla explained. "He did not walk through that door with a sense of entitlement. Great body language. He's the perfect anecdote for what they were missing. I think he'll have a chance to be a real factor come January in conference."
Indiana is expected to be one of the nation's top offensive units again this season and the addition of Bryant should help diversify an offense that relied heavily on perimeter shooting a season ago.
John Gasaway of ESPN Insider recently wrote that the Hoosiers will boast the best offense in the country, a notion that Fraschilla doesn't dispute.
"I think John is right. John's analytics probably back that up and the eye test I gave them tells me that they have an understanding of offense. Not everybody I watch practice has an understanding of offense and that's why you see so many sluggish games.
"Of the teams I get to watch practice throughout the year, they spend the most time as far as teaching offensive basketball as anybody I see. And really the proof is in the pudding when you look at guys like (Victor) Oladipo come through here. There's a real sense that they know what they want to be offensively. They want to be a team that plays fast, they want to play with good spacing because they have such good perimeter quickness and they want to shoot the 3. But now they have the opportunity to throw it inside to a kid like Thomas Bryant."
Additionally, Fraschilla believes that Indiana could be even better than it was a season ago on the perimeter as guys like Yogi Ferrell, Troy Williams, Nick Zeisloft, James Blackmon Jr. and Robert Johnson are all a year older.
Ferrell has been named to several preseason All-American teams released in recent weeks.
"I watched some tape before I came to campus this week just to make sure I had a good feel for the guys and I keep forgetting how good Yogi is nationally," he said. "I don't think people realize how good of a career he is in the midst of. He's almost taken for granted."
In his comments on Thursday afternoon, Crean spoke at length about the ways in which Indiana needs to improve defensively. From what Fraschilla observed, the work is already well under way on that end of the floor as well.
"Tom knows and his team knows they have to get better defensively," Fraschilla said. "But it's easier to teach defense than it is to teach offense."
Filed to: Fran Fraschilla, Thomas Bryant, Tom Crean, Yogi Ferrell