An early look at the 2015-2016 frontcourt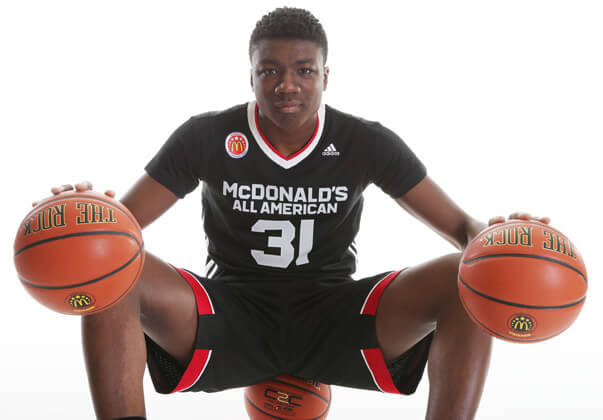 With the official start of practice a little less than a month away, the 2015-2016 season is on the horizon. We'll have comprehensive player-by-player previews later this fall, but here's an early look at some of the storylines to keep an eye on with this season's frontcourt:
· Significant turnover hampers depth: When Indiana landed a commitment from McDonald's All-American Thomas Bryant in April, the Hoosier looked set to have a much improved and much deeper frontcourt assembled for the 2015-2016 season.
At the time, the addition of Bryant meant that guys like Hanner Mosquera-Perea, Devin Davis (if healthy) and Emmitt Holt could play rotation minutes and provide quality depth. That forecast was short lived as Davis and Mosquera-Perea were dismissed from the program in early May. Those dismissals led Indiana to pursue, and ultimately land, Michigan graduate transfer Max Bielfeldt. But the frontcourt depth took another hit earlier this week when Holt was dismissed from the program.
On paper, the combination of Bryant and Bielfeldt should be an improvement over Mosquera-Perea and Holt. However, the fact remains that Indiana no longer has three players that were likely to be rotation players had they kept themselves in line off the court. The Hoosiers are now going to need freshman Juwan Morgan to step up and play right away. Collin Hartman could find himself playing the four more often than originally anticipated. The dismissals are not a doomsday scenario, but Indiana can't afford any further setbacks.
· Can Bryant live up to expectations? He certainly doesn't need to be a savior, but there are significant expectations for Bryant as he begins his college career. The Rochester native is the fifth McDonald's All-American Tom Crean has recruited to Bloomington. Shortly after his commitment, Bryant made it clear he felt he was the piece missing for the program to take the next step forward.
Indiana's backcourt will be among the best in the country, but is Bryant ready to anchor the paint? There will be an adjustment period as there is for any freshman, but Bryant has the chance to make the Hoosiers a contender both in the Big Ten and nationally.
At 6-foot-10 with a 7-foot-6 wingspan, Bryant will be an instant upgrade over anything Indiana had last season up front. His motor has never been a question, his skills with the ball are underrated and he should help prevent the layup line that IU fans had to witness several times last season inside Assembly Hall.
· Bielfeldt brings experience, Morgan must step up: It's rare that a player transfers within a conference, but that's exactly what happened when Max Bielfeldt opted to play his final season for Indiana.
Michigan opted to go with its younger players and let Bielfeldt walk despite still having a scholarship open. After a career in Ann Arbor where he battled injuries, he appears to be healthy and could be a good complementary piece to pair with Bryant. At 6-foot-8, the Illinois native has plenty of experience playing in the Big Ten.
With Holt gone, Morgan will likely find himself stepping into a bigger role in his first season. A top 100 recruit according to the 247Composite, the 6-foot-7 forward won the most improved player award in his final Nike EYBL season. He definitely needs to continue putting on muscle, but he's active around the basket and can block shots. Morgan said earlier in the spring that he prides himself on doing the little things on the court and his chance to carry out that role may come sooner than originally expected.
· Versatility should help diversify lineups: Despite Crean's comments last week that IU's 3-guard lineups could become more situational this season, the loss of another frontcourt player could make it more difficult to put traditional lineups on the floor.
The good news is that Hartman, Bielfeldt and Morgan are all skilled enough with the ball to play alongside Bryant. Last season, Crean wasn't comfortable enough to play Holt and Mosquera-Perea together, which pretty much locked Troy Williams into the majority of his minutes at the four.
The outlook on this mix of players, at least in this author's view, is it should give Crean more flexibility. Sticking with the three guards plus Williams and Bryant as the primary lineup is possible, but Hartman and Bielfeldt are also potential starters at the four, which would slide Williams to the three and move a guard to the bench.
Filed to: Collin Hartman, Juwan Morgan, Max Bielfeldt, Thomas Bryant