Notes and quotes from Tom Crean's Thursday media availability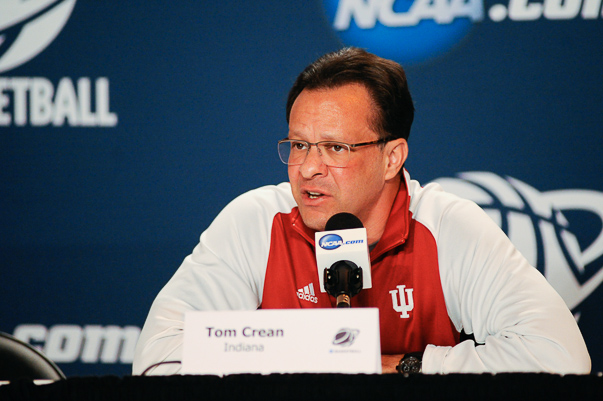 INDIANAPOLIS – Indiana coach Tom Crean spoke to the media on Thursday night at Lucas Oil Stadium for the first time since Emmitt Holt and Thomas Bryant were cited last week by the state excise police for illegal possession of alcohol.
Crean was one of several IU coaches, along with athletic director Fred Glass, who spoke to fans at the Indianapolis stop of the athletic department's "On the Road" tour.
Before addressing IU fans, Crean spoke at length to the media and took questions on a variety of topics. Full video is available here, but we've also transcribed some of his most notable comments below:
· Opening statement: "We're in the midst of some internal team discipline right now based on what happened the other night. We're well underway inside of that. As far as what we do externally, that will be forthcoming. I don't have anything that I will give you tonight or that I can give you tonight, but it will be forthcoming. So much of what this comes down is … and I understand this, I really do and I think our entire staff does … we are responsible, ultimately, for their behaviors. But we are sure as heck not responsible for the choices they make. And when they make those choices, then we're responsible for the consequences. And they're responsible for carrying them out. And that's really where we stand in that situation."
· Crean said that Indiana didn't start workouts until Thursday afternoon. He typically starts workouts on the first day of the semester, which was Monday.
· Crean said he has to get the team to understand that they're "playing for Indiana and not at Indiana." He said that includes members of the team who are from Indiana and it isn't just an out of state thing.
· Indiana's "internal team leadership", according to Crean, has been "less than poor" for the last two years.
· When asked where the team leadership comes from right now, Crean said "It's August 27. We're either going to take really good steps with that or we're going to be poor. Our upperclass leadership is not good. It's got to get better. And I'm including the sophomores in that leadership group."
· Specifically on the Holt and Bryant situation, Crean said that Holt "never should have had my freshman in that situation. They just got there. They hadn't even started official classes yet."
· Crean said that there are very few programs in the country that have a "24/7 identity" and IU is one of them. "We're struggling right now to understand what that means and what that entails. A lot of it is understanding that it is so much more important for you to be a great teammate than it is for you to just take care of yourself, if you're really going to be successful. That's what we've got to search for and we are searching for it."
· Crean confirmed that Rob Judson is now an assistant coach and Brett Burman is the program's new director of basketball operation.
· On Judson: "He's one of the finest coaches I've been around. I had a lot of respect for him even before I got to know him. He's been a successful head coach. He's an excellent man and he's really meant a lot to our program over the last few years."
· On Burman: "I always like to have somebody that can bring a little different perspective to it. Whether it's a former player, whether it's been somebody that has been at the NBA level. He's got a great mind for such a young coach. He's got a tremendous background in scouting and video and inner workings of an office."
· On the Josh Newkirk addition: "That was a whirlwind. We were actively trying to recruit someone for this season and we had the extra scholarship because of the removal of Hanner (Mosquera-Perea) and Devin (Davis). We were very fortunate to get Max (Bielfedlt).
"I wanted a guard that could play this year as much as anything else because I think we need it. I don't think we are as strong there as we appear on paper. And we're going to play a little differently with the three guards and things like that, they're going to become a little more situational at times if I have my druthers.
"I'd had a lot of interest in him (Newkirk) early on. We had ended up taking Stanford Robinson when we hired Kenny (Johnson). There had been a couple of guards we were recruiting up to that point that we really weren't recruiting anymore and Josh was one of them.
"He gets in there Sunday night and by Monday afternoon, he's right in the midst of everything we're doing."
· More on leadership: "If you're gonna be in the program, you've got to have a real thirst for leadership. Because we need it. We need people to take responsibility for one another. When you get real concerned with what you're doing, it gets real easy to lose sight of what everybody else is doing, and that doesn't win. When we're really clicking, we've got great ball movement and we're connected defensively. When we're not because we've got guys that think they're gonna do this or they're gonna do that, that's not gonna happen anymore. We can't let it happen."
· On next year's defense: "We've got to play defense at a much higher level. If you can't guard your position, you're not going to play nearly as much."
· More on player responsibility off the court: "You need awareness off the court. You need to take responsibility, sometimes in a hard way, but you need to reiterate what the coaches are saying. Because I keep going back to it, I'm sitting here with the responsibility hat. It's there, you can't see my hat, it's a little heavy, but it's there. The players have got to have a role in this. And we've got to keep getting that across as best we can."
· When asked about where James Blackmon Jr. is from a health and leadership standpoint, Crean said "If I had a great leader for you right now, I'd have named him about 10 minutes ago."
· Blackmon Jr. is not in a full contact situation yet, according to Crean. "He's improving, he's right on schedule where we thought he'd be as a player."
· Crean said that even though he loves Hanner Mosquera-Perea, he wishes he'd have dismissed him after the DWI charge in February of 2014. "We punished him until May. He was doing stuff in Cook Hall that the cameras aren't there for and we're not advertising. But sometimes you try and you want things to go the right way and you get attached and you realize no, this is not working."
· On McRobbie's speech earlier in the week: "I was listening loud and clear when the President spoke the other day. I get that."
· Crean said he talked to Tom Izzo on Thursday from Italy. Izzo and Michigan State have dealt with some offseason issues as well.
Filed to: Tom Crean