Big Ten's top 25 players: 10-6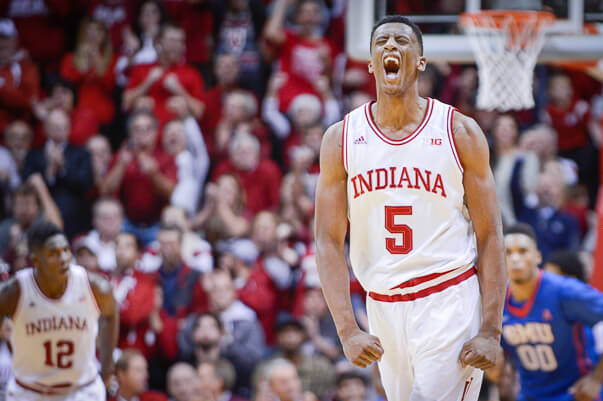 With the official start of practice less than two months away, UM Hoops and Inside the Hall have again partnered to bring you a preseason breakdown of the top 25 players in the Big Ten for the 2015-2016 season.
Our selection process involved much deliberation to arrive at a list we hope will provide plenty of reaction and debate. The series will be broken into five parts and our fourth installment of players 10-6 is available below: (Previously: 25-21, 20-16, 15-11)
10. Jake Layman, Maryland (6-foot-8, forward, senior)
30.1 mpg, 12.5 ppg, 5.8 rpg, 1.4 apg, .7 bpg, 54.4 eFG percentage
Jake Layman might not have been the star on last year's Maryland roster, but he was certainly under appreciated. At 6-foot-8, Layman has the versatility to impact the game in a number of ways whether it is attacking bigger defenders off the dribble or posting up smaller defenders. He was an efficient scorer last year and should see his role in the offense shift this season with the addition of five-star recruit Diamond Stone. According to Ken Pomeroy's stats, Layman accounted for 25 percent of Maryland's minutes at the center position last year. With Stone anchoring the five spot, he'll be able to play his more natural four position and create more mismatches on the offensive end.
9. Troy Williams, Indiana (6-foot-7, forward, junior)
27.6 mpg, 13.0 ppg, 7.4 rpg, .9 apg, .8 spg, 55.0 eFG percentage
After carefully considering his NBA draft options in the spring, Williams opted to return for his third season in Bloomington, which will likely be his last. The athleticism of Williams has never been a question as that aspect of his game is a major reason he was once rated as a top five prospect in the country back in high school. He was much improved as a sophomore as he finished third on IU in scoring, was the team's leading rebounder and is the best returning defensive rebounder in the conference from a percentage standpoint (21.7 DR%). There's still plenty of room for growth for Williams, however, which is a primary reason he opted to return for another season rather than roll the dice and enter the draft. While it was much better as a sophomore than as a freshman, his perimeter shot still needs additional polish and Williams must cut down on his turnovers (19.4 turnover percentage).
8. Diamond Stone, Maryland (6-foot-10, center, freshman)
McDonald's All-American
A surprising 28-7 mark last season had already ramped up expectations for Maryland heading into the 2015-2016 season. But those expectations were taken to the next level in April, when Stone, a five-star big man, inked a National Letter of Intent with Mark Turgeon and the Terps. A consensus top 10 player nationally, Stone could have gone to any school in the country and turned down Wisconsin, Duke, North Carolina, Kansas and many others for what is likely to be a one-year stop in College Park. The missing piece for Maryland last season was consistency in the post and Stone will provide it immediately. He's an imposing figure at more than 240 pounds who has a solid arsenal of post moves and good footwork. He's also a very good passer out of the post, which should be beneficial given that he'll be surrounded by the likes of Rasheed Sulaimon, Melo Trimble, Jake Layman and others.
7. Bronson Koenig, Wisconsin (6-foot-4, point guard, junior)
28.8 mpg, 8.7 ppg, 2.5 apg, 52.5 eFG percentage
Bronson Koenig entered last season as a backup, but will enter this season as a potential top ten player. Koenig isn't the flashiest guard in the Big Ten, but he stepped up to the plate after Traevon Jackson's injury last season. Twelve Big Ten guards executed at least 200 ball screens last year (including passes) and Koenig was the most efficient of that group — scoring 1.02 points per possession according to Synergy Sports. Koenig is also an effective isolation player and he was the Big Ten's third best three-point shooter in conference play at 45.5 percent. His turnover numbers are up to Bo Ryan's standards, but he'll have to become more of a distributor as he takes on a bigger role in the offense as his assist rate of 16.1 percent left something to be desired.
6. A.J. Hammons, Purdue (7-foot, center, senior)
24.3 mpg, 11.9 ppg, 6.6 rpg, 2.8 bpg, .5 spg, 54.0 eFG percentage
In a Big Ten that didn't have many dominant big men last season, Hammons was the league's best rim protector. It wasn't really close, either. His block percentage (12.3) led all players in league play. He was also the Big Ten's fourth best offensive rebounder and the seventh best in the conference on the defensive glass. Often criticized in his first two seasons in West Lafayette for being inconsistent, Hammons was pushed for playing time and in practice by freshman Isaac Haas which proved beneficial for both players. The addition of Caleb Swanigan should allow Hammons to roam the backline even more freely for Matt Painter. Swanigan's presence on the defensive glass will allow him to challenge shots with even more fervor without fear that there will be no one to clean up the boards. Purdue should have one of the nation's best frontcourts this season with Hammons as its anchor.
Filed to: 2015-2016 Big Ten preview, 2015-2016 Big Ten top 25 list, Troy Williams