2017 guard Jordan Poole discusses new offers, interest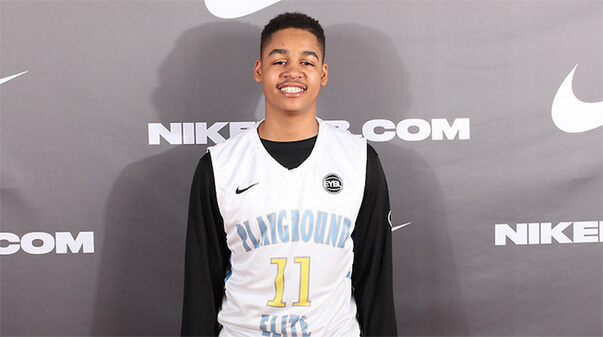 LOUISVILLE, Ky. – Class of 2017 Milwaukee Rufus King (Wis.) guard Jordan Poole isn't trying to focus on his numbers this summer.
The 6-foot-4 Poole, a three-star prospect according to the 247Composite, believes college coaches are looking for more this month as they evaluate him.
"I just want to work on my defense so that I can get other players involved, get easy shots," Poole said on Wednesday. "All coaches want to see a winner so I try to come out here and play hard, try to win games. Just the little things that other people don't do."
Poole, who plays for the Nike-sponsored Playground Elite program, is in Louisville this weekend for the AAU Super Showcase.
Indiana associate head coach Tim Buckley watched him last night and it appears the Hoosiers are taking a keen interest. Tom Crean watched Poole during the second July evaluation period at the NY2LA Sports Summer Jam in Mequan, Wisconsin.
"After last week, coach Crean and I have been talking every day," he said. "We text or we call each other. He tells me what I need to work on but it's also friendly conversations like 'how's the family doing?' I just got my license so he talks about me driving crazy, stuff like that. We've been talking a lot."
Poole remembers Crean from his days at Marquette and said that as a fourth grader, he was on the same AAU team with Crean's son, Riley.
And given his proximity to many Big Ten schools, he's plenty familiar with the league and Indiana.
"It's the Big Ten, so I watch it a lot," Poole said. "They play Wisconsin, they play Illinois, so I watch a lot of the games. (They had) Victor Oladipo, of course."
As a sophomore at Rufus King, Poole averaged 14.4 points, 2.8 assists, 2.4 rebounds and 1.8 steals per game. He's already received more than 12 scholarship offers and the list of schools experessing interest continues to grow.
"I just recently got offers, I think two days ago, from Memphis, Portland, Nebraska, Marquette," he said. "I've talked to UConn, Indiana, Missouri. I've talked to a lot of schools."
Poole said he's hoping to hit some of the schools that have offered this fall for visits, including Virginia Tech, Illinois, Auburn and Memphis. Those trips are likely to coincide with football games on those campuses.
As far as the factors most important to him as he navigates his recruitment, he listed three things that stand out.
"The way the team plays. If the coach fits my style, fast tempo, like to get up and down the court," Poole said. "Education has to be important because if the basketball stops working, I want to have a degree to fall on. And the location, I'm kind of getting tired of the snow out there."
(Photo credit: Jon Lopez/Nike)
Filed to: Jordan Poole