Holt, Zeisloft discuss Indiana's offseason workouts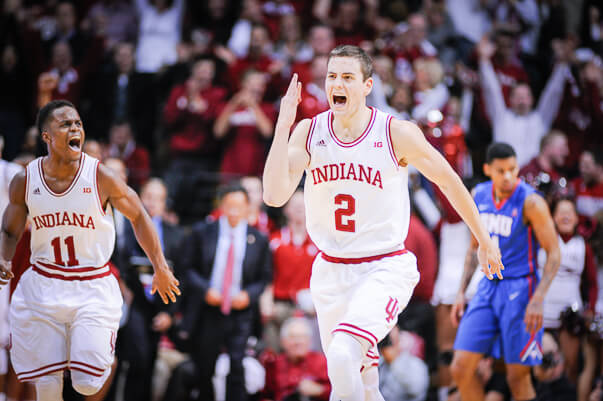 When Lyonel Anderson was introduced to the media as Indiana's new strength and conditioning, he mentioned thinking "outside the box" would be a focus of the program he planned to run in Bloomington.
Indiana's offseason continues to move along quickly. On Thursday, two Hoosiers returnees spoke about some of the similarities and also the differences between Anderson and Je'Ney Jackson.
"Coach Lyonel is a young cat so he brings a lot of energy," Emmitt Holt said at Assembly Hall. "Coach Jackson, he brought a lot of energy but he was more mature, more settled down. Lyonel has a lot of ideas that he likes to try out and they work."
Videos posted on the program's SnapChat and YouTube account have shown Anderson participating in workouts with the players.
Related:
Video: A look inside an IU sandpit workout
Video: A look inside IU's offseason workouts
Some of those workouts have included the use of elevation training masks and also a new sandpit that was recently constructed near Assembly Hall. According to redshirt senior Nick Zeisloft, Anderson is a "little more involved" when it comes to the offseason workouts.
"Coach Jackson would kind of pick and choose when to show off his strengths, and he knows that's the case too," Zeisloft said. "The first day that I was here in the summer, I got back a little late and did my workouts at a different time. He (Coach Anderson) did his workout with the first group, and then would do it all over again with me. He's very passionate, has a lot of energy, and doesn't seem to get very tired ever."
Phase two of Indiana's offseason, as Tom Crean called it in early June, consists of up to eight hours per week with the coaching staff. Only two of those hours can be spent on skill instruction.
In addition, there are workouts with Anderson, which Zeisloft said the new strength and conditioning coach likes to switch up.
"There's not really a 'this is what it's going to be everyday,'" he said. "Sometimes we go two weeks of things then the next two weeks are different. Or, sometimes it's one week's one thing and the next week is a different thing. Sometimes we've had heavy lifting weeks, sometimes we've had heavy intensive agility weeks so it's been alternating a lot."
The elevation masks and sandpit training are two new additions to the offseason program, but have been welcome additions both players say they are enjoying.
Holt said that he's been asked around campus about the masks, which are designed to simulate training at a higher elevation.
"The main question is about the masks and 'Do they really work?'," Holt said. "And the answer is that they do."
"You just don't breathe as much," Zeisloft said about the masks. "Oxygen intake and you really have to focus on your breathing to get the amount of breath you need in to sustain conditioning, agility or whatever we're doing that day – a jump program or whatever … As we get better with it, we continue to increase."
The purpose of the sandpit seems to be primarily in the areas of increasing explosiveness and improving running form.
"I think we're using a part of our body that we haven't been able to unlock before," Holt explained. "He (Coach Anderson) emphasizes the hip and how that can make you faster, be more explosive and whatnot. Just unlocking parts of our body that we really haven't been using before and using that to our advantage."
"Learning different running forms, planting and different agility drills," Zeisloft added on the sand training. "Stuff that is tougher in the sand and it can definitely increase your quickness and explosiveness and we've definitely been working on that with Coach Lyonel a lot this summer."
This is the first full summer on campus for both Holt and Zeisloft.
The sophomore from Webster (N.Y.) didn't arrive in Bloomington last year until late August. Zeisloft, who transferred from Illinois State last offseason, didn't get into the thick of things last offseason until later in the summer when the team was preparing for its trip to Montreal.
The redshirt senior believes having the team together on campus all summer will pay dividends come the fall.
"I would say more camaraderie, more understanding of what guys are going to be on the court, more timing," he said. "We had a lot of new guys come in last year and we didn't have the months of the summer to work together. This summer we've had everybody here the whole time and it's been great."
Filed to: Emmitt Holt, Nick Zeisloft