New strength coach Anderson enjoys thinking "outside the box"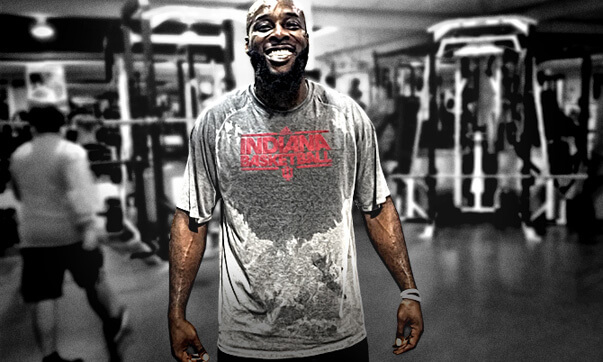 There's a new face in charge of Indiana's strength and conditioning program. And with the change, IU's returning players and newcomers are likely to experience some training methods for the first time.
Lyonel Anderson, a former tight end for Kansas who has spent time with the Denver Broncos, Youngstown State football, IU football and University of Houston football, is excited to put his own mark on the program.
Among those methods, some of which have already been started as IU's returning players began working with Anderson this week, are hot yoga, elevation training masks and training in a sand pit.
"Just different ways to skin a cat," the enthusiastic Anderson said on Thursday in the weight room in Cook Hall. "I'm just the guy doing it with a creative mind. I think outside the box and I'm just attacking it every day."
When listening to Anderson share his vision and goals for the program and watching snippets of workouts this week IU posted on its snapchat account, it's not hard to see why Tom Crean chose Anderson to replace Je'Ney Jackson.
Like Crean, Anderson appears to be relentless about his craft. The fact that Anderson considers Jackson, who Crean frequently complimented during his four plus years in Bloomington, one of his mentors, makes him a natural fit.
"Coach Jackson is a great guy, mentor of mine, great friend of mine," Anderson said. "He coached me at the University of Kansas. A lot of people don't know that. He taught me a lot even then and he teaches me now."
One of the first things Anderson said he asked Crean for was a sand pit, 30′ x 40′ in dimension, and construction on it is currently underway near Assembly Hall.
"I've used sand training myself as an athlete," he explained. "In Houston, I worked out at a place called Eleanor Tinsley Park where me and other athletes that I've trained or day walkers, as I like to call them, we go out there and we grind in the sand."
The Hoosiers are also utilizing training masks in workouts, which are used to simulate high altitude. Yoga in 101 degree temperatures and 60 degree humidity will also be a part of the routine to work on balance, core strength and the mind.
Anderson, who comes from a football background, said he's not focused on things like how much a particular guy can bench press. His approach is more focused on training the mind. Anderson plans to be right there in the workouts each day with the players bringing intensity and staying so close that "I smell you, that's how close it is."
Ultimately, he believes that strengthening the mental approach of the players will translate to more wins on the court.
"My vision is this, simply put: Be hard as nails, win a bunch of games and to go back to Houston," Anderson said. "And I'm not talking about working for the Cougars. Hoosier Nation needs that, they want that and I understand that and that's the only job that I have to do.
"It starts from the top to the bottom. The first thing that I'm working on, the first muscle I'm working is that brain, right between the eyes. If I get that, everything else will fall into place."
Filed to: Lyonel Anderson