Four-star big man Tony Bradley talks improvement, recruiting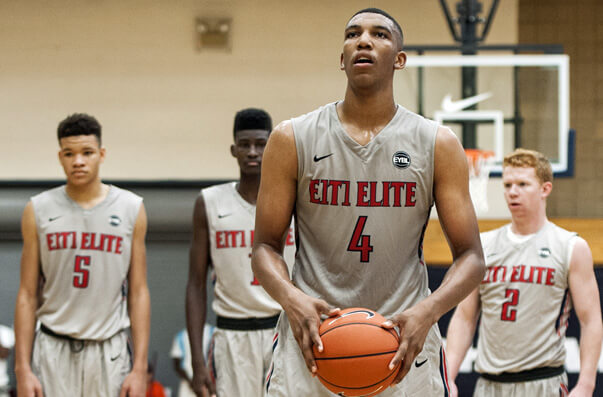 NORTH AUGUSTA, S.C. – Class of 2016 Bartow (Fla.) forward Tony Bradley is continuing to stockpile offers from the nation's top programs.
His lengthly list of offers is a who's who of college basketball and includes Kansas, North Carolina, Florida, Illinois, Connecticut, and Indiana, which offered a scholarship in May.
During the Nike EYBL Finals at the Peach Jam, the 6-foot-10, 230-pound big man showed why the offers will likely continue to pile up. Bradley led Each 1 Teach 1 to a 4-1 record during pool play and a berth in the quarterfinal round, where the team fell just short to EYBL heavyweight CP3 in a 74-70 loss.
The highlight for Bradley was a 22-point, 12-rebound performance in the team's 82-71 win over NY Lightning on an efficient 10-for-12 shooting from the floor.
"It's great," Bradley told Inside the Hall after the win. "All the hard work you've put into the gym and to see the coaches acknowledging that is a great feeling. I'm just grateful for the opportunity."
After a four-point, six-rebound performance in Each 1 Teach 1's first game of the tournament, a 65-61 win over Elfrid Payton Elite, Bradley caught fire over the team's final five games.
From that point forward, Bradley averaged 15.4 points, 7.8 rebounds, and 1.2 blocks per game, including a 35-for-46 mark from the field (76 percent) against the nation's best frontcourt players.
Bradley said the outstanding play is no accident.
"Repetition, repetition, repetition," he said regarding his process during the summer AAU circuit. "I've really been working on my hook shot. Not many people use that anymore. And my conditioning has been improving. Just trying to stay in the gym and get better."
Combine that work ethic with Bradley's natural size and skill and it's not hard to understand why his list of interested programs is an impressive one. As for Indiana, the Hoosiers are hoping to stay on that list once Bradley trims it, which he says will happen following the AAU season.
"I talk to the assistants a lot," Bradley said of his contact with Indiana. "They tell me they want me on campus for a visit and that's a possibility. It's hard because I've already taken one official, so I've only got so many visits and a bunch of schools."
Jacob Savage is a special contributor to Inside the Hall for this week's Nike EYBL Finals at the Peach Jam.
(Photo credit: Larry Smith/Special to Inside the Hall)
Filed to: 2015 Peach Jam, Tony Bradley