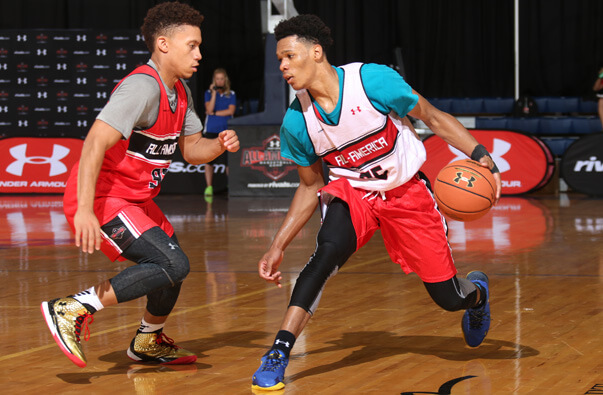 Indiana offered scholarships to a pair of class of 2017 point guards on Monday, according to reports. The two new offers went to Trevon Duval of St. Benedict's Prep (N.J.) and Matt Coleman who played at Maury in Norfolk, Virginia, but is transferring to Oak Hill Academy.
Duval (pictured) is a five-star prospect in the 247Composite (No. 7 overall) and Coleman is a four-star at No. 27 overall.
The 6-foot-3 Duval plays with WE R 1 on the Under Armour Association circuit and Coleman, who is 6-foot, plays for Boo Williams in the Nike Elite Youth Basketball League (EYBL).
In Under Armour Association league play, Duval averaged 18.2 points, 4.5 assists and 3.1 rebounds per game. He shot 43.4 percent from the field and 69.2 percent from the foul line.
WE R 1 will play this week in the UA Association finals in Suwanee, Georgia.
Coleman and Boo Williams, the program that produced current Hoosiers Robert Johnson and Troy Williams, didn't qualify for last week's EYBL Finals at the Peach Jam.
In regular season EYBL play, Coleman averaged 9.1 points, 3.5 assists and 2.4 rebounds per game. He shot 43 percent from the field and just 55 percent from the foul line.
(Photo credit: Ned Dishman/Under Armour)
Filed to: Matt Coleman, Trevon Duval