2016 guard Bruce Brown to cut list after July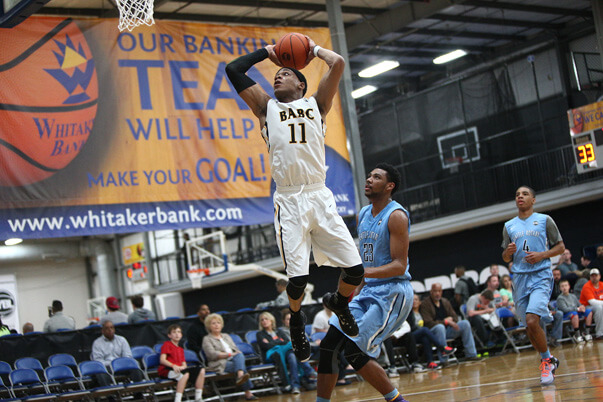 Vermont Academy (Vt.) guard Bruce Brown is one of the most sought after backcourt players in the class of 2016.
It's not hard to see why, either, as the 6-foot-4 guard plays with tremendous energy and contributes in a variety of ways. Brown again showed off his versatility at the Nike Elite Youth Basketball League (EYBL) Finals at the Peach Jam during the first July evaluation period.
Although his Boston Amateur Basketball Club (BABC) squad struggled to a 2-3 record, Brown averaged 15.6 points, 5.6 rebounds, two steals, 1.8 assists and 1.4 blocks per game.
"It's not all about scoring with me," Brown, who has a 6-foot-9 wingspan, told Inside the Hall contributor Jacob Savage at the Peach Jam. "I like getting steals, rebounding, anything my team needs me to do."
Indiana is one of several schools making a hard push for Brown.
The Hoosier coaching staff made several trips to watch him at Vermont Academy last season, watched him in April during both evaluation periods and was once again present for several of his games at the Peach Jam.
In April, Brown spoke highly of the Indiana program at the EYBL stop in Lexington and in North Augusta, he said IU wants to put the ball in his hands if he comes to Bloomington.
"They told me they're going to give me the ball and let me go," Brown said.
Next up in the process for Brown, the No. 49 player in the 247Composite, is beginning to pair down his list of schools.
At the Peach Jam, he mentioned Texas, Michigan, SMU, Miami (FL), North Carolina, Louisville and Pittsburgh as some of the schools involved in addition to Indiana. Arizona is another school that Brown has said he'd like to visit.
For now, Brown has the rest of the month to play out in front of college coaches and while he has a timeframe in mind for cutting his list, he's also focusing on continuing to get better.
"I'm gonna sit down at the end of July and cut my list," he said. "Right now, I'm working on my ball handling and my shot. I'm getting better. This was my third year in this league (the EYBL) and the game is slowing down a lot. I'm being more productive."
(Photo credit: Jon Lopez/Nike)
Filed to: Bruce Brown