Bruce Brown on IU: "What is there not to like?"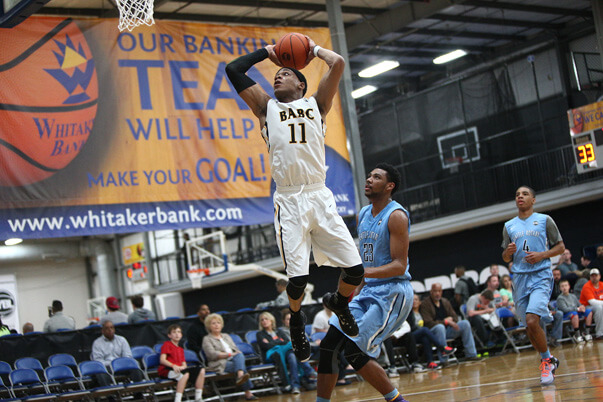 LEXINGTON, Ky. – With Yogi Ferrell entering his fourth and final season in Bloomington, Indiana has a need for a point guard in the class of 2016.
And it appears the Hoosiers are firmly in the mix for one of the standouts of the Nike Elite Youth Basketball League.
Bruce Brown, a 6-foot-3 point guard from Vermont Academy (Vt.), is averaging 17.1 points, 6.5 rebounds and 3.6 assists in eight EYBL games this season for Boston Amateur Basketball Club (BABC).
Indiana was among many schools watching Brown closely at this past weekend's EYBL session at the Kentucky Basketball Academy in Lexington, Kentucky. Assistant coach Chuck Martin was there on Saturday morning as Brown went for 29 points as BABC beat Seattle Rotary, 79-74.
Rated the No. 46 prospect nationally in the 2016 class by the 247Composite, Brown can play both guard spots, but is being recruited as a point guard. The Hoosiers extended a scholarship offer last August and have stayed diligent in his recruitment ever since.
The interest, according to Brown, is mutual.
"It's Indiana, what is there not to like?" he told Inside the Hall in Lexington. "Big name school, always playing on TV. They are just a good program."
There had been talk that Brown could move up a class and go to college this fall as a member of the 2015 class, but he said that's no longer an option. His focus is on having a strong summer with BABC and continuing to improve his game.
"That's dead. I'm not going 2015. I'm staying 2016," he said. "(I'm working on) my jump shot and being more of a point guard. I'm being recruited as a point guard. I need to get stronger and work on my ball handling."
The list of schools pursuing Brown is growing.
In addition to the IU offer, he has offers from Connecticut, Texas, Georgetown, Texas Tech, Wake Forest, Boston College, UNLV and several others. Another Big Ten school, Michigan, watched him in Lexington.
Indiana has been working to get Brown on campus for a visit, but he said he doesn't have a timetable yet for when that might happen. What is clear, however, is the strength of the relationship Brown is building with Martin.
"He's just a good guy. Very nice, texts me every day," Brown explained. "It seems like he really wants me to come to Indiana."
A recent development for Indiana that Brown took notice of was the recent commitment and signing of McDonald's All-American big man Thomas Bryant.
"That's a good pickup (for Indiana). He actually killed BABC last year (in EYBL)," he said. "We played them twice. That's a really good pickup."
Filed to: Bruce Brown