2017 forward Matur Maker continues to grow his game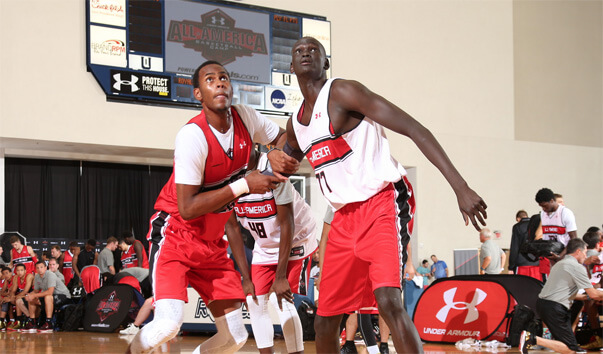 Indiana was the first school to offer class of 2017 forward Matur Maker back in May of 2014 and the Hoosiers have continued to keep a close eye on the four-star big man.
In an interview with Eric Bossi of Rivals.com at the Under Armour All-American Camp in Charlotte, North Carolina, Maker said he's currently focused on growing his game.
"I know Indiana was the first school (to offer)," Maker said. "Right now, there's Kansas. From there on, I'm just focused."
The younger brother of class of 2016 five-star big man Thon Maker has grown to 6-foot-10 and 200 pounds and is rated as the No. 49 prospect overall in the 247Composite.
After playing last AAU season with Team Loaded, an adidas sponsored program from Virginia, Maker is now suiting up for Canada Elite on the Under Armour Association Circuit.
In four games for the 16-and-under Canada Elite team at the Under Armour stop in New York in late May, Maker averaged 12.5 points and eight rebounds per game.
He attributes his recent improvement to continuing gains in strength and conditioning.
"I would say my body got bigger and I've gotten stronger," Maker told Bossi. "Just my overall skill is getting there. I'm still trying to learn new things each and every day from my brother Thon and coach (Edward) Smith. Just trying to learn from different players and different coaching styles and pick things up from different people, which has helped me a lot."
Thon Maker's decision to remain in the class of 2016 means that the duo will play together again next season at Orangeville Prep in Canada. In his comments to reporters at the NBPA Top 100 Camp, Thon cited having a chance to play with Matur for another season as a major reason that he opted to stay in the class of 2016 rather than graduate early as a 2015 recruit.
But beyond next high school season, do the Maker's have a plan to attend the same college? According to Matur, there's a good chance he will end up attending the same school Thon selects.
"I'll probably follow him," Maker said. "Once he goes through it, he can come back and tell me how the experience was like and as I get ready to go through it, I can prepare better and go from there."
(Photo credit: Ned Dishman/Under Armour)
Filed to: Matur Maker