Thon Maker will remain in the class of 2016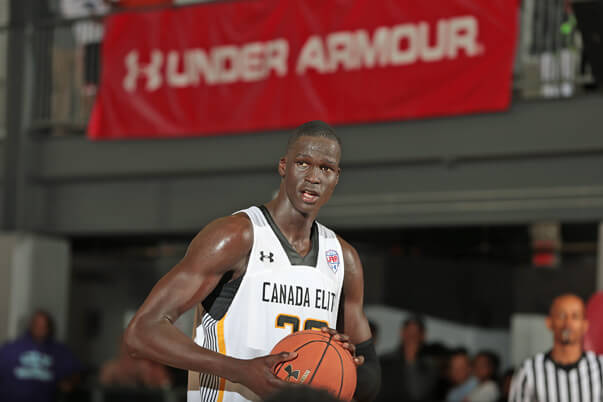 Orangeville Prep (Canada) big man Thon Maker, one of the top prospects nationally, will not join a program for the second semester of the 2015-2016 college basketball season.
Speaking to reporters at the NBPA Top 100 Camp in Charlottesville, Virginia, Maker said that he will be a class of 2016 recruit and graduate next June.
"I'll make it official here that I'm definitely going to stay (in high school) and just play it out, take my visits in November, and play another year with my brother (Matur)," Maker said. "So I'm definitely going to stay in 2016. I'm staying with my class."
Last month, Maker's guardian Edward Smith said that Maker would graduate in December of 2015 and enroll for the second semester of next season.
When asked if he will play college basketball, Maker told reporters "of course." The 7-footer added that the pressure of reclassifying became too much.
"I just had to slow down, especially with the books and the traveling and just getting better," he said. "It all just clogs up your mind and you get stressed out, so I had to cut back a few things. And I also wanted to play with my brother and finally finish out the credits that I need and leave when I'm done."
Although Maker declined to give a school list when meeting with reporters, ESPN.com's Jeff Borzello reported that Indiana and Arizona State are still the schools in most consistent contact with him, according to his guardian.
Maker took an unofficial visit to Indiana in March for the regular season finale against Michigan State.
Filed to: Thon Maker