IU remains heavily involved with Thon Maker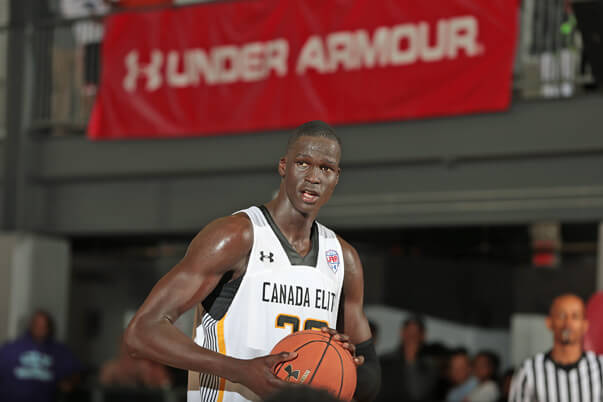 2015 Orangeville Prep big man Thon Maker, the top available prospect remaining in the class nationally, continues to be courted by Indiana.
Last week, Jeff Borzello of ESPN.com reported that Indiana and Arizona State were the two schools most involved with Maker. Over the weekend, Maker's guardian, Edward Smith, told SNY.tv that he's discussed plans with both schools for the five-star recruit to enroll in December.
"I deal mostly with (assistant coach) Chuck (Martin of Indiana) and Chuck says mid-year or next year (fall 2016) is all good and they have a plan in place for (Maker)," Smith told SNY.tv. "So that's his basic plan with that. If he came in mid-year, they would ease him into it, knowing that he has a year-and-a-half plan."
Maker, along with his brother Matur and Smith, visited Bloomington in early March for IU's final regular season game against Michigan State.
The 7-footer was in New York over the weekend playing for Canada Elite on the Under Armour Association circuit. He's now played for a team on each of the three major shoe circuits in recent years as Elite joined Boo Williams (Nike) and Team Loaded Virginia (adidas) as teams that Maker has suited up for.
Maker averaged 15.5 points, 8.5 rebounds and 3.2 blocks as Canada Elite went 4-0 in the third Under Armour Association event of the spring.
In his comments to SNY.tv, Smith said there are no definitive plans for when Maker will finish his high school course work and enroll in a school, but acknowledged that enrolling midseason could present some challenges.
"We all know basketball. It's hard to come in and miss the summer, miss the fall and come in mid-year," he said. "That's ridiculous to try to come in and make a jump like that. If we go full year (beginning 2016-17), then he's there for the whole year. There's not a time clock on when he goes (to college) or when he doesn't."
Indiana has two scholarships available for next season following the dismissals of Devin Davis and Hanner Mosquera-Perea.
(Photo credit: Kelly Kline/Under Armour)
Filed to: Thon Maker