Freshman Focus: O.G. Anunoby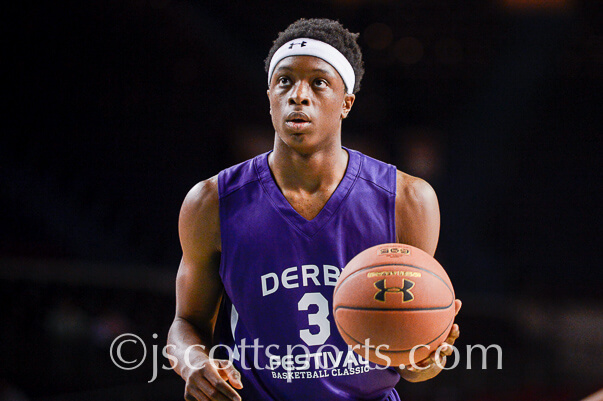 "Freshman Focus" is an Inside the Hall series on each of Indiana's three incoming freshmen where we take an in-depth look at all three newcomers. Today the series concludes with a look at O.G. Anunoby. (Previously: Thomas Bryant, Juwan Morgan)
Thomas Bryant comes to Bloomington as the prize of Indiana's 2015 recruiting class and with accolades like being a McDonald's All-American and a Jordan Brand All-Star. Juwan Morgan built a national profile last year as he won the most improved player award on Nike's Elite Youth Basketball League (EYBL) circuit.
IU's third incoming scholarship freshman, O.G. Anunoby, doesn't have a top 100 ranking like Bryant or Morgan, but was a late riser whom the Hoosiers hope will develop into a rotation stalwart in the years to come.
Unlike most Big Ten-level recruits, Anunoby spent his freshman season on the junior varsity at Jefferson City (Mo.) and his development into a high major prospect happened later in his prep career. Blair Thompson, who coached Anunoby all four seasons at Jefferson City, said there were signs early of his potential.
"When I got here, he was an incoming freshman," Thompson told Inside the Hall. "He was probably about 6-foot-3 at that point. Real skinny kid, awkward, but at that time you could tell he had a feel for the game, he was a smart player already. He possessed a lot of potential at that point."
Anunoby started every game on Jefferson City's JV team as a freshman and started varsity as a sophomore, but it wasn't until the summer prior to his junior season that he made a major jump in his development.
That summer, his recruitment began to pick up as he played with the St. Louis Eagles, a Nike sponsored AAU program.
Statistically, Anunoby's junior season at Jefferson City was the best of his prep career. He averaged 21.3 points, 9.9 rebounds and 3.4 blocks per game and shot 44 percent from behind the 3-point line. He was also named Missouri Basketball Association Class 5 all-state.
"I think where he made the biggest jump was between his sophomore and junior year," Thompson explained. "He came into his junior year and he was doing things that we were hoping he'd be able to do two years earlier like scoring in different ways, not just being a 3-point shooter, but being able to score off the bounce, finish at the rim, impact the game defensively and run the floor in transition. He got a lot better in all of those aspects and was just a game changer for us as a team and for him and his basketball career."
By the fall of his junior season, Anunoby had offers from SIU-Edwardsville and Missouri State and interest from schools like Central Michigan, Evansville, Iowa, Southern Illinois, Yale, Lehigh and Boston University.
But rather than rushing into a decision, he saw the recruiting process through and decided to change AAU programs for the final summer of his prep career. Anunoby made the move to Team Thad and that AAU season is when the Hoosiers first became involved with his recruitment. The Hoosiers were recruiting his AAU teammate, Nick Marshall, and took notice in Anunoby.
By that time, other programs had also started to get involved.
Indiana's diligence with Anunoby eventually won out as the program garnered his commitment over Georgia, Iowa, Gonzaga and Ole Miss in October of 2014. Still, Anunoby was a bit of an unknown nationally at the time of his commitment as he was ranked just a 3-star prospect by all of the major recruiting services.
"He's a quiet guy off the court and even on it," Thompson said. "I don't think he drew a lot of attention to himself. He's a very respectful, mature personality type. He's a yes-sir, no-sir kind of guy with authority and adults. His family and background is all about respecting authority figures and adults. He interacts well with his teammates, always has. He laughs and jokes like any normal kid, but he's a bit reserved in some aspects. I wouldn't even call him quiet, he's just not long winded."
The challenge now for both Anunoby and Indiana is to develop the potential label into consistent production at the top level of college basketball.
He finished his high school career at Jefferson City on a positive note with averages of 19.1 points and 8.6 rebounds as a senior. Under Anunoby's leadership, Jefferson City won the Class 5 District 10 title and he shot 60 percent from the field. He also lead the team in both blocks (33) and steals (37).
"Physically, he's going to have to get stronger," Thompson said. "He knows that, he knows it's going to be hard and that it's a big jump with the talent, athleticism and speed of the game. Those aspects, it's a big jump and I think he can handle it."
One factor working in Anunoby's favor is that he'll likely have some time to develop before he's expected to take on a major role.
The Hoosiers return all of their perimeter pieces from a NCAA tournament team and are ranked in the preseason top 15 in several early polls.
"I think it will benefit him, the players that Indiana has coming back, upperclassmen, they've had success and they know the kind of work that needs to be put in to be successful," Thompson said. "I think all of those freshmen that are coming in will benefit from being around those older players and learning how it's done and what is expected in that program from the coaching staff.
"In talking to him about it, he's excited for the opportunity, he's excited to be a part of Indiana basketball and he is definitely willing to do whatever it takes to help the team in whatever the role may be from now until maybe a year from now."
Filed to: Freshman Focus, O.G. Anunoby